Bachmann Raises $29,000 on Day 2 of 'Send a Message to the Left' Campaign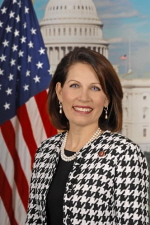 On the heels of an announcment Thursday that Republican Congresswoman Michele Bachmann raised $345,000 during the third quarter of 2009, the staunch conservative from Minnesota's 6th District has now raised $118,093 in just two days through her new "Send a Message to the Left" campaign.
Bachmann raised $89,000 on Wednesday when the new fundraising drive was launched – buoyed by appearances on Glenn Beck's radio and TV programs – and an additional $29,000 as of midnight on Thursday evening.
Bachmann is appealing to supporters in this new campaign on the basis that, "Speaker Pelosi has made me her number one target to defeat next year. She wants me gone."
Congresswoman Bachmann had averaged gross campaign contributions of $3,750 per day during the third quarter of 2009, compared to $3,133 in the second quarter and $3,485 in the first quarter of the year.
Integrating the power of the traditional media (radio and TV appearances with Beck) with the new media (online fundraising and promotion through her website, Facebook, and Twitter), the $118,093 two-day haul by Bachmann nearly equals the entire amount raised during the third quarter of 2009 by one of her high profile DFL challengers – Maureen Reed ($130,000).
Follow Smart Politics on Twitter.