Are PACs Getting Gunshy of Michele Bachmann?
Special interest PAC money to Bachmann's campaign is at lowest level since Q2 2006 GOP endorsement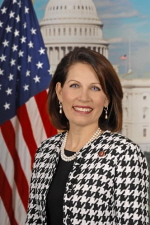 U.S. Representative Michele Bachmann's latest fundraising haul – the 14th consecutive quarter of at least a quarter of a million dollars – stands out for the Congresswoman both for the impressive amount of money raised from small donors as well as the relatively scarce amount of funds raised from PACs.
In fact, the Q3 2009 PAC contributions to Bachmann's campaign were the lowest quarterly PAC receipts for the Congresswoman, as well as the lowest percentage of total quarterly funds raised, since Representative Bachmann first received the endorsement by Republicans in the 6th Congressional District back in May 2006.
Bachmann only received $31,402 from PACs last quarter – marking the fifth consecutive quarter in which her campaign has experienced a net decrease in PAC money. Bachmann received $192,471 from PACs in Q2 2008, $156,525 in Q3 2008, $135,900 in Q4 2008, $61,417 in Q1 2009, and $52,904 in Q2 2009.
The $31,402 was the lowest amount of PAC money Bachmann had received since Q1 2006 – the quarter before the Congresswoman was endorsed by the GOP in the 6th CD race.
By contrast, PAC money to fellow GOPer John Kline has increased in each quarter this year – from $50,000 in Q1 to $65,250 in Q2, to $78,400 in Q3, rising from 35 percent to 40 percent of his total fundraising along the way. PAC contributions to most of the other members of the Minnesota congressional delegation have fluctuated, going up and down throughout the year.
PAC money constituted only 9.1 percent of Bachmann's Q3 2009 funds – also marking the lowest percentage of total quarterly funds raised since her endorsement 3.5 years ago.
PAC money used to comprise a much larger percentage of Bachmann's overall campaign warchest – exceeding 50 percent of quarterly receipts two times, in Q2 2006 (53.4 percent) and Q2 2008 (50.3 percent), and greater than 40 percent two other times, in Q3 2006 (44.2 percent) and Q1 2007 (45.3 percent).
But Bachmann has more than compensated for what she may be lacking in PAC contributions by raising a record percentage of contributions from small donors in the last quarter. (Small donors, or unitemized individual contributions, are those of less than $200 for the campaign cycle to date).
The $193,838 in small donor contributions to Bachmann tallied 56.2 percent of her total Q3 2009 funds. This marks the largest percentage small donations have constituted to Bachmann's campaign since she first began raising federal campaign funds in early 2005.
The 56.2 percent raised by Bachmann in Q3 2009 represents a larger percentage than even the surge in small donor funds the Congresswoman's campaign enjoyed after her October 2008 appearance on Chris Matthews' Hardball program.
That cable TV appearance, which also proved to be a fundraising boon to her 2008 DFL opponent El Tinklenberg, paved the way for Bachmann to raise $570,643 in unitemized small donor contributions that quarter – or 53.2 percent of the total receipts to her campaign.
But there is also a political question raised by all these numbers. Why is Representative Bachmann receiving less and less money from organized special interests?
Two potential theories come to mind:
1) The boom in individual contributions to Bachmann's campaign is so large that she no longer needs to court special interest money, or
2) Special interests are becoming increasingly gunshy at contributing to the campaign of one of the most controversial members of Congress – particularly one with an increasingly national profile.
The timing of the decline in PAC money and increase in Bachmann's national profile is interesting to be sure. The fact that Bachmann's special interest money has declined quarter-by-quarter in the last two years – precisely at the time when the Congresswoman's national media appearances have increased – suggests the latter theory above might be in play.
Bachmann had only one national cable TV media appearance from the time of her 6th CD GOP endorsement in Q2 2006 for the next two years through Q2 2008. She has had nearly four dozen appearances thereafter, with her net PAC contributions declining each quarter.
Michele Bachmann PAC Funds Raised and National Cable TV Appearances by Quarter, Q2 2008 – Q3 2009
Quarter

PAC money

Cable TV appearances

Q2 2008

$192,471

0

Q3 2008

$156,525

11

Q4 2008

$135,900

9

Q1 2009

$61,417

9

Q2 2009

$52,904

8

Q3 2009

$31,402

8
Source: FEC. Media appearance data compiled by Smart Politics.
PAC money as a percentage of Bachmann's total campaign fundraising has also plummeted from 50.3 percent in Q2 2008, to 33.7 percent in Q3 2008, 12.7 percent in Q4 2008, 19.6 percent in Q1 2009, 18.6 percent in Q2 2009, and 9.1 percent in Q3 2009.
Then again, it's hard to call this trend a real problem for Bachmann. What politician wouldn't prefer to receive hundreds of thousands of dollars from small donors as opposed to special interest PAC money? The former is the basis for some powerful campaign literature.
Follow Smart Politics on Twitter.