What Do the New Jersey and Virginia Gubernatorial Elections Mean? (And Are They Predictors of Midterms?)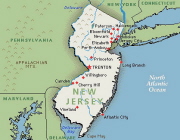 With the latest polls indicating Democrats may be headed for a double digit loss in the open Virginia gubernatorial contest as well as a fight for their life to hold onto New Jersey's gubernatorial seat, Republican strategists are touting Tuesday's two highest profile races as both a referendum on President Barack Obama's policies as well as a sign of what's to come in the 2010 midterms – particularly in the U.S. House.
But is this necessarily so? What do the elections in New Jersey and Virginia mean outside of these respective states? And how does the popularity of newly elected presidents seem to impact these races?
A Smart Politics analysis of historical election returns in the Garden and Old Dominion States finds that the two states have voted in tandum during the last five gubernatorial elections dating back to 1989 – and always electing the party which is not in control of the White House.
This is not good news for Democratic New Jersey Governor Jon Corzine, who is fighting tooth-and-nail with Republican Chris Christie with independent Chris Daggett in the low double-digits.
Democrats swept the 1989, 2001, and 2005 elections in these two states – and were able to do so both when Republican Presidents were popular (George H.W. Bush at 57 percent approval on Election Day in 1989; George W. Bush at 84 percent in 2001) as well as unpopular (Bush at 42 percent approval in 2005).
Republicans, meanwhile, swept the 1993 and 1997 gubernatorial contests in the two states while Bill Clinton was in office – at both unpopular (in 1993, at 48 percent) and popular (in 1997, at 57 percent) periods of his presidency.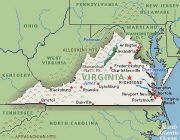 As such, it does not appear correct to attribute President Obama's middle-of-the-road approval ratings (in the low 50s), to any failures experienced by the Democratic Party on Tuesday in these two states.
Gubernatorial success by a political party in these states seems to be inversely correlated with the party controlling the White House and not correlated to the President's popularity, as such approval ratings have not demonstrated to be associated consistently with electoral success or failure of his party in gubernatorial elections in New Jersey and Virginia over the past 20 years.
And if there is a party sweep (by the GOP) on Tuesday, what does that tell us about how the midterm U.S. House elections will turn out in 2010?
Not much.
When the Democrats swept the gubernatorial contests in 1989 and 2005, they gained U.S. House seats in the following year's midterm elections (+7 and +31 seats respectively). However, after the Democrats swept the two races in 2001, they went on to lose 8 seats in the 2002 midterms.
As for the GOP, their sweep through New Jersey and Virginia in 1993 was followed by the 54-seat gain in the U.S. House in the 1994 Republican Revolution. However, their 1997 sweep was followed by a loss of 5 seats to the Democrats in 1998.
It should be noted that the Garden and Old Dominion States have not always voted in unison in gubernatorial elections. Democrats and Republicans each claimed one state in the elections of 1973, 1977, 1981, and 1985.
Follow Smart Politics on Twitter.