Chris Coleman Posts Largest St. Paul Mayoral Victory in a Quarter Century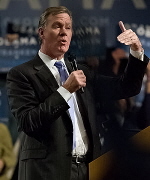 Despite GOP-endorsed mayoral candidate Eva Ng improving notably in the City of St. Paul Tuesday night vis-à-vis the performances of John McCain and Norm Coleman from a year ago, one-term incumbent Chris Coleman posted the strongest performance in a St. Paul mayoral race in nearly 25 years.
Coleman received 68.7 percent of the vote – one tenth of a percentage point higher than his 2005 victory when he unseated Randy Kelly.
This marks the largest percentage of the vote received by a St. Paul mayoral candidate since George Latimer won 84.3 percent of the vote in his final reelection victory in 1985.
Coleman's overwhelming victory occurred on a night in which Republicans gained significant ground in high profile statewide gubernatorial victories out east in New Jersey (+6 from 2005) and southeast in Virginia (+13).
Ng, however, did receive 30.8 percent of the vote among the Democratic-heavy St. Paul population. This marks a 37.5 percent improvement for the self-described "center right conservative" over the 2008 presidential vote in St. Paul received by Republican John McCain (22.4 percent) and a 21.3 percent improvement over the vote received by Norm Coleman in the Gopher State's 2008 US Senate race (25.4 percent).
The turnout in mayoral elections is, of course, much lower than in presidential or midterm election years.
Just 34,042 St. Paulites came out to vote in the mayoral race in 2009 – 42.5 percent less traffic at the ballot box compared to 2005, when 59,154 residents came out to vote as Coleman knocked Kelly out of office.
Ng's defeat means that Democrats will continue to control the mayor's office in St. Paul as they have done for 41 of the past 57 years since 1952 (Independent George J. Vavoulis, 1960-1966; Independent Charles P. McCarty, 1970-1974; Republican Norm Coleman, 1996-2002).
Follow Smart Politics on Twitter.