Is Joe Mauer (on Pace to Be) the Greatest Catcher of All Time?
Through six seasons Minnesota's MVP catcher rates favorably with the greatest catchers in Major League Baseball history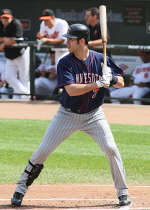 The announcement of Joe Mauer's runaway victory as the American League's Most Valuable Player for 2009 on Monday gives Minnesota baseball fans something to celebrate in the off season, and raises several questions about their franchise's star (and homegrown) player.
The question of short-term interest to Minnesota baseball fans is to what extent the Pohlad family ownership will use the likely increase in revenue generated from the (partially) taxpayer funded new stadium to lure Mauer into signing a lucrative long-term contract with the Twins after his current deal expires after the 2010 season.
To be sure, Twins fans expect their team to start spending some 'real money' with the opening of Target Field. Minnesota had the 7th lowest payroll in the major leagues in 2009, although that money was well-spent: the Twins were the 3rd most efficient team in the league in terms of the ratio of dollars spent on player payroll per victory ($750,566).
But the long-term question raised by Mauer's AL MVP award is how the 6-year veteran is beginning to settle into the pantheon of the greatest catchers in Major League Baseball history.
Lofty stats and longevity are both necessary ingredients before baseball writers and historians will deem a player among the greatest at his position of all-time. (Some analysts also demand World Series rings, although the game is a team sport).
While Mauer has the statistics and hardware to document the great start to his career, he now needs to string together another 5 to 8 years of high output seasons before he will be in the final conversation of the top four or five catchers in Major League Baseball history.
Despite that disclaimer, a Smart Politics analysis of Mauer's first six seasons reveals that the early career of the Twins' star catcher rates very favorably against the first six seasons logged in by the greatest catchers in baseball history.
Although there are difficulties in comparing baseball statistics straight up across different eras of baseball, Mauer's stats rank at or near the top across almost all statistics against the best catchers who debuted in the following eras over the past 85+ years:
· The Live-Ball Era (Gabby Hartnett, Mickey Cochrane, Bill Dickey, Ernie Lombardi)
· The Integration Era (Yogi Berra, Roy Campenella, Elston Howard, Joe Torre)
· The Expansion Era (Johnny Bench, Ted Simmons, Carlton Fisk, Thurmon Munson. Gary Carter)
· The Free Agency Era (Lance Parrish, Mike Piazza, Ivan Rodriguez)
· The Long Ball Era (Jorge Posada, Victor Martinez)
Mauer stands alone in baseball history for being the only catcher to have won three league batting titles – and the only American League catcher to notch even one. Mauer's .365 average in 2009 was also the highest for a catcher in the modern (post-1900) era – besting Piazza's .362 mark from 1997 with the Los Angeles Dodgers.
But Mauer is not the only catcher to have sprinted out of the gate with an MVP award this early in his career. Johnny Bench and Roy Campenella each won two MVP awards in their first six years of Major League Baseball, while Yogi Berra and Mickey Cochrane each won one.
Mauer, however, is also noteworthy for his steady defense. The Twins' catcher has committed only 18 errors in six seasons, the lowest among the class of elite catchers listed above, with the exception of Elston Howard who committed just 14 errors behind the plate, but played a majority of his first six seasons elsewhere in the field.
In addition to his record number of batting titles, Mauer also ranks in the Top 5 in several key categories of offensive statistics among this crop of remarkable catchers under comparison through their first six seasons in baseball respectively.
· Mauer ranks first among this group in walks drawn (368).
· Mauer is tied for first in doubles with Ivan Rodriguez (158).
· Mauer has the best stolen base to caught stealing ratio (4.86) and is second in stolen bases (34).
· Mauer has the second highest batting average (.327) behind only Mike Piazza (.334).
· Mauer is third in base hits (844) behind Cochrane (867) and Piazza (854).
· Mauer is fifth in slugging percentage (.483) behind Piazza (.576), Roy Campenella (.529), Carlton Fisk (.502), and Yogi Berra (.497).
· Mauer is fifth in total bases (1,248) behind Piazza (1,474), Johnny Bench (1,409), Campenella (1,401), and Cochrane (1,270).
· Mauer is fifth in runs scored (419) behind Cochrane (514), Campenella (433), Piazza (423), and Bench (421).
While Mauer did not really break out his home run stroke until 2009 – when his 28 home runs more than doubled his previous high of 13 – through six seasons his 72 home runs are still more than the amount tallied by sluggers Ivan Rodriguez (68) and Carlton Fisk (71) at this point in their careers.
In short, six years in, Mauer has begun to stockpile numbers that may one day put him in the class of Bench, Piazza, Berra, Rodriguez, Cochrane, and Campanella. At that point, it will be up to baseball historians to sort out who is truly the best across all eras of the league.
Note: While Mauer has only played five full seasons (he only had 107 at-bats in 2004), the data above for each player tabulates the statistics for each of the first six full or partial seasons the player logged in at the major league level in which the player made at least one plate appearance.
Follow Smart Politics on Twitter.