Pawlenty Unflappable Amid Press Corps Accusations that 2012 Aspirations Hindering His Ability to Govern During Budget Crisis
Governor is adamant that, despite rumored political aspirations or busy travel schedule, there is "no work in his office or administration that is left undone"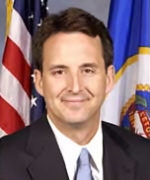 At a press conference Wednesday afternoon discussing the State of Minnesota's projected $1.2 billion deficit, Governor Tim Pawlenty was constantly barraged with questions, insinuations, and direct accusations that his ability to tackle the state's budget problems and demonstrate leadership during these difficult economic times are compromised by his national ambitions and aggressive travel schedule.
Nearly half of the questions directed towards Pawlenty by the press corps during the half-hour news conference were variations on the same theme, approached with varying degrees of brashness. And that theme was, "How can you govern and lead if you're not focused on the pressing issues facing the state of Minnesota?"
Pawlenty, however, was reluctant to take the bait, and remained unflappable by flatly dismissing any such charges that his administration is leaving any stone unturned as Minnesota faces its worst economic crisis since World War II.
The issue was first raised just a few questions into the press conference, when one member of the media disguised a question about politics inside a question purportedly about policy:
Reporter #1: "Governor, would you agree to revenue – specifically tax increases – under any situation, is there any possibility that you might do that? And then, second part of my question, Democrats say if your answer is "no" that you need to be thinking about Minnesota rather than the national political stage."
In his usual calm tone Pawlenty spoke at great length to the policy end of the question, but not the political implications…
Governor Pawlenty: "Well, first of all, you have to put this in context. Again, with the exception of Montana and North Dakota, every state in the nation is facing the same or similar circumstances. So, if the solution were if we had a Democratic governor who raised taxes, you will find that in those states that did, that they all would have deficits. So there isn't a unique, Minnesota perspective here. This is happening to the whole country. It's happening in states with Democratic governors, it's happening in states with Republican governors. Secondly, you would be hard pressed – and any fair minded person would be hard pressed – to look at Minnesota's taxation structure and levels, particularly as it relates to income or job-related taxes, to say, relative to the rest of the country, we are undertaxed. That is not a credible argument. If anything, Minnesota is overtaxed and we should be focused on reducing burdens, particularly in those areas that will be helpful to stimulate job growth and economic activity."
A few minutes later, another member of the media pressed Pawlenty more directly about whether he is governing to the best of his abilities…
Reporter #2: "Can't you do anything short-term to give Minnesotans some hope? And I'm thinking, frankly, about changing your schedule to work harder to create jobs."
Pawlenty replied that he didn't understand the question.
So, the reporter tried again…
Reporter #2: "OK. I'm thinking of (former DFL) Governor Perpich during the last really terrible recession and he said that he would do nothing but worry about creating jobs for Minnesota. And, frankly, he did some things a little wacky, but he did all his travel, nationally and internationally, which focused on promoting Minnesota as a place for business. Shouldn't you be doing more of that?"
Governor Pawlenty's answer to this charge was that he would soon be going on a trade mission to do just that and then proceeded to explain the importance, once again, of making the Gopher State more business-friendly. The Governor was just about to let the reporter's political jab go, but then added…
Governor Pawlenty: "And the work around here – it gets done. There is nothing in our office or administration that doesn't get done."
That prompted the reporter to take his gloves off, and follow up by explicitly addressing the elephant in the room…
Reporter #2: "But if you're traveling the nation, why aren't you selling Minnesota instead of running for an office that doesn't exist for another three years?"
Pawlenty answered rather flatly…
Governor Pawlenty: "You know I'm not doing that. I haven't decided that yet. And the work here and around the country is getting done. What are you suggesting?"
Reporter #2: "Well, I'm suggesting that you take a more aggressive stance in trying to address the jobs problem that we just heard –"
The Governor interrupted the reporter and issued the following challenge…
Governor Pawlenty: "There is no opportunity that we haven't pursued or any job left undone relative to our office or administration, and if you can identify one let me know."
After a brief departure by the media for a few minutes asking the Governor questions on substantive policy issues from health care to the new Vikings stadium, the topic once again turned to Pawlenty's ability to govern the state…
Reporter #3: "Governor, some of your critics are saying you're putting your political aspirations ahead of your state. Will you put a run for president off the table in 2012?"
Governor Pawlenty: "I'm not sure what that has to do with it."
Reporter #3: "Well, they're saying you're putting your political aspirations and possible run for president -"
Governor Pawlenty: "Yeah – I disagree. My views haven't changed since 2003. They're not new. They're not somehow inspired by the implication of the question."
Reporter #3: "You're not willing to take it off the table?"
Governor Pawlenty: "I don't know what I'm going to be doing after 2010. But I do know that I will finish my term as Governor."
Then another reporter chimed in…
Reporter #4: "Do you plan on slowing down or changing your travel schedule nationally during this crisis?"
Governor Pawlenty: "The measure isn't that. It's – does the work get done? And, again, given the number of hours that I put in, there is no work in my administration that's left undone."
The press conference ended a few minutes after this exchange.
Whether the goal of the Capitol press corps, however improbable, was to get a direct answer to these political questions, or whether reporters felt they wouldn't be doing their job if they didn't try to rattle the cage of the savvy Governor, this latest round of the press corps-gubernatorial matchup is scored 10-9 in favor of Pawlenty.
Follow Smart Politics on Twitter.