Does R.T. Rybak Have an Outstate Minnesota Problem?
Lack of statewide political experience and (proportional) decline of Minneapolis' statewide population base present two challenges for the Mayor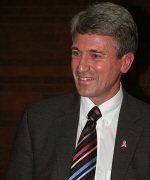 While last month's Rasmussen poll showing a plurality of likely DFL primary voters equally split between Minneapolis Mayor R.T. Rybak and former U.S. Senator Mark Dayton (with most DFL candidates not even listed in the question wording), the path to the Governor's mansion for Rybak is certainly not a traditional one.
As reported by Smart Politics in October, only three of Minnesota's 38 governors have only held local governmental positions before becoming governor: Jesse Ventura (Mayor of Brooklyn Park), Harold Stassen (Dakota County District Attorney), and Floyd Olson (Hennepin County Attorney).
Three other governors had no prior governmental experience at any level – Harold LeVander, Orville Freeman, and Stephen Miller.
However, the overwhelming majority of Gopher State governors (79 percent, 30 of 38) held some prior state governmental post before becoming governor.
Rybak's lack of state or federal governmental political experience leads some analysts to speculate that the Minneapolis mayor might have some difficulty appealing to outstate voters. Rybak himself features "rural economy" as one of his six key campaign issues on his campaign website, as perhaps an early start to buck his image as simply a "big city politician."
The Ventura precedent – the only other governor of the Gopher State whose prior governmental experience was just mayoral – is easily dismissed by Rybak detractors as a special case due to Ventura's celebrity as a wrestler and actor.
However, Rybak's Twin Cities roots per se will not make him unelectable. Far from it – more governors have launched their political careers from Minneapolis (7) than any other city in the Gopher State: Arne Carlson, Orville Freeman, Luther Youngdahl, Floyd Olson, J.A.O. Preus, David Clough, and John Pillsbury.
An additional 12 governors launched their political careers in St. Paul or what is now the greater metro region. Of course, most of these 19 governors from the greater Twin Cities region also had prior state governmental experience.
Another potential problem facing Rybak is that while the greater metro population (where Rybak is most well-known) continues to constitute a larger and larger percentage of the state's population base, its rate of increase is slowing down while Rybak's home base of Minneapolis is actually shrinking as a percentage of the Gopher State population.
In 1980, the population of Anoka, Carver, Dakota, Hennepin, Ramsey, Scott, and Washington Counties (1.98 million) was less than half of Minnesota as a whole (48.7 percent).
By 1990, these counties accounted for 52.3 percent of the state's population, but then only rose to 53.7 percent in 2000 and 53.8 percent in 2008 according to the U.S. Census Bureau population estimates.
But while the greater metro region population has increasingly comprised a larger percentage of the state population, the populations of Hennepin County and the City of Minneapolis are each comprising smaller amounts.
In 1990, the population of Hennepin County (0.94 million) totaled 23.1 percent of the total state population. That amount dropped to 22.7 percent in 2000 and 21.9 percent in 2008.
(The population of neighboring Ramsey County has also dropped – from 11.3 percent of the state population in 1980 to 11.1 percent in 1990, 10.4 percent in 2000, and 9.6 percent in 2008).
The population of the City of Minneapolis as a percentage of the state population has also been on the decline – from 9.1 percent in 1980, to 8.4 percent in 1990, to 7.8 percent in 2000, to 7.5 percent in 2008. In short, Rybak's high popularity in Minnesota's largest city is counting for less and less in a statewide race as each year goes by.
Of course, should Rybak receive the DFL nomination (and/or win the primary), his big-city roots or lack of state governmental experience may each play less of a factor than the party label beside his name.
If the economic situation and two wars over which the Democratic Party is presiding in Washington D.C. do not inspire confidence in the electorate in the coming months, the Democratic tag may be too much to overcome for whomever the DFL sees fit to run on the general election ballot.
Percent of Minnesota Population by Region, 1980-2008
Region

1980

1990

2000

2008 est.

Metro*

1,985,873

2,288,721

2,642,056

2,810,424

Percent

48.7

52.3

53.7

53.8

Hennepin County

941,411

1,032,431

1,116,200

1,140,998

Percent

23.1

23.6

22.7

21.9

Minneapolis

370,951

368,383

382,618

390,131

Percent

9.1

8.4

7.8

7.5
* Includes Anoka, Carver, Dakota, Hennepin, Ramsey, Scott, and Washington Counties. All data compiled by Smart Politics from U.S. Census Bureau, except 2008 Minneapolis population data from the Metropolitan Council's 2008 Population Estimates.
Follow Smart Politics on Twitter.