Rybak Hopes to Revive the Gopher State Tradition of Journalist-Turned-Governor
Rybak seeks to become the first Minnesota governor in over 80 years with a newspaper background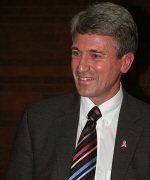 While R.T. Rybak is trying to become only the second governor in Minnesota history whose only prior governmental experience is mayoral, he does share one thing in common with several previous residents of the Governor's mansion – a background in the newspaper industry.
Since statehood, seven of the Gopher State's 38 governors spent part of their professional careers working in the newspaper industry prior to becoming governor.
Rybak's background in journalism is well-known and extensive – it includes serving as reporter and editor for Sun Newspapers, a journalist for the Minneapolis Star Tribune, and publisher of the Twin Cities Reader.
Should he achieve his goal in 2010, Rybak would be the first candidate with a newspaper background to be elected Governor of the Gopher State in 82 years (Theodore Christiansen, 1928).
However, careers in the newspaper industry were much more common among gubernatorial hopefuls in the Gopher State in the 19th and early 20th Centuries.
During a 70-year stretch from the mid-1860s until the mid-1930s, seven of Minnesota's 19 governors were current or former newspapermen:
· Minnesota's 4th Governor, Republican Stephen Miller (1864-1866), had worked as an editor for the Pennsylvania Telegraph back when he lived out east in Harrisburg. The Telegraph was a Whig paper, and Miller served as editor from 1853-1855.
· Minnesota's 5th Governor, Republican William Marshall (1866-1870), was publisher and founder of the St. Paul Press, which he launched in 1861. The Press was a Republican paper and the 125th weekly and 13th daily paper founded in Minnesota up to that point in time.
· Minnesota's 9th Governor, Republican Lucius Hubbard (1882-1887), was publisher and editor of the Red Wing Republican, which he established in 1857.
· Minnesota's 10th Governor, Republican Andrew McGill (1887-1889), was first editor of the St. Peter Tribune (from 1863 to 1865), a Republican weekly, and later proprietor of the publication, from 1885 until he became governor in 1887.
· Minnesota's 16th Governor, John Johnson (1905-1909), is the only Democratic governor in Gopher State history with a background in newspapers. Back in 1887, Johnson was editor and half owner of the Democrat paper, the St. Peter Herald.
· Minnesota's 21st Governor, Theodore Christianson (1925-1931), served as editor and publisher of the Dawson Sentinel, from 1909 until he became governor in 1925.
· Minnesota's 23rd Governor, Farmer-Laborite Hjalmar Petersen (1936-1937), was the last governor of the Gopher State with a background in the newspaper industry. Petersen owned the Askov American from 1914 until his death in 1968. Lieutenant Governor Petersen became Governor upon the death of Floyd B. Olson in 1936.
Follow Smart Politics on Twitter.