Hello, Governor – What's Your Sign?
Virgo and Cancer are the most common signs for Minnesota governors throughout history; Scorpios and Sagittariuses are the rarest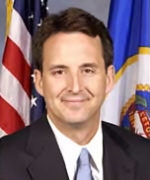 While Governor Tim Pawlenty may be more well-known as one of only two Minnesota governors to have been elected two times without a majority of the vote (along with Knute Nelson), his victory in 2002 also marked a first in Minnesota history.
After 145 years, Pawlenty finally ended the Sagittarius drought when he became the first Minnesotan to be elected governor under that astrological sign since statehood in 1857.
In today's (admittedly frivolous) fifth installment of its Pathway to the Governor's Mansion series, Smart Politics looks across history and up at the stars for the astrological signs of the 38 men who have served as governor of the Gopher State.
(Previous, more weighty installments of Smart Politics' 'Pathway to the Governor's Mansion' series include reports on the political experience, geographic background, ethnic background, and age of successful gubernatorial candidates in Minnesota history).
An examination of birth information provided by the Minnesota Historical Society finds governors born under the signs of Cancer and Virgo are the most common in Minnesota history, with five each.
There have actually been six Cancers if Rudy Perpich (June 27) is counted twice – the DFLer served from 1976-1979 after Governor Wendell R. Anderson resigned to become U.S. Senator, and then was elected twice, serving again from 1983 to 1991. (Perpich is officially known as the 34th and 36th Governors of Minnesota).
Other governors born under the sign of Cancer are Republicans Adolph Eberhart (June 23) and J.A.A. Burnquist (July 21), DFLer Karl Rolvaag (July 18), and Jesse Ventura (July 15).
The state's first Virgo was the 2nd Governor of Minnesota, GOPer Alexander Ramsey (September 8). It would be 60 years before the next Virgo was elected, triggering a string of three out of five governors born under this astrological sign: Republican J.A.O. Preus (August 28) in 1920, Republican Theodore Christiansen (September 12) in 1924, and Farmer-Laborite Elmer Benson (September 2) in 1936. Republican Al Quie (September 18) was the last Virgo governor of the Gopher State.
Libra is the next most common astrological sign for Minnesota's governors with four – each of whom were Republicans. The first two Libras were the state's 5th and 6th governors – William Marshall (October 17) and Horace Austin (October 15) – to be followed almost one hundred years later by Harold LeVander (October 10) and Arne Carlson (September 24).
There has been an equal number of governors born under the signs of Aquarius, Aries, Capricorn, Gemini, Pisces, Taurus, and Leo (with three for each).
Only two Minnesota governors have been Scorpios – Democrat Winfield Hammond (November 17) and Farmer-Laborite Floyd Olson (November 13).
With Pawlenty breaking the Sagittarius drought in 2002, the astrological sign with the current longest dry spell in the Gopher State is Leo – the last of which being the state's 16th Governor, Democrat John Johnson (July 28), who left office 100 years ago in 1909.

The winless streak for Leos will likely continue in 2010 as none of the major announced DFL or Republican candidates were born under that sign….unless…
….Norm Coleman should enter the race. Coleman's birthday is August 17th, and would be the best hope for Leos this election cycle.
And who among the major DFL and GOP candidates hopes to follow Pawlenty and extend the Sagittarius winning streak to two in a row? That would be DFL Ramsey County Attorney Susan Gaertner (December 2) and DFL Representative Paul Thissen (December 10).
As for the favored signs – Cancer and Virgo – these are being represented in the 2010 gubernatorial fight by former Republican Representative Bill Haas (June 25) and DFL Representative Tom Rukavina (August 23) respectively.
Astrological Signs of Minnesota Governors, 1858-present
Governor

Years

Birthday

Sign

Henry Sibley

1858-1860

February 20 (1811)

Pisces

Alexander Ramsey

1860-1863

September 8 (1815)

Virgo

Henry Swift

1863-1864

March 23 (1823)

Aries

Stephen Miller

1864-1866

January 7 (1816)

Capricorn

William Marshall

1866-1870

October 17 (1825)

Libra

Horace Austin

1870-1874

October 15 (1831)

Libra

Cushman Davis

1874-1876

June 16 (1838)

Gemini

John Pillsbury

1876-1882

July 29 (1827)

Leo

Lucius Hubbard

1882-1887

January 26 (1836)

Aquarius

Andrew McGill

1887-1889

February 19 (1840)

Pisces

William Merriam

1889-1893

July 26 (1849)

Leo

Knute Nelson

1893-1895

February 2 (1842)

Aquarius

David Clough

1895-1899

December 27 (1846)

Capricorn

John Lind

1899-1901

March 25 (1854)

Aries

Samuel Van Sant

1901-1905

May 11 (1844)

Taurus

John Johnson

1905-1909

July 28 (1861)

Leo

Adolph Eberhart

1909-1915

June 23 (1870)

Cancer

Winfield Hammond

1915-1915

November 17 (1863)

Scorpio

J.A.A. Burnquist

1915-1921

July 21 (1879)

Cancer

J.A.O. Preus

1921-1925

August 28 (1883)

Virgo

Theodore Christianson

1925-1931

September 12 (1883)

Virgo

Floyd Olson

1931-1936

November 13 (1891)

Scorpio

Hjalmar Petersen

1936-1937

January 2 (1890)

Capricorn

Elmer Benson

1937-1939

September 2 (1895)

Virgo

Harold Stassen

1939-1943

April 13 (1907)

Aries

Edward Thye

1943-1947

April 26 (1896)

Taurus

Luther Youngdahl

1947-1951

May 29 (1896)

Gemini

C. Elmer Anderson

1951-1955

March 16 (1912)

Pisces

Orville Freeman

1955-1961

May 9 (1918)

Taurus

Elmer Andersen

1961-1963

June 17 (1909)

Gemini

Karl Rolvaag

1963-1967

July 18 (1913)

Cancer

Harold LeVander

1967-1971

October 10 (1910)

Libra

Wendell Anderson

1971-1976

February 1 (1933)

Aquarius

Rudy Perpich

1976-1979, 1983-1991

June 27 (1928)

Cancer

Al Quie

1979-1983

September 18 (1923)

Virgo

Arne Carlson

1991-1999

September 24 (1934)

Libra

Jesse Ventura

1999-2003

July 15 (1951)

Cancer

Tim Pawlenty

2003-present

November 27 (1960)

Sagittarius
Follow Smart Politics on Twitter.