Beyond Tim Robbins: Fellow Politicians Not Contributing to Bachmann's 2010 Campaign
Prominent Minnesota politicians once offered financial support early in Bachmann's D.C. career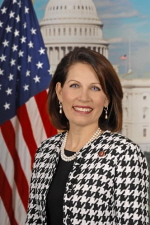 A bewildered blogosphere was buzzing earlier this week when a report emerged that actor Tim Robbins once gave $500 to Michele Bachmann's inaugural campaign for Congress back in 2006 (as well as to other Republicans).
While the donation of money of any denomination by one of Hollywood's most outspoken liberal actors to a candidate who would soon become one of the most outspoken conservatives on Capitol Hill is undoubtedly titillating for D.C. watchers, a larger story has been overlooked about the dearth of financial support Bachmann has received from high-profile political figures this year, particularly in comparison to many of her colleagues in the Gopher State's U.S. House delegation.
In November of last year, Smart Politics reported that Bachmann stood alone as the only U.S. House member to have received no large donor contributions from notable Minnesota politicians through the first three quarters of the current election cycle.
By contrast, tens of thousands of dollars from political figures have poured into the campaign coffers of the other members of Minnesota's U.S. House delegation and its high profile Congressional hopefuls (like Maureen Reed and Tarryl Clark). Contributions have come from two former U.S. Senators, two former U.S. Representatives, five 2010 gubernatorial candidates, several state legislators, and local governmental officials across Minnesota.
While Bachmann has proved to be an expert fundraiser in general, leading the delegation with nearly $1 million raised this cycle through September 2009, notable current and former public officials are not getting out their checkbooks for the 2-term Congresswoman from Stillwater.
That has not always been the case, however.
For example, back in August 2006 former U.S. Senator Rudy Boschwitz contributed $2,000 to Bachmann's campaign. In her first year in D.C., Boschwitz contributed another $2,300 in November of 2007.
Boschwitz is still actively supporting GOP officeholders – giving $500 to Congressman John Kline last September – but has given no large donor funds to Bachmann over the last two years.
In August 2006 and September 2006 former 6-term Republican Congressman Vin Weber contributed $1,000 each month to Bachmann. Weber followed that up with contributions in July 2007 of $1,000, November 2007 of $2,700, and August 2008 of $300.
But in the current election cycle, while Weber has given money to Republican Congressman Erik Paulsen, he has contributed no large donor funds to Bachmann.
Bachmann also received $1,000 back in February 2008 from former 2006 Minnesota GOP gubernatorial candidate Sue Jeffers.
Meanwhile, Bachmann's two DFL challengers, Maureen Reed and Tarryl Clark, have seen financial support from the likes of former 6-term DFL U.S. Representative and 2002 Independence Party gubernatorial nominee Tim Penny (Reed), former 2006 DFL U.S. Senate candidate Ford Bell (Reed), 2008 3rd Congressional District Independence Party nominee David Dillon (Reed), State Senator Steve Murphy (Reed), former DFL U.S. Senator and 2010 gubernatorial candidate Mark Dayton (Clark), DFL State Senator Terri Bonoff (Clark), former DFL Senate Majority Leader and 2002 gubernatorial nominee Roger Moe (Clark), and DFL State Senator Tony Lourey (Clark).
Whether or not the current lack of financial contributions to Congresswoman Bachmann from fellow former and current political officeholders in Minnesota is a statistical aberration at this point in the 2010 election cycle is not known.
However, there is other circumstantial evidence that Bachmann's rise to stardom in conservative circles may have scared off some political contributors: Smart Politics reported last October that special interest PAC money to Bachmann's campaign is at its lowest level since her Q2 2006 GOP endorsement.
Perhaps the Congresswoman's newfound platform and the prominent airtime she has been given on television to voice her controversial views is indeed giving current and former Minnesota officeholders pause as they consider to which candidates they will open their pocketbooks this election year.
Follow Smart Politics on Twitter.