From the U.S. Senate to St. Paul: Dayton (and Coleman?) Try to Make History
Pathway from 1 of 100 to 1 of 50 has been steep and narrow for Minnesota politicians
(This report is the seventh installment in Smart Politics' 'Pathway to the Governor's Mansion' Series. Past reports analyzed the political experience, geographic background, ethnic background, age (part 1), astrological signs, and age (part 2) of successful gubernatorial candidates in Minnesota history).

Republican Pat Anderson's announcement on Monday that she was ending her gubernatorial bid due, in part, to the looming candidacy of fellow GOPer Norm Coleman ("The shadow is real," Anderson proclaimed) shines the spotlight even more fully on the will-he-or-won't-he-run former U.S. Senator and Mayor of St. Paul.
Should Coleman enter the race, he would join DFLer Mark Dayton in a quest to become the first Minnesotan ever to be elected U.S. Senator and then be elected Governor of the Gopher State.
Few, in fact, have ever tried such a political venture.
First things first – let's get a technicality out of the way. There has been one Minnesotan in history that served in the Senate and then was elected Governor. However, DFLer Elmer Benson was appointed to his U.S. Senate seat when Republican Thomas Schall died in December 1935. Benson served just 10 months in the Senate and was then elected Governor in 1936.
But only two other Minnesotans have ever received their party's nomination for governor after being elected to serve in the U.S. Senate – and both lost their respective gubernatorial general election contest.
Democrat Henry Rice, who served in the United States Senate for nearly five years from 1858 to 1863, ran for Governor of Minnesota in 1865 – losing by 11.2 points to Republican William Marshall in the midst of 19 consecutive gubernatorial victories by the GOP from 1859-1896.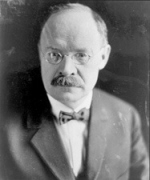 Approximately 60 years later, Farmer-Laborite Magnus Johnson won a special election to the U.S. Senate in 1923 to fill the vacancy caused by the death of Republican Knute Nelson. Johnson served a little more than 1.5 years in D.C., but lost his reelection bid in 1924. Johnson then ran for Governor in 1926 on the Farmer-Labor ticket, but lost by 18.4 points to GOP incumbent Theodore Christianson. (Johnson had also previously lost the gubernatorial election of 1922 – by 2.1 points to Republican Jacob Preus).
No other former U.S. Senator from the Gopher State has subsequently received their party's nomination for governor.
And while the path has been steep and narrow for Minnesota politicians to go from the U.S. Senate to the governor's mansion, the reverse has been much easier. Four governors of the Gopher State have later gone on to be elected to serve in the U.S. Senate:
· Republican Alexander Ramsey was elected Governor of Minnesota in 1859 and 1861 and was then elected to the U.S. Senate in 1863 and 1869.
· Republican Cushman Davis was elected Governor in 1873 and was subsequently elected to the U.S. Senate in 1886, 1892, and 1898.
· Republican Knute Nelson was elected Governor in 1892 and 1894, resigned in his second term, and was then elected to the U.S. Senate in 1895, 1901, 1907, and by popular vote in 1912 and 1918.
· Republican Edward Thye was elected Governor in 1944 and was then elected twice to the U.S. Senate, in 1946 and 1952 (losing his bid for a third term to DFLer Eugene McCarthy in 1958).
(Two-time DFL gubernatorial victor Wendell Anderson also became a U.S. Senator, but was appointed to the seat to fill the vacancy caused by the election of Democrat Walter Mondale to the Office of Vice President in 1976).
Interestingly, while the U.S. Senate-Gubernatorial pathway is not well-trodden, there have been several governors of the Gopher State who were previously members of the (slightly less elite) U.S. House of Representatives:
· Democrat Henry Sibley, the state's first governor elected in 1857, had served as a Territorial Delegate to Congress both from Wisconsin (1848-1849) and Minnesota (1849-1853).
· Republican Governor Alexander Ramsey had previously served as a U.S. Representative from Pennsylvania as a Whig in 1842 and 1844.
· Republican Governor Knute Nelson had also previously been elected three times to the U.S. House – in 1882, 1884, and 1886.
· Democrat John Lind was elected Governor in 1898 and had previously been elected three times as a Republican to the U.S. House (1886, 1888, and 1890) and also subsequently as a Democrat in 1902.
· Democratic Winfield Hammond was elected Governor in 1914 after having been elected to the U.S. House in 1906, 1908, 1910, and 1912.
· Republican Al Quie was elected Governor in 1978 after having served for 11 terms in the U.S. House, winning a special election in 1958 and 10 subsequent elections through 1976.
One wonders if once-rumored gubernatorial candidates Tim Walz of the 1st CD and Michele Bachmann of the 6th CD are aware of this historical oddity that U.S. Representatives have had a much easier time getting elected governor of the Gopher State than its U.S. Senators.
None of the current batch of gubernatorial candidates has served in the U.S. House, although Republican hopeful Phil Herwig ran as the GOP nominee in the 8th CD against Jim Oberstar twice – in 1992, losing by 29.4 points, and in 1994, losing by 31.5 points.
Follow Smart Politics on Twitter.