Massachusetts U.S. Senate Race: Special Elections Frequently See Flip in Voter Preferences
More than half of U.S. Senate special elections since 1970 have resulted in a partisan flipping of voter preferences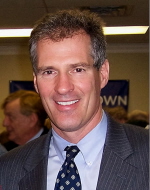 The special election for Massachusetts' U.S. Senate seat is garnering significant national attention for what is perceived as a surprising degree of competitiveness. Massachusetts, one of the most Democratic-friendly states in the country, has not elected a Republican to the U.S. Senate since Edward Brooke in 1972.
Most polls show the matchup between Democratic Massachusetts Attorney General Martha Coakley and Republican state Senator Scott Brown a dead heat with Brown surging.
Many Democratic loyalists are explaining away the highly competitive race as a result of poor campaigning by Coakley.
Republicans, meanwhile, see the Senate race as an extension of the national momentum the GOP is experiencing across the country; as evidenced last November when the Party picked up two gubernatorial seats – in Virginia and New Jersey.
However, a Smart Politics historical analysis finds that turnover in special election contests is actually quite common. In fact, since 1970, there has been more turnover than not – with voters changing their partisan preference at the ballot from the last time the Senate seat in question was up for election in 13 of 20 races.
In most of these states, appointments have been made to temporarily fill the U.S. Senate seat in the interim – and frequently such appointees have gone on to win the special election. Since the first popular vote special election in 1914, 22 appointees have won the special election contest.
However, in the case of Massachusetts, the appointee, Democrat Paul Kirk, is not on the ballot.
Overall, the partisan flip-flopping in U.S. Senate special election contests among the electorate has been on the rise, with 65.0 percent of seats flipping since 1970, 48.8 percent flipping since 1942, and 36.2 percent flipping since 1914.
Seven of these 13 partisan shifts in special elections since 1970 have been from Democrats to Republicans (Alaska in 1970, Minnesota in 1978, Washington in 1983, Texas in 1993, Tennessee in 1994, Oklahoma in 1994, and Missouri in 2002), with six from Republicans to Democrats (Illinois in 1970, New Hampshire in 1975, Pennsylvania in 1991, California in 1992, Oregon in 1996, and Georgia in 2000).
(Note: a partisan shift or 'flip' is defined here as a change among the electorate from the last time the Senate seat was on the ballot. Such a flip is not necessarily synonymous with a 'pick-up' in the Senate Chamber, however, as such changes sometimes already occurred after gubernatorial appointments changed the seat from one party to another, with the appointee incumbent then going on to win the special election (e.g. Georgia 2000, Pennsylvania 1991, Washington 1983, Alaska 1970)).
The tightness of the Massachusetts race is also not surprising in light of the fact that special elections have been much more competitive than regular U.S. Senate contests in recent years.
A Smart Politics analysis of the fourteen U.S. Senate special elections since 1990 finds the average margin of victory was 16.7 points, whereas the margin of victory in those fourteen states for full-term U.S. Senate seats was 26.4 points.
Even when pick-ups have not occurred, special elections over the past two decades have resulted in some competitive races for both Democrats in heavily Republican states and vice-versa.
For example, in the heavily Republican state of Kansas, the average margin of victory for full-term U.S. Senate races has been 39.8 points since 1990. However, the 1996 special election race between Republican Sam Brownback and Democrat Jill Docking was decided by only 10.6 points.
And in Mississippi's 2008 special election, Republican Roger Wicker defeated Ronnie Musgrove by 9.9 points. Republicans had trounced Democrats in full-term U.S. Senate contests by an average of 48.1 points since 1990.
Republicans have also made Democrats sweat bullets in heavily Democratic states. For example, in 1990, Democrat Daniel Akaka defeated Republican Patricia Saiki in a Hawaiian special election by just 9.4 points. The average margin of victory by Democratic U.S. Senate candidates in the six elections since has been a whopping 44.4 points.
Given the fact that special U.S. Senate elections are much more competitive than regular Senate races and that voters frequently 'flip' and vote into office the opposite political party from when the Senate seat in question was last on the ballot, it should not be so stunning that the Coakley-Brown matchup is as close as polls suggest heading into Tuesday's election. (Particularly given the current political environment that shows many Democrats struggling nationwide).
Follow Smart Politics on Twitter.