Mike Parry Fends Off Critics, Engbrecht, and Srp to Hold 26th Senate District for GOP
Tri-County District split support among the three candidates; Roy Srp turns in best State Senate performance for IP since 2002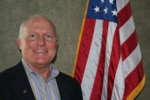 Voters in the Gopher State's 26th Senate District reaffirmed their conservative credentials on Tuesday by reelecting a Republican to fill the seat vacated by 6-term Republican Dick Day.
Republican, former Waseca City Council member, and Democratic lightning rod Mike Parry won with a plurality of 43.0 percent, followed by St. Olaf physics professor Jason Engbrecht with 36.5 percent, and 20.3 percent for Independence Party nominee and 3-term Waseca Mayor Roy Srp.
Parry, who received endorsements by Day, GOP U.S. Representatives Michele Bachmann and John Kline, as well as Governor Tim Pawlenty, won by over 750 votes despite being made a target by Democrats for controversial posts made on his Twitter account prior to his candidacy.
The vote, however, reflects the trend of the 26th District, as reported at Smart Politics last week, which has consistently voted more Republican than the Gopher State overall since redistricting in 2002 – frequently by double-digit margins.
The DFL had hoped that its moderate success in winning State House races in the 26th District (notching a 4-4 record since 2002 and currently holding both seats in St. Paul) could translate into a pick-up on Tuesday to give the DFL 47 seats for the first time since the 1986 election.
However, a Smart Politics analysis published Tuesday morning revealed that the GOP has far outperformed its DFL opponents in special State Senate elections since partisan ballots began in 1974 – winning 61 percent of such contests and picking up 13 seats compared to just 4 for the DFL. (With each of the DFL pickups coming with the Democratic tsunamis during 2005 to 2008).
Although the 26th District is not divided equally in the tri-county region, each of the three candidates carried a county Tuesday.
· Parry carried a plurality of Steele County's (Owatonna) vote with 46.0 percent, with Engbrecht at 35.1 percent and Srp at 18.7 percent. Steele County accounted for 47.3 percent of all the votes in the District, although it had the lowest average voter turnout with 209 voters per precinct.
· Engbrecht carried a plurality of Rice County's (Faribault) vote by 46 votes over Parry. Engbrecht won 47.1 percent with Parry at 45.8 percent and Srp at just 7.0 percent. Rice County comprised 32.8 percent of the vote on Tuesday, and had the highest average voter turnout with 290 voters per precinct.
· A plurality of Waseca County voters cast its ballots for Srp, the City of Waseca's mayor, with 46.2 percent of the vote, followed by Parry at 31.3 percent and Engbrecht at 22.5 percent. Waseca County voters made up 19.9 percent of the voting electorate in this special election, and averaged 286 voters per precinct.
To Srp's credit, his performance on Tuesday was the Independence Party's best showing in a State Senate election since 2002 and the 4th best showing since 2000 when the IP bolted from the national Reform Party.
In the 2006 general election, the best showing by an IP candidate in a Senate race was 17.8 percent, by Kevin Kelleher.
The three candidates who turned in better performances than Srp in 2002 were Sheila Kiscaden in District 30 (at 41.6 percent, winning the race), Sherry Butcher in District 42 (at 30.1 percent), and Tom Norman in District 6 (at 27.4 percent, but in a two-candidate race won by DFLer Tom Bakk).
As Smart Politics reported last week, the 26th District has showed strong support for the Independence Party over the past decade.
Parry will be up for reelection in November along with the other 66 Senate districts in the Gopher State.
Follow Smart Politics on Twitter.