Why Minnesota Democrats Should Be Thankful Tim Pawlenty Is Not Running for Reelection
Republican gubernatorial incumbents in Minnesota have won 93 percent of reelection defenses since statehood (25 of 27), while losing 70 percent of open seat contests over the past century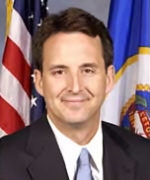 While most renowned political prognosticators currently list the 2010 Minnesota gubernatorial matchup in the 'toss-up' category (e.g. Charlie Cook, Stu Rothenberg, Larry Sabato), the DFL will be fighting more than the changing national political environment in its attempt to recapture the governorship this November – it will also be fighting history.
In recent weeks, Smart Politics has documented that Minnesota currently has the third longest Democratic gubernatorial drought in the nation (23+ years), behind only South Dakota and Utah, and that Democrats have had historical difficulties in winning gubernatorial elections in Minnesota with a Democrat in the White House – losing 22 of 25 such races since statehood.
However, there is one historical trend that can buoy the DFL's spirits in the run up to the 2010 election – and it all starts with Tim Pawlenty's decision to not seek reelection last June.
A Smart Politics analysis of Minnesota elections finds that the GOP has not held an open gubernatorial seat since 1946 and has lost four of the last five such contests since 1930 and seven of the last ten dating back to 1898.
Republicans most recently lost their hold on the Minnesota governor's mansion in the following open seat races:
· In 1998, after Arne Carlson's exit (with Reform Party nominee Jesse Ventura beating Norm Coleman by 2.7 points).
· In 1982, after Al Quie's 1-term reign in St. Paul (with DFLer Rudy Perpich defeating Wheelock Whitney).
· And in 1970, after Harold LeVander opted not to seek reelection (with DFLer Wendell Anderson subsequently beating Douglas Head by 8.5 points).
After nine consecutive successful defenses of open gubernatorial seats from the 1860s to the 1890s (in 1863, 1865, 1869, 1873, 1875, 1881, 1886, 1888, and 1892), the GOP lost control of the Governor's mansion to the Democrats in its next three such open seat races, in 1898, 1904, and 1914. Republicans also lost their hold on the governorship in an open seat race in 1930 to the Farmer-Labor Party (Floyd Olson).
The last time the Republican Party held an open gubernatorial seat in Minnesota was back in 1946 when Luther Youngdahl won the first of his three terms after GOP Governor Edward Thye decided to seek (and won) the U.S. Senate seat that year.
In a statistical oddity, while the GOP has 12 victories and 7 defeats overall in defending open gubernatorial seats, the Democratic Party (and DFL) has only had only one opportunity to do so – in 1859, after the state's first Governor, Democrat Henry Sibley, did not seek reelection.
Every other Democratic or DFL governor has been on the ballot in the subsequent election cycle – with the Party winning six contests (1906, 1908, 1956, 1958, 1974, 1986) and losing five (1900, 1960, 1966, 1978, 1990).
Defending open seats, of course, is nearly always more difficult for a political party than seeing an incumbent candidate reelected. Overall, political parties in Minnesota have successfully defended open gubernatorial seats in just 59.1 percent of elections (13 of 22), while winning 80.5 percent of such contests with incumbents running on the ballot (33 of 41).
And here is why Democrats should be especially relieved Governor Tim Pawlenty is not seeking a third term.

Republican incumbents in Minnesota gubernatorial elections have a nearly unblemished record – with GOP governors winning reelection in 25 of 27 such contests since statehood (92.6 percent), culminating in Pawlenty's 1.0 point victory during the Democratic tsunami of 2006.
By contrast, DFL (and formerly Democratic Party) governors have won only 6 of 11 reelection bids in Gopher State history (54.5 percent). Third party incumbents are 2 for 3.
Additionally, Republicans have also enjoyed much larger margins of victory, and much smaller margins of defeat, with gubernatorial incumbents on the ballot. In their 25 victories with incumbents, the average margin of victory for the GOP has been 16.0 points. In defending open seats, their average margin of victory has been 26.3 percent smaller – at 11.8 points.
In the seven cases in which Democrats have taken back the governor's mansion from Republicans in open seat races, the GOP's average margin of defeat has been 9.6 points. In the two cases in which GOP incumbents were defeated (in 1954 and 1962) the average margin of defeat was just 3.0 points.
Republican Party Defense of Gubernatorial Seats in Minnesota with Incumbents vs. Non-Incumbents
Status

Win

Loss

MoV

MoD

Incumbents

25

2

16.0

-3.0

Open seats

12

7

11.8

-9.6
Note: some incumbents came into office as Lieutenant Governor after resignation or death of the Governor. Data compiled by Smart Politics.
So while national politics is currently boosting the standing of many Republican candidates across the country, Democrats in Minnesota should be thankful they will be running against Candidate X in November, and not a two-term Governor whose approval rating was 53 percent in a mid-January Rasmussen poll.
Follow Smart Politics on Twitter.