Health Care Reform Advocate Praises New Obama Proposal at HHH Event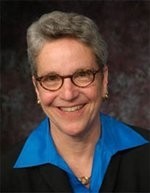 In an event at the Humphrey Institute of Public Affairs Monday afternoon, a leading advocate of health care reform addressed the latest proposal unveiled by President Barack Obama and stressed the need to move ahead and avoid the traps of passing incremental reform at this juncture in the legislative process.
Judy Feder, Professor of Public Policy at Georgetown University and principal deputy assistant secretary for planning and evaluation in the Department of Health and Human Services during Bill Clinton's first term, said Obama is "determined" to achieve health care reform and "This legislation has too much going for it to let it go down now."
Feder, an admitted "enthusiastic supporter and advocate" for Obama's plan, says the current political situation is such that either Congress should pass the main tenets of the president's plan now or do nothing. Feder stated that working on a "scaled down" version of health care reform would be just as challenging as crossing the finish line with the current proposal.
Professor Feder acknowledged the dissension that exists among Democrats – with moderates who are concerned the current proposal will lead to too much government and progressives in the House who are "skeptical" of the shortcomings of the current bill.
Still, despite its nearly $1 trillion price tag and its far-reaching effects of covering more than 31 million Americans, Feder characterizes Obama's new proposals as a "compromise" bill – "a compromise you can't walk away from…the bill is too good to let go."
Feder stated that if Congress does not act now, it will be "another couple decades" before politicians will try to pass substantial health reform again.
Regarding Feder's assertion that the bill was endorsed as "financially sound" by the Congressional Budget Office, panelist Stephen Parente, Academic Director of the Medical Industry Leadership Intitute at the University of Minnesota's Carlson School of Management, expressed concern that the cost projection of the President's proposal was correct – noting that the Medicare cost projections were widely underestimated from 1966 on.
Feder had harsh criticisms for several of the reforms advocated by Republicans in Congress (e.g. "Tort reform does not improve the quality of care") and characterized increased premiums by insurance companies whose profits are rising as "unacceptable."
When asked why public opinion is against the President's plan, Feder stated the opposition among the public was the result of both "overpromising" by progressive advocates of health care reform and "downright dishonest treachery" by its opponents.
Follow Smart Politics on Twitter.