Will Minnesotans Elect Another Lawyer to the Governor's Mansion in 2010?
Pawlenty was first Gopher State Governor elected with a law degree since 1974; from 1910-1974, 90 percent of elected governors had a legal education
(This report is the ninth installment in Smart Politics' 'Pathway to the Governor's Mansion' Series. Past reports analyzed the political experience, geographic background, ethnic background, age (part 1), astrological signs, age (part 2), U.S. Senatorial experience, and names of successful gubernatorial candidates in Minnesota history).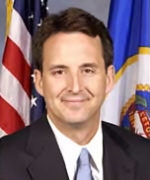 Tom Emmer, Susan Gaertner, Paul Thissen, and Matt Entenza all hope Tim Pawlenty's election in 2002 and 2006 reestablished what once was a common trend in Minnesota gubernatorial politics.
Through the first three-quarters of the 20th Century, having a law degree, although not a prerequisite, was a common denominator for nearly every successful gubernatorial campaign.
A Smart Politics analysis of information provided by the biographical databases of the Minnesota Legislative Reference Library and National Governors Association finds that between 1910 and 1974, Gopher State residents elected candidates with a law degree into office in 90 percent of gubernatorial contests (27 of 30 races).
However, during the six subsequent elections from 1978 through 1998, none of gubernatorial victors held law degrees – Al Quie, Rudy Perpich, Arne Carlson, and Jesse Ventura.
Tim Pawlenty, who received his law degree from the University of Minnesota in 1986 and had a stint as a criminal prosecutor, is the 21st governor of the Gopher State to hold a law degree of the 38 men who have served in the office.
But law grads did not always so commonly bubble up the political ladder to become Governor of Minnesota. From a 51-year stretch from statehood in 1857 through 1908, those without a legal background won nearly two-thirds of gubernatorial elections – or 17 of 26 contests.
In fact, several governors of the Gopher State never ventured into halls of higher education at all.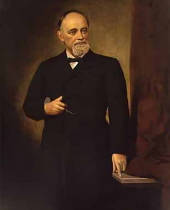 Between, 1863 and 1908, Minnesotans elected candidates who never attended college 12 times: in 1863 (Stephen Miller), 1865 & 1867 (William Marshall), 1875, 1877, & 1879 (John Pillsbury, pictured), 1881 & 1883 (Lucius Hubbard), 1896 (David Clough), and 1904, 1906, & 1908 (John Johnson).
In total, seven Minnesota governors never attended college – the aforementioned six governors and Hjalmar Petersen (who was never elected into the office of governor). An additional four governors studied at higher education institutions, but did not graduate – Henry Sibley, Samuel Van Sant, C. Elmer Anderson, and Jesse Ventura.
The remaining 27 governors in Minnesota graduated from college, with 21 of these earning a law degree: Alexander Ramsey, Henry Swift (unelected to the office), Horace Austin, Cushman Davis, Andrew McGill, Knute Nelson, John Lind, Adolph Eberhart, Winfield Hammond, J.A.A. Burnquist, J.A.O. Preus, Theodore Christianson, Floyd Olson, Elmer Benson, Harold Stassen, Luther Youngdahl, Orville Freeman, Karl Rolvaag, Harold LeVander, Wendell Anderson, and Tim Pawlenty.
Overall, candidates with law degrees have been elected in 59.4 percent of gubernatorial contests since statehood (38 of 64 elections).
Of the current batch of leading Republican, DFL, and Independence Party candidates, all hold college degrees but only Republican Tom Emmer (William Mitchell), and DFLers Susan Gaertner (University of Minnesota), Paul Thissen (University of Chicago), and Matt Entenza (University of Minnesota) studied law.
Not all governors with law degrees practiced law for extensive periods of time. Some worked in private law practices, while others worked as attorneys for city or county government including Winfield Hammond, Floyd Olson, Luther Youngdahl, Harold LeVander, and Tim Pawlenty.
Follow Smart Politics on Twitter.