Will Minnesotans Elect a Catholic Governor in 2010?
Only one Catholic has ever been elected Governor in Minnesota history; Seifert, Emmer, Kelliher, Rukavina, Thissen among 2010 Catholic gubernatorial candidates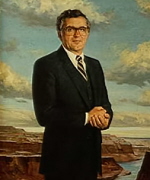 This report is the 10th installment in Smart Politics' 'Pathway to the Governor's Mansion' Series. Past reports analyzed the political experience, geographic background, ethnic background, age (part 1), astrological signs, age (part 2), U.S. Senatorial experience, names, and legal education of successful gubernatorial candidates in Minnesota history).
While the particular religious denomination of political figures may not be as important a consideration for Minnesota voters as it was in years past, there is nonetheless a curious statistical oddity that pervades Minnesota electoral politics.
Even though 28 percent of Minnesota residents are affiliated with the Catholic tradition, just one Catholic has ever been elected governor of the Gopher State.
According to a 2008 Pew Forum on Religious and Public Life survey, Minnesotans are more Catholic than the nation as a whole (24 percent), but Rudy Perpich (pictured above) remains the only Catholic to be elected Governor (in 1982 and 1986) across the 64 gubernatorial contests held since statehood in 1857.
That statistic might very well change in 2010, however, with Catholicism being the faith held by several prominent gubernatorial candidates, including Republican frontrunners Marty Seifert and Tom Emmer and DFLers Margaret Anderson Kelliher, Tom Rukavina, and Paul Thissen.
And what denomination has had the most members serve as Governor of Minnesota?
A Smart Politics analysis of the Minnesota Legislative Reference Library and National Governors Association databases finds that 15 Lutherans have served as governor of Minnesota – more than any other denomination.
Given the Scandinavian tilt of the state's historical immigrant tradition and the fact that half of the state's 38 governors came from Swedish or Norwegian heritage, the historical prominence of Lutherans ascending to the Governor's mansion should not come as a big surprise.
In fact, over a 46-year stretch, from 1920 through 1966, 10 of the 12 men elected Governor of Minnesota were Lutherans. (An 11th Lutheran Governor, Hjalmar Petersen, was not elected to the office).
Lutheran governors include Knute Nelson, Adolph Eberhart, J.A.O. Preus, Floyd Olson, Hjalmar Petersen, Elmer Bensen, Edward Thye, Luther Youngdahl, C. Elmer Anderson, Orville Freeman, Elmer Andersen, Karl Rolvaag, Harold LeVander, and Al Quie. Jesse Ventura, who has stated he believes in God (but has a complicated relationship with organized religion), was also raised Lutheran.
Aside from Lutheranism, there has been no other prevalent religious denomination among those remaining 23 individuals who have held the office of Governor of the Gopher State.
Minnesota has also been governed by:
· Three Methodists (Alexander Ramsey, Andrew McGill, Samuel Van Sant)
· Three Congregationalists (John Pillsbury, J.A.A. Burnquist, Arne Carlson)
· Three Episcopalians (Henry Sibley, Cushman Davis, William Merriam)
· Two Baptists (Harold Stassen, Tim Pawlenty)
· Two Presbyterians (John Johnson, Theodore Christianson)
· One Unitarian (John Lind)
· One Swedenborgian (William Marshall)
· One Roman Catholic (Rudy Perpich)
The National Governor's Association describes the religious views of the state's 33rd Governor, Wendell Anderson, as 'Protestant' generally. The state's 4th Governor, Stephen Miller, was a religious man but not a member of any church. The religious beliefs of an additional five governors were not listed, though they were not Catholics (Henry Swift, Horace Austin, Lucius Hubbard, David Clough, Winfield Hammond)
Lutherans, the religious faith of between one-quarter and one-third of all Minnesotans, are represented in the 2010 gubernatorial race by DFLers Matt Entenza and John Marty, according to the Minnesota Legislative Reference Library database.
Follow Smart Politics on Twitter.