How High Will the GOP (Tidal) Wave Be When It Hits Minnesota in November?
All signs point to GOP momentum in states across each of Minnesota's borders

Minnesota's open 2010 gubernatorial race remains classified as a true 'toss-up' by each of the nation's leading political analysts – and for good reasons.
First, no one knows who the candidates will be – and even after the nominating conventions in a few weeks they will still be unknown until the mid-August primary, given Mark Dayton's position to not abide by the DFL party endorsement. As such, polling has been sparse and what polling does exist includes a large percentage of undecided voters.
Second, even if both the GOP and DFL general election candidates were known, there is still the Independence Party factor. Will the eventual IP candidate's following in the 2010 race be akin to that of Peter Hutchinson in 2006 (minimal), Tim Penny in 2002 (moderate), or (then Reform Party candidate) Jesse Ventura in 1998 (substantial)?
Some Democrats are optimistic that a (right of center) IP Tom Horner candidacy will do for the DFL in 2010 what they believe the (left of center) Peter Hutchinson candidacy did for Republican Tim Pawlenty in his 1-point squeaker over Mike Hatch four years ago.
Third, it is not known which of the following Gopher State red-blue political trends will be in play for this race.
Will it be the bluish trend which has brought Minnesota to vote a nation-leading nine consecutive elections for the Democratic presidential nominee, has seen the cumulative vote for GOP state legislative candidates decline across the last five election cycles, and saw the 2008 statewide GOP tally in Congressional races reach its lowest mark since 1934?
Or will it be the reddish trend that has delivered to the Gopher State the third longest Democratic gubernatorial drought in the country, behind only South Dakota and Utah?
If the Democrats do prevail in Minnesota's top of the ticket race in November, it may prove to be one of the more remarkable victories across the nation – particularly considering the inroads Republicans appear to be making in each of Minnesota's neighboring states.
The Republican tidal wave appears to have already struck land in Iowa, Wisconsin, and both of the Dakotas:
· In Iowa, unpopular 1-term Democratic Governor Chet Culver is facing double-digit deficits in early polling against former 4-term Republican Governor Terry Branstad.
· Wisconsin's 2-term Democratic Governor Jim Doyle's similarly low approval ratings drove him from seeking a third term this November. Top Republican contenders Mark Neumann and Scott Walker both hold advantages over Democratic Milwaukee Mayor Tom Barrett in recent matchup polls.
· Wisconsin could even see its Senate seat flip, should former 4-term Republican Governor Tommy Thompson opt for a last-minute challenge against 3-term Democratic Senator Russ Feingold. Early polling shows Feingold faring well against all challengers, with the exception of Thompson, against whom some surveys show Feingold facing a double-digit deficit (e.g. WPR/St. Norbert College; WPRI).
· In North Dakota, the transition from GOP governor to Senator is nearly complete, with Republicans poised to pick up that state's open U.S. Senate seat with popular Governor John Hoeven holding a better than 2:1 advantage over his Democratic rival Tracy Potter.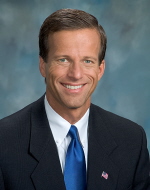 · In South Dakota, things are so bad for the Democratic Party that they failed to field a candidate in the U.S. Senate contest against 1-term GOP incumbent John Thune. The 2010 race marks the first time in 34 contests since popular vote elections were introduced in 1914 that a Democratic candidate has failed to appear on the ballot in the Mount Rushmore State.
· South Dakota Republicans also have a crowded field of gubernatorial primary hopefuls from which will emerge the candidate who will seek to extend the nation's longest Republican gubernatorial winning streak in the nation – at 36 years.
This early data suggests that the national pull back towards the Republican Party has already happened across each of Minnesota's borders.
But what might be the sourest note hit during the prelude to this 2010 political overture for Minnesota Democrats is their own political history:
Of Minnesota's 28 gubernatorial elections held since 1930, a DFLer or a Democrat has been elected to the Governor's mansion with a Democratic president in D.C. on only 1 occasion (1962; Karl Rolvaag and JFK).
Follow Smart Politics on Twitter.