Bachmann Sets New Benchmark in Minnesota Politics with Q1 2010 Fundraising Haul
Bachmann outraises Clark by 60 percent in Q1 2010; sets new Minnesota fundraising record for the 1st quarter of an election year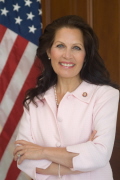 By the time the dust settles on the 2010 contest for the 6th Congressional District of Minnesota, Republican Michele Bachmann may own nearly every fundraising record in Gopher State history for a U.S. Representative.
Just eight days after DFLer Tarryl Clark posted fundraising numbers which – at the time – smashed the previous Minnesota U.S. House record for the first quarter of an election year by 32 percent, Congresswoman Bachmann released her own Q1 2010 numbers that best Clark's by a staggering 60 percent.
Bachmann announced on Thursday that she raised $810,000 from January through March of 2010 – $305,000 more than Clark's $505,000 tally and $101,000 more than Clark and her DFL rival Maureen Reed ($204,000) combined.
The vast amount of money pouring into the 6th CD is to be expected – the district has been the 11th most competitive of the 435 U.S. House seats in the nation since redistricting in 2002.
Moreover, at 3.0 points, Congresswoman Bachmann had the 5th narrowest margin of victory of the 178 Republicans elected into office in 2008, and the narrowest victory margin among all GOP incumbents reelected into office.
However, the dollars pouring into Bachmann's campaign today are unlike any ever seen in Minnesota politics for a U.S. Representative, besting by far her own impressive fundraising numbers from past campaigns.
For example, Bachmann's Q1 2010 haul is 2.3 times larger than the amount she raised from January through March of 2008 ($346,644).
And, through the first five full quarters of the 2010 election cycle, Bachmann has now tallied $2,345,543, or 55.3 percent more than the amount she raised during the same five-quarter period during the 2008 election cycle ($1,509,958).
Representative Bachmann's fundraising prowess – documented meticulously at Smart Politics over the past year – is based on a strategy much unlike that of any of her fellow members in the Gopher State U.S. House delegation.
Even before she was securing the national media spotlight she commands today, Bachmann was attracting a larger proportion of unitemized, small-donor contributors compared to her colleagues.
For example, in the first full quarter after becoming elected to the U.S. House in November 2006, Bachmann raised $33,000+ more in small donor contributions than any of her seven fellow Gopher State U.S. Representatives – constituting a larger percentage of individual donations to her campaign (38.1 percent) than that of any other member of the Minnesota U.S. House delegation (next was Keith Ellison at 25.5 percent).
These days Bachmann frequently raises north of 60 percent of her campaign's individual fundraising receipts from small donors, and relies less on PAC contributions than any other Minnesota U.S. Representative.
The Bachmann campaign announced she received more than 7,100 contributions in amounts of $100 or less in Q1 2010.
A more detailed analysis of Bachmann's numbers will be forthcoming at Smart Politics when the Congresswoman's fundraising paperwork is published at the Federal Election Commission website in the coming days.
Follow Smart Politics on Twitter.