Will Voter ID Issue Turn Conservative Democrats Into 'Emmercrats' in MN Gubernatorial Race?
Emmer continues to highlight voter ID as core issue to 2010 campaign; popular issue may be the lure to get conservative Democrats onto his coalition's hook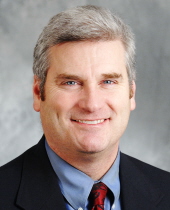 Upon winning the Republican endorsement for Governor of Minnesota on Friday, State Representative Tom Emmer's goal now shifts from simply rallying the GOP base to also building a coalition of Republicans, independents, and conservative Democrats to secure a majority (or winning plurality) of the 2010 gubernatorial vote.
While Emmer, generally viewed as more (demonstrably) conservative than outgoing Republican Governor Tim Pawlenty, will no doubt be lambasted from the left end of the ideological spectrum in the Gopher State for many of his beliefs and issue positions, there is little doubt that a larger percentage of Democrats are open to voting Republican than normal in the current political climate.
The GOP's quest to extend the DFL's third longest gubernatorial drought in the country may hinge on how many Minnesota Democrats turn into Emmercrats by Election Day.
Toward that end, what issue positions carved out by Emmer in his campaign will be most attractive to the conservative Democratic contingent as he tries to recruit them and build this winning coalition of voters?
Before the start of the national GOP surge (or Democratic decline) near the end of 2009, the percentage of Minnesotans identifying as Democrats tallied in the high 30s, with those identifying as Republicans or Independents each in the mid to high 20s, according to a Smart Politics analysis of SurveyUSA monthly polling data. Approximately 10 percent of Minnesotans identify with other political parties or do not hold an opinion.
While successful GOP statewide campaigns can draw as much as 90 percent of support among Republicans and more than 60 percent of independents in some states, that calculus is certainly complicated by the role the Independence Party plays in Minnesota politics. This is particularly so for Emmer in an election year in which the frontrunning IP candidate, Tom Horner, is decidedly more conservative than his 2006 predecessor, Peter Hutchinson.
As such, in order to bring Emmercrats into his coalition of independents and Republicans, Emmer will need to highlight those "75/25" or "80/20" issues – policy positions that may draw ire from some of the more high profile figures on the left, but policies that are nonetheless very popular with a majority of Minnesotans.

As it happens, one of Emmer's signature issues, voter ID, is indeed a 75/25 issue in Minnesota, and is one of the ten main issues addressed on his campaign website (under "The Issues: Elections").
In late 2008, a Rasmussen poll of 500 likely voters in Minnesota found nearly three-quarters (73 percent) were in favor of showing photo identification, such as a driver's license, before being allowed to vote. Only 20 percent were opposed. A similar Rasmussen poll conducted in Minnesota a few years prior also found an overwhelming split in favor of voter ID: 83 percent in favor and 13 percent opposed.
Emmer has been championing voter ID for years now in the State House of Representatives, and has consistently stated such legislation is not a partisan issue. While the DFL leadership has not warmed to his proposals, the polling data outlined above bears out his claim.
Voter ID legislation proposed by Emmer has included an array of valid identification measures, so long as they included a photograph of the individual, such as a valid driver's license or ID card issued by the Department of Public Safety, a United States passport, a Minnesota voter identification card, a tribal ID card, or any other ID card with a photograph issued by the state of Minnesota or the federal government.
Emmer's focus on voter ID is characterized on his campaign website in the context of "securing the integrity of our democracy" and reducing fraud to protect the "foundation of our representative form of government."
On his campaign website, Emmer casts two groups in particular as examples why Minnesotans need voter ID: ACORN and felons (neither of which are particularly popular groups among conservative Democrats):
"The false voter registration and other unethical activities of ACORN combined with news of felons voting in Minnesota supports the need for a higher scrutiny of the electoral process and requires voter identification and verification at the polls."
Emmer does not mention on his website the need for voter ID in the context of illegal immigration, although such linkages can and likely will be made in the coming months – from the left and the right – in light of how that issue has skyrocketed to the top of America's political consciousness after recent immigration reform was signed into law in Arizona last month.
Smart Politics will continue to track the Emmer campaign in the coming months and highlight other issues which might transform Democrats into Emmercrats in the 2010 gubernatorial race.
Footnote: As of this writing, both the .com and .org domain names for "DemocratsforEmmer" and "Emmercrats" are not yet registered.
Follow Smart Politics on Twitter.