Is Representative Ryan Winkler the DFL's New Attack Dog?
Partisan attacks by Winkler against GOP have more than quadrupled in press releases from 1st to 2nd term in office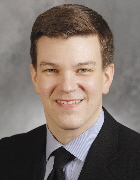 On Thursday afternoon, DFL Representative Ryan Winkler (44B-Golden Valley) released two statements critical of Republicans – one attacking GOP-endorsed gubernatorial candidate Representative Tom Emmer for missed votes during the homestretch of session and one lambasting Governor Tim Pawlenty for his new Supreme Court appointments.
Winkler's language was particularly harsh against Governor Pawlenty, calling the appointments "payoffs," and accusing the Governor of wanting a "political ally running the court, rather than an impartial legal mind focused on the facts." Winkler also called newly appointed justice David Stras a "right-wing ideologue."
While the language may not seem out of the ordinary in the current era of political polarization, it highlights a shift that has occurred in Representative Winkler, who has been much more emboldened in his partisan rhetoric in his second term representing the residents of Golden Valley.
Smart Politics analyzed each of Winkler's 75 press releases since being sworn into office in January 2007 and found that the percentage of statements with negative, partisan attacks have increased from just 13.5 percent during his first term in office (5 of 37 releases) to 57.9 percent during his second term (22 of 38), including 69.2 percent in 2010 (9 of 13).
This marks a more than quadrupling of critical statements by Winkler against the GOP in just two years.
Winkler was elected to HD 44B in 2006 by 38.8 points, winning 69.3 percent of the vote that November.
The freshman representative struck a bipartisan tone in his very first press release – a reprint of a letter to the editor written by Winkler about the new session:
"The Governor's work with the legislature thus far has demonstrated the potential to achieve good solutions to the many fundamental challenges our state is currently facing." (January 19, 2007)
During his first year in office, Winkler released only four statements (21.1 percent) that contained slights against Pawlenty or Republican legislators.
For example, Winkler charged that the Governor and the GOP had not always acted with good faith and with a cooperative effort on the issues of transportation and property tax relief (June 8, 2007). Winkler was also critical of how Pawlenty had shifted the tax burden to homeowners during his administration (November 9, 2007).
Winkler continued to keep the gloves off in 2008, releasing just one statement (5.6 percent, 1 of 18 press releases) that was critical of Republicans.
However, that statement was a harbinger of a theme Winkler and the DFL would hit hard during the 2009-2010 session: digs at Pawlenty's national ambitions while the Gopher State economy was in decline:
"The governor's attention to our economy, rather than his national political prospects, is long overdue." (November 10, 2008)
That statement came a few days after Winkler was reelected by 33.9 points, winning 66.8 percent of the vote.
Almost immediately into the new session Winkler emerged with a different tone, casting as many negative comments in press releases at Republicans during the first two and a half months of session (five) as in his first two years as a legislator.
In 2009, more than half of Representative Winkler's press releases were critical of Pawlenty, Republicans, or conservatives (13 of 25, 52.0 percent).
Several of these statements contained passages that attacked the Governor for his handling of the state budget deficit and for the mismanagement of funds that had occurred in the executive branch:
"In this economy we need the governor to be serious about managing the state's business, totally focused on ensuring taxpayer dollars are well-protected from fraud and lax oversight," Rep. Winkler said. "We need more than a Mad Hatter governor focused solely on higher political ambitions." (February 17, 2009)
"Unfortunately, Minnesota's governor is focused on higher office, while millions of dollars escape from state coffers every year…. "Minnesotans have waited long enough for the Pawlenty Administration to put its finances in order." (February 23, 2009)
"Poor internal controls within the Pawlenty Administration have led to widespread fraud and mismanagement in handling state and federal monies, costing taxpayers millions in lost or unaccounted for revenues…Governor Pawlenty has two things in common with Bobby Jindal, Sarah Palin, and Mark Sanford – presidential ambitions and the weakest accountability systems in the country for tracking and spending federal recovery funds." (March 27, 2009)
"We hear a lot from candidate Pawlenty about ponzi schemes in Washington. But Governor Pawlenty might want to take a better look at his own budget and a good look in the mirror; he's doing the same thing." (May 8, 2009)
Winkler also attacked Governor Pawlenty for his controversial June 2009 unallotment:
"No one Minnesotan, Republican, Democrat, or Independent, should ever wield sole authority over the state budget or the welfare of our people. As they say, that's too much power for a bad leader to have, or a good Governor to want." (November 20, 2009)
Winkler did acknowledge positive efforts by Republicans in press releases on two occasions during the year – remarking on the bipartisan efforts that went into increasing efficiency in K-12 education (January 7, 2009) and in cutting off investment funds from Minnesota to Iran that might be used to support that country's nuclear ambitions (April 25, 2009).
In 2010, Representative Winkler came out with both guns blazing, as 9 of his 13 press releases were critical of Republicans and conservatives (69.2 percent).

Winkler has taken several jabs at the conservative Tea Party movement and its relationship with the Republican Party, particularly after the passage of health care reform in Washington D.C. in March:
"It's official. Tea Party paranoia has taken over the Republican Party. With no constitutional basis for their claims, right-wing extremists have asked the Attorney General to pursue a frivolous lawsuit." (March 23, 2010)
"The Minnesota Republican Party has officially surrendered to the right-wing extremism of Tea Party activists. It's true: Minnesota Republicans are walking hand-in-hand with people who believe the President isn't an American citizen. The party of Abraham Lincoln and Teddy Roosevelt has sadly thrown all good reason and common sense overboard." (March 26, 2010)
"We've been hearing so much about the Tea Party lately. But today's demonstration confirmed that Minnesotans are just not interested in a fringe group peddling conspiracy theories and anger." (April 9, 2010)
Winkler continued to levy criticisms at Governor Pawlenty for his unallotments, calling his actions "immoral" and "illegal":
"Using unallotment to kick poor people off health care is not only immoral, it's illegal. Violating the law by shifting those individuals to MinnesotaCare is not only deceptive, it's more expensive. Hard times do not give this administration or any Governor the unilateral authority to ignore the law." (March 4, 2010)
Winkler's statement on Thursday against Pawlenty's judicial appointments flirted with language that might bring the word "bribery" into the mind of its readers:
"What we're looking at here is the Pawlenty Payoff. Pawlenty already tried appointing his political pals to serve on Minnesota's high court, but after last week's unallotment decision, he's going the extra mile to stack the court." (May 13, 2010)
Winkler represents a safe DFL district, so his sometimes colorful but increasingly harsh statements against Republicans are assuredly red meat for many of his constituents.
It will be interesting to see if the frequency and proportion of such statements continue to rise in 2011 if either Tom Emmer is elected governor or Republicans take back the House of Representatives.
Ryan Winkler's Tone Toward the Republican Party, GOP Officeholders, and Conservatives in Press Releases, 2007-2010
Year

Negative

Positive

Neutral

Total

% Negative

2007

4

2

13

19

21.1

2008

1

2

15

18

5.6

2009

13

2

10

25

52.0

2010

9

1

3

13

69.2
Note: Most "neutral" press releases do not refer to Republicans or conservatives at all, but are more exclusively policy-based statements. Data compiled by Smart Politics.
Follow Smart Politics on Twitter.