DFL Goal to Defeat Bachmann Faces Significant Historical Challenges
Minnesota GOP has held 95 percent of its U.S. House seats when Republicans net a dozen or more seats nationwide since the DFL merger in 1944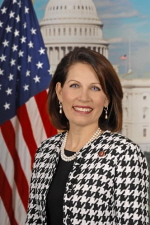 The commitment and passion with which Minnesota Democrats are trying to unseat Congresswoman Michele Bachmann has reached a fever pitch in 2010, even as the Party faces significant hurdles to achieve this goal.
Representative Bachmann enjoys three distinct advantages right out of the gate against whichever DFL challenger emerges from August's primary (Tarryl Clark or Maureen Reed).
First, Bachmann represents the most heavily Republican Congressional district in the state. Second the Congresswoman continues to shatter statewide U.S. House fundraising records.
And third, Bachmann enjoys a decided incumbency advantage. Not only have 87 percent of Minnesota incumbents won reelection in U.S. House races since statehood, but it has also been 66 years since the last time a 2-term Republican (like Bachmann) has been defeated in a non-redistricting year in the Gopher State.
But there is additional historical evidence that suggests defeating Bachmann at the ballot box in 2010 will be extremely difficult for Minnesota Democrats.
A Smart Politics analysis of U.S. House contests since the DFL merger in 1944 finds that Minnesota Republicans have held 95.3 percent of their seats (41 of 43) in election years in which Republicans net at least 10 seats nationwide.
Although early primary contests have demonstrated that incumbents from both parties in Washington have reason to be wary this fall, even the most conservative estimates by D.C. prognosticators find the Republican Party netting at least 15 to 20 seats in the U.S. House.
Since 1944, there have been 10 election cycles in which Republicans have netted a dozen or more House seats across the nation: 1946 (+55), 1950 (+28), 1952 (+22), 1960 (+21), 1966 (+47), 1972 (+12), 1978 (+15), 1980 (+34), 1984 (+16), and 1994 (+54).
In Minnesota, Republicans have had to defend a total of 43 seats during these 10 election cycles, and have won 41 of them, or 95 percent.
The only seats lost by the GOP during these Republican tsunami years were an open seat in 1994 and another seat lost some 64 years ago in 1946. That's it. That's the list.
· In 1946, 7-term GOP incumbent William Pittenger lost his 8th CD seat by 15.4 points to John Blatnik (a seat Blatnik and his successor Jim Oberstar would carry for the next 31 election cycles).
· In 1994, DFLer Bill Luther won the Republican-held 6th CD, which became open after Rod Grams opted to run for Dave Durenberger's U.S. Senate seat. The DFL had previously controlled the 6th CD prior to redistricting in 1990.
And another word of caution to DFLers who are focused like a laser on ousting Representative Bachmann this November.
In addition to holding onto 95 percent of their seats during these 10 banner election cycles for the GOP nationally, Minnesota Republicans have also picked off seven DFL seats along the way, or nearly one seat per cycle.
To be sure, Minnesota Republicans will not be content with simply holding their three Congressional Districts in 2010, and are looking for pick-up opportunities in their own right.
Fate of Republican-Controlled Minnesota U.S. House Seats During Republican Tsunami Election Cycles, 1944-2008
Year

US House

Seats defended

Held

Lost

Pick-ups

1994

+54 GOP

2

1

1

1

1984

+16 GOP

3

3

0

0

1980

+34 GOP

4

4

0

1

1978

+15 GOP

4

4

0

0

1972

+12 GOP

4

4

0

0

1966

+47 GOP

4

4

0

1

1960

+21 GOP

5

5

0

1

1952

+22 GOP

5

5

0

0

1950

+28 GOP

5

5

0

0

1946

+55 GOP

7

6

1

2

Total

43

41

2

7
Note: 'Tsunami election cycles' defined as years in which the Republican Party netted at least a dozen U.S. House seats nationwide. Data compiled by Smart Politics.
Follow Smart Politics on Twitter.