Do Higher Minimum Wage Laws Contribute to Increased Unemployment?
States with a higher minimum wage than the federal $7.25 requirement have an average 2-point higher unemployment rate than the rest of the country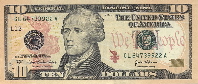 Although many economists are expecting the U.S. economy and the jobs situation to soon be on the road to recovery, the nation's seasonally adjusted unemployment rate is still hovering just shy of 10 percent and has been in excess of 9.0 percent for a full year.
There has naturally been great variation across the 50 states in terms of how much the economic downturn has ballooned its respective unemployment rolls.
For example, at the extreme, the jobless rate in Michigan (14.0 percent) is 3.7 times that of North Dakota (3.8 percent).
However, while some states may have been hit harder than others on the jobs front due in part to the particular industries on which each state's economy is most reliant, states also have the power to set their own minimum wage standards, which also have an impact on employment.
Some 14 states plus the District of Columbia currently have enacted state laws that insure their workers are paid more than the federally-legislated minimum rate of $7.25 per hour.
A Smart Politics analysis of wage and employment data finds that those states that have minimum wage laws higher than the federal minimum rate have an average statewide unemployment rate that is 2.0 points higher than those 36 states where wages are equal to the federal minimum.
(Note: Of these 36 states, 26 have rates equal to the federal minimum wage, five states have rates below the federal wage, and five states do not have a minimum wage. The effective result for all 36 states is a minimum wage of $7.25 per hour).
For those states with wages above the federal minimum rate, the average unemployment rate is 10.4 percent. For the remaining 36 states, the average jobless rate is just 8.4 percent.
Six of the top 10 highest unemployment rates in the nation are found in states with minimum wage laws higher than the $7.25 federal rate, including each of the top four slots: Michigan (#1, $7.40), Nevada (#2, $7.55), California (#3, $8.00), Rhode Island (#4, $7.40), Illinois (#8, $8.00), and the District of Columbia (#9, $8.25). (Note: some of these states also have higher costs of living compared to the average state).
All but four of these states with higher than federally-required minimum wage rates have unemployment rates among the Top 25 in the nation.
Of course there are exceptions. For example, the State of Vermont has the fifth highest minimum wage rate in the country at $8.06 per hour, but has an unemployment rate that is just 48th in the nation, at 6.4 percent.
Another state in the northeast, Maine, has the 11th highest minimum wage in the country at $7.50, but only the 33rd highest unemployment rate at 8.1 percent.
No one is expecting any of these 14 states and the District of Columbia to resort to cutting back their minimum wage laws to $7.25 per hour.
In fact, the State of Illinois will have its already seventh-highest in the nation rate of $8.00 an hour increase to a tied-for-third highest rate in the nation of $8.25 an hour effective July 1st of this year.
According to the U.S. Department of Labor's Wage and Hour Division, the complete list of states with higher minimum wage rates than the federal rate are: Washington ($8.55), Oregon ($8.40), Connecticut ($8.25), Washington D.C. ($8.25), Vermont ($8.06), California ($8.00), Illinois ($8.00), Massachusetts ($8.00), Alaska ($7.75), Nevada ($7.55), New Mexico ($7.50), Maine ($7.50), Michigan ($7.40), Rhode Island ($7.40), and Ohio ($7.30).
Follow Smart Politics on Twitter.