That Was Then, This Is Now: What (Political) Life Looked Like the Last Time Minnesota Elected a DFLer Governor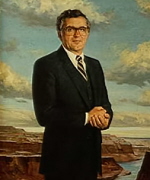 Do you remember when the cost of a postage stamp was 22 cents?
Or when Minnesota's population was a shade over four million – a million less than live here today?
Or when the state had no professional basketball team, but did have a hockey team named the Minnesota North Stars?
And do you remember seeing Top Gun – the #1 movie at the box office?
If you do, then you may also remember the year in which Minnesota voters last elected a DFLer governor of the Gopher State – 1986.
Much has changed over the past quarter century, including the political climate and balance of power in Minnesota and the rest of the country, though the drought has continued for Democrats in gubernatorial contests ever since.
On the economic front, back in 1986, unemployment averaged 5.6 percent in Minnesota for the year, compared to 7.3 percent thus far in 2010, or a 30 percent higher rate today.
The price of gas has increased 178 percent since 1986, from $0.93 per gallon to $2.59 in Minnesota today.
And, yes, the cost of a 1st Class postage stamp has risen 100 percent, from 22 cents to 44 cents.
But the political landscape of 1986 also looked a lot different in the Gopher State, as well as nationally.
· In 1986, Minnesota had an incumbent Democratic governor running for a second term (Rudy Perpich, pictured above). In 2010, the state's two-term Republican governor, Tim Pawlenty, is not running for reelection.
· In 1986, Minnesota was also flanked by Republican governors in Iowa (Terry Branstad) and Wisconsin (Tommy Thompson). In 2010, those states are now governed by Democrats (Chet Culver and Jim Doyle respectively).
· Republicans, however, had control of the Minnesota House 24 years ago – by a narrow 67-65 margin just before election day. Today, the DFL has a 40-seat advantage over the GOP, 87-47.
· Minnesota's U.S. Senate delegation in 1986 was comprised of two Republicans – Dave Durenberger and Rudy Boschwitz. Today, two DFLers represent the Gopher State in the nation's upper legislative chamber – Amy Klobuchar and Al Franken.
· The U.S. Senate itself was under Republican control in 1986, by a 53-47 margin, whereas in 2010 Democrats have a 57-41 advantage (plus two independents who caucus with the Democrats).
· And, of course, as Minnesota headed into the mid-term election in 1986, Republican Ronald Reagan was in the middle of his second term in the White House. As the DFL tries to take back the governor's office in Minnesota in 2010, they must do so with a Democratic president in office – a feat they have achieved in just 3 of 25 instances since statehood.
But this is not to say the political compass is pointing in a completely different direction in 2010 as it was in 1986 when Governor Perpich won reelection – there are a few similarities:
· In 1986, the DFL had a pre-election advantage of 43-24 in the Minnesota Senate. Today the advantage stands at a similar 46-21 margin.
· In both 1986 and 2010, the Minnesota U.S. House delegation was comprised of five DFLers and three Republicans.
· And Democrats held virtually the same advantage over the GOP in the U.S. House – a 253-182 margin in 1986, and a 255-177 margin today (with three vacancies).
However, it is only the wise or the very, very bold who will speculate as to which, if any, of these similarities or dissimilarities are tells for determining the outcome in the 2010 gubernatorial race at this point in the early days of June.
Follow Smart Politics on Twitter.