Roxanne Conlin Poised to Hold Iowa U.S. Senate, Gubernatorial Records
Conlin is only the second female major party candidate to appear on a U.S. Senate general election ballot in Iowa and the 9th woman overall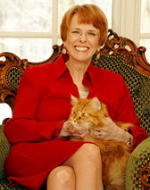 Roxanne Conlin breezed as expected Tuesday night in Iowa's U.S. Senate Democratic primary – winning nearly 80 percent of the vote against two other Democratic hopefuls.
Conlin will now square off in November's general election against five-term Republican incumbent Charles Grassley, who, despite a few high profile gaffes during the 111th Congress, will remain a strong favorite to win another six-year term in D.C.
Despite her underdog status, Conlin will almost assuredly make history in Iowa politics this November, by setting a new high water mark for women in Iowa U.S. Senate election contests.
Conlin already holds the state record for the highest percentage of the vote received by a female gubernatorial candidate in Iowa (as well as the Upper Midwest generally) – notching 46.5 percent of the vote against Republican victor Terry Branstad back in 1982.
With Conlin already polling around 40 percent against Grassley in the 2010 Senate contest, she is almost certain to best 1992 Democratic nominee Jean Lloyd-Jones' current mark of 27.2 percent in a Senate race.
In fact, Conlin will likely receive a higher percentage of the vote than all female candidates who have appeared on an Iowa U.S. Senate general election ballot combined (31.3 percent).
After Jones, the next best performance by a female in an Iowa U.S. Senate race is just 1.0 percent, when Libertarian Christy Anny Welty finished third out of five candidates during Grassley's last victory in 2004.
Only eight women have previously appeared on the general election ballot in a U.S. Senate race since the Hawkeye State's first popular vote contest in 1914, with all but one candidacy taking place during the last two decades.
And Conlin will also be just the second female candidate (along with Lloyd-Jones) to appear in an Iowa U.S. Senate race on a major party ticket.
· Two other female candidates have been nominated by petition (Sue Atkinson, in 1992 & 1996; Roseann Freeburg, 1992)
· Two candidates have come from the Socialist Workers party (Shirley Pena, 1996; Margaret Trowe, 1998)
· One candidate ran on the Natural Law party ticket (Susan Marcus, 1998)
· One candidate was a Libertarian (Christy Ann Welty, 2004)
· And Laetitia Conrad was the very first, appearing on the Socialist Party ticket in 1936.
Iowa is one of just four states that have never elected a women to the U.S. Senate or U.S. House of Representatives, along with Delaware, Mississippi, and Vermont.
Follow Smart Politics on Twitter.