The Ones That Got Away: Minnesota-Born Politicians Who Have Governed Other States
Nearly as many Minnesota-born politicians have served as governor elsewhere (11) as in the Gopher State (14)

This report is the 13th installment in Smart Politics' 'Pathway to the Governor's Mansion' Series. Past reports analyzed the political experience, geographic background, ethnic background, age (part 1), astrological signs, age (part 2), U.S. Senatorial experience, names, legal education, religious beliefs, legislative service, and military experience of successful gubernatorial candidates in Minnesota history.
How often does Minnesota grow its own political leaders, and how frequently does it export them to other states?
Smart Politics previously wrote a report that found Minnesota has imported more governors born from out of state (24) than it has grown here at home (14).
Part of that imbalance, of course, is due to the fact that governors during the first few generations of Minnesota's statehood would, by definition, be skewed towards residents who were born elsewhere (even out of country) as new settlers came to the Gopher State.
In fact, Minnesota's first home-grown governor was not elected until after the turn of the 20th Century (John Johnson, the Gopher State's 16th Governor, in 1904).
Since Johnson, 13 governors have been born in Minnesota, with nine born elsewhere, including three elected since 1960: Arne Carlson (New York), Harold LeVander (Nebraska), and Elmer Anderson (Illinois). (Note: nearly all Minnesota governors, including those born out of state, first developed their political careers in Minnesota).
But how often do future political all-stars leave the state of Minnesota, only to become governor elsewhere?
To what extent has the Gopher State had a political 'brain drain?'
This installment of Smart Politics' Pathway to the Governor's Mansion series examines the 'ones that got away' – those political leaders who were born in Minnesota, but went on to become governors of other states.
A Smart Politics analysis of National Governors' Association data finds that Minnesota has lost nearly as many Minnesota-born residents to become governors of other states (11) as it has raised to become governor here at home (14).
North Dakota has been the biggest beneficiary of Minnesota's political exports – with 5 of its 30 governors having been born in the Gopher State.
However, most of these ex-Minnesotan governors of North Dakota met tragic ends to their governorships: two died in office, one was recalled, and one was removed by the state's Supreme Court.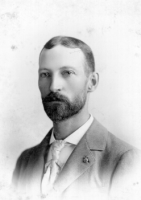 The first such Minnesotan was Republican Frank Briggs, the 5th Governor of North Dakota. Briggs was born in Minneapolis in 1858 and educated in Minnesota and developed his early career in the print and newspaper industries in the Gopher State. Briggs' political career was launched in North Dakota, however, first as Morton County treasurer in 1887 and then State Auditor in 1895. Briggs served as governor from 1897 until 1898, when he died in office.
The next Minnesota export was Republican/Non Partisan Leaguer Lynn Frazier, the 12th Governor of North Dakota. Frazier was born in southern Minnesota, in Steele County in 1874, and received his early education at Mayville Normal School before leaving Minnesota for the University of North Dakota. Frazier was governor from 1917-1921 – winning the elections of 1916, 1918, and 1920. Frazier was removed from office in a recall election of 1921.
Republican/Non Partisan Leaguer Arthur Sorlie – the 14th Governor of North Dakota – was born near Albert Lea in 1874 and received his education at the Albert Lea Lutheran Academy. Sorlie's political career, however, was launched in Grand Forks, and he was eventually elected governor, serving from 1925 until dying in office in 1928.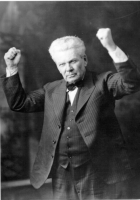 The next ex-Minnesotan who served as governor of North Dakota proved to be a controversial one. Democrat Thomas Moodie was born in Winona in 1878 and received his early education at common schools in the Gopher State. After working in the newspaper industry in Wadena, Moodie moved to North Dakota to work as a reporter for the Bismarck Tribune.
Moodie was elected in 1934, but served only five weeks as the state's 19th governor in 1935 when he was removed from office by the State Supreme Court after it was revealed he had violated the state's requirement that he live in North Dakota for five consecutive years before being a candidate for office.
As it turns out, Moodie had voted in a 1932 local election in Minnesota, and thus was ineligible to serve as governor and was removed from office.
The final Minnesotan to become governor of North Dakota was Republican John Davis, who was born in Minneapolis in 1913. Davis was the only one of the five ex-Minnesotans to receive his primary education in North Dakota (Bismarck). Davis became mayor of McClusky, North Dakota and was then a member of the North Dakota State Senate before being elected the state's 25th Governor in 1956. Davis served two terms from 1957-1961.
Minnesota has also given birth to another Upper Midwestern governor – Democrat Richard Kneip of South Dakota. Kneip was born in southwestern Minnesota (Tyler) in 1933. Kneip went to South Dakota State University and was elected governor in 1970, 1972, and 1974. Kneip is the last Democrat to be elected governor of South Dakota.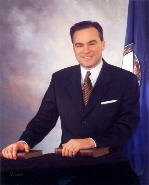 The most recent ex-Minnesotan to become governor of another state is Tim Kaine, former Democratic Governor of Virginia. Although Kaine was born in St. Paul in 1958, he grew up in Kansas City. Kaine was the 70th Governor of Virginia, serving from 2006-2010.
Other governors born in Minnesota include:
· Frank Lowden, the 27th Governor of Illinois, who was born in Sunrise, Minnesota in 1861. Lowden's family left the Gopher State for Iowa in 1868. Lowden served as a Republican from 1917-1921.
· Tim Babcock, the 16th Governor of Montana, who was born in 1919 in Littlefork, a small town in Koochiching County. Babcock served in the U.S. Army during WWII and launched his political career in Montana in the 1950s. Then Lieutenant Governor Babcock became governor in 1962 when Governor Donald Nutter was killed in a plane crash. Babcock, a Republican, was elected to a full term in 1964.
· Charles Dale, the 76th Governor of New Hampshire, was born in Browns Valley in western Minnesota in 1893. Dale went to the University of Minnesota for his bachelors and law degrees. Dale settled in New Hampshire after serving as a first lieutenant in the U.S. Army's Artillery Coast Corps during World War I. Dale was elected governor as a Republican in 1944 and 1946.
· Arthur Langlie, a Republican, was elected Governor of Washington in 1940, defeated in 1944, and reelected in 1948 and 1952. Langlie was born in southeastern Minnesota in Lanesboro in 1900. Langlie's family moved to Washington before his teenage years.
Although many more future political leaders born in Minnesota have left the state (11) compared to those who have done likewise from sparsely-populated North Dakota (2) and South Dakota (3), the political brain drain in the Gopher State is much less than that its neighbors to the east and south.
Iowa has seen 27 of its native sons leave the Hawkeye State to become governor elsewhere, while Wisconsin has had 20 – including J.A.O. Preus, Minnesota's 20th governor.
Follow Smart Politics on Twitter.