City Pages Errs in Latest Pawlenty Snark
Tennessee not quite as Republican-friendly as article suggests

In a recent City Pages article published last Friday ("Tim Pawlenty takes not-a-candidate road show to Tennessee"), Minnesota Governor Tim Pawlenty received a soft jab for delivering a keynote speech in the Volunteer State's GOP 2010 Statesmen's Dinner to be held later that evening.
The Minnesota media has not been shy in taking Pawlenty to task for his aggressive out-of-state travel schedule during the last few years as he ostensibly attempts to build national support for a potential 2012 presidential run.
Such criticism, however, has not stilted Pawlenty's travels, some of which he says are missions geared to drum up business investments to create job opportunities in the Gopher State.
The media frame used by City Pages in this particular piece was to make Pawlenty's appearance seem particularly strategic for this 2012 bid: that he was delivering a keynote address in a state that is a bastion of Republicanism.
But the glue meant to hold this media frame together cannot support the picture City Pages paints.
Reporter Hart Van Denburg writes:
"T-Paw's on the road again to support his I'm-not-saying-if-I'm-running-for-president gambit. Tonight: Tennessee, keynoting the state's GOP 2010 "Statesmen's Dinner." Should be friendly territory. Tennessee hasn't voted for a Democratic U.S. president since Harry S. Truman in 1948." (emphasis added)
There's just one problem.
Tennessee has actually voted for the Democratic presidential candidate several times since Harry Truman in 1948.
· In 1964, Lyndon Johnson defeated Barry Goldwater in Tennessee by 11 points, 55.5 to 44.5 percent.
· In 1976, Jimmy Carter, a fellow Southern neighbor from Georgia, defeated Gerald Ford by 13 points, 55.9 to 42.9 percent.
· In 1992, Bill Clinton, from neighboring Arkansas, defeated George H.W. Bush by 4.7 points, 47.1 to 42.4 percent.
· In 1996, Tennessee voters helped to reelect the Clinton/Al Gore ticket with a 2.4-point victory over Bob Dole, 48.0 to 45.6 percent.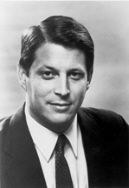 Of course, Tennessee is viewed to have taken a bit of a turn to the right in recent years, such as when Democrat Al Gore failed to carry his home state in the 2000 presidential election – a state which had elected him to the U.S. Senate in both 1984 and 1990 (and as Vice-President in 1992 and 1996).
Gore lost that contest by 3.9 points to George W. Bush – 51.2 to 47.3 percent.
But the 2000 contest was not the only election in which the Democratic presidential candidate only narrowly lost the Volunteer State since 1948:
· In 1952, Dwight Eisenhower defeated Adlai Stevenson by just 0.3 points – 50.0 to 49.7 percent.
· In the 1956 rematch, Eisenhower escaped with a 0.6-point victory, 49.2 to 48.6 percent.
· In 1980, Ronald Reagan nipped Jimmy Carter by only 0.3 points, 48.7 to 48.4 percent.
In state politics, Democrats also frequently rule the day in Tennessee, winning 11 out of 16 gubernatorial elections since 1948, including Phil Bresden in 2002 and 2006 (by 38.9 points).
Tennessee is certainly trending Republican (e.g. Barack Obama's 15.1-point loss to John McCain in 2008; Republican takeovers of the state senate and state house in the 2000s).
However, the Volunteer State is one good Democratic candidate away from being a battleground state again in federal elections, as evidenced by Harold Ford's 2.7-point defeat to Bob Corker in the state's 2006 U.S. Senate race.
The truth is, no U.S. State has voted straight-Republican since the 1948 presidential election.
City Pages attempted to cast Tennessee in a role much more well-suited for states such as Alaska, Idaho, Kansas, Nebraska, North Dakota, Oklahoma, South Dakota, Utah, or Wyoming – nine states which have only voted for a Democratic presidential nominee one time since 1948 (all in 1964).
Tennessee, a southern state that still maintains a sizable Democratic Party presence, does not quite pass this audition.
Follow Smart Politics on Twitter.