Independence Day in the United States and Beyond
Nearly two dozen nations will celebrate their independence in the month of July; nearly 50 nations mark their independence from the UK each year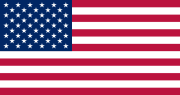 As the United States celebrates 234 years since its Declaration of Independence from Great Britain today, other nations lie in waiting for their own celebrations taking place later this month.
July, as well as August and September, are ripe with such celebrations across the world, with more than five dozen countries observing their independence from a variety of nations or occupiers during these three months.
The African nations of Burundi and Rwanda began July marking almost 50 years since securing their independence from Belgium in 1962.
On Saturday, July 3rd, Belarus celebrates the day its capital, Minsk, was liberated from German troops in 1944 during World War II.
On Monday, Algeria denotes its independence (France, 1962), as does Cape Verde (from Portugal, 1975) and Venezuela (from Spain, 1811).
Later this week, independence days will be noted in Malawi (from the UK, 1964), Solomon Islands (UK, 1978), Argentina (Spain, 1816), and the Bahamas (UK, 1973).
The United Kingdom, whose empire once stretched the globe, is on the wrong end of nearly four-dozen of these celebrations – more than any other colonial power.
From the island nation of Antigua and Barbuda in the Caribbean (1981) to the south African nation of Zimbabwe (1980), many nations were freed from British rule, particularly in the generation after World War II.
The United States (1776) has the earliest celebration of independence from the British empire, with Ireland (1916), Afghanistan (1919), and South Africa (1931) other nations receiving their independence from the UK prior to WW II.
Jordan (1946), Pakistan (1947), India (1947), Sri Lanka (1948), and Myanmar (1948) were some the first nations to mark the beginning of the end of the British empire after the war.
Of course, the United Kingdom is not the only colonial power from which nations celebrate their independence year after year. More than 15 countries their independence from France and Spain respectively – although from difference eras (and regions).
Independence from Spain in most Central and South American nations occurred during a 16-year period in the early 1800s, beginning with Ecuador (1809) and ending with Bolivia (1825).
Most nations began marking their independence from France over 125 years later during or after World War II, including nations in the far east (Cambodia, 1953), the Middle East (Lebanon, 1943), and Africa (Chad, Togo, Benin, Niger, Burkina Faso, Côte d'Ivoire, Madagascar, Mali, Central African Republic – all in 1960).
Follow Smart Politics on Twitter.