Minnesota U.S. Representatives throughout History: A (Geographically) Open Casting Call
Less than 40 percent of Minnesota's 133 U.S. Representatives were born in the Gopher State, including just two of eight in the current state delegation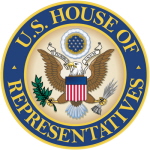 There once was a time, not too long ago, when being "born and raised" in Minnesota seemed to be a necessary, though not sufficient, condition to become a U.S. Representative from the Gopher State.
Over the past 30 years, however, it has been more common for newly-elected Representatives to be born out of state, including several who were not even raised 'Minnesotan.'
A Smart Politics analysis of information provided by the Biographical Directory of the United States Congress finds that less than 40 percent of Minnesota's 133 U.S. Representatives since statehood have been born inside its borders, including less than half of newly-elected Representatives since 1977.
Of course, the number of Representatives who were born out-of-state has ebbed and flowed across the 153-years since statehood was achieved in 1857.
These periods can be grouped into four geographic 'waves.'
In the first wave, early statehood, almost all political leaders – in the U.S. House or otherwise – were born from out of state or out of the country, as settlers and immigrants began to trickle into Minnesota to start a new life.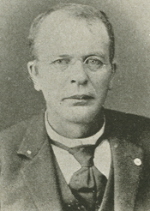 Minnesotans actually did not elect a home-born U.S. Representative until 1894, when Republican Frank Eddy was elected by a 1.9-point margin to the state's 7th Congressional District.
Eddy, who would go on to win three more terms, was born in Pleasant Grove and lived in the state throughout his childhood, save for a three-year stint in Iowa beginning when he was four years old.
Eddy was the first and only Minnesota-born Representative of the 39 sworn into office throughout the 19th Century. Several were born on the east coast during this period, including five from Maine and four from Vermont.
More than one-quarter of these 39 U.S. Representatives from Minnesota in the 1800s were born out of the country: three in Norway, two in Germany, two in Canada, and one each in Ireland, Scotland, and Sweden.
But with the dawn of the 20th Century came a second wave in the geographic backgrounds of Minnesota's elected officials.
As Minnesota began to mature into its 50s, 60s, and 70s as a state, it gave birth to an increasing number of residents who came to represent it in the U.S. House.
From 1900 through 1942 – the last election cycle before the DFL merger – 22 Representatives were born in the Gopher State, compared to 29 who were born elsewhere, or 43 percent born inside its borders.
Notable U.S. Representatives born in Minnesota during this era include Republicans Andrew Volstead (10 terms, born in Kenyon), Melvin Maas (8 terms, Duluth), and ex-Governor Theodore Christianson (Lac qui Parle).
Foreign-born residents were still emerging as political leaders in the Gopher State at this time, with men such as former U.S. Senator Magnus Johnson (Sweden) and 16-term Representative Harold Knutson (Norway) elected to the U.S. House during this period.
Representatives born in Finland (Oscar Larson), Germany (Henry Arens), and France (John Bernard) also represented Minnesota during this second wave as well as two more Norwegians (Knud Wefald, Einar Hoidale) and another Swede (Charles Lindbergh).
Overall, 18 U.S. Representatives from Minnesota have been born outside the United States (13.5 percent) including six from Norway, three from Sweden, three from Germany, two from Canada, and one each from Finland, France, Ireland, and Scotland.
The 'third wave' occurred from the DFL merger in 1944 through the 1976 election and was the most Minnesota-centric in state history. During this 32-year span, 21 of the 23 newly-elected U.S. Representatives were born in Minnesota (91.3 percent).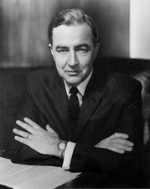 The third wave created several notable members of Congress including future Governor Al Quie (Wheeling Township), three-time Democratic presidential candidate Eugene McCarthy (pictured, Watkins), and the state's longest-serving member of D.C.'s lower chamber, Jim Oberstar (Chisholm).
The only two U.S. Representatives elected by Minnesotans during this span who were not born inside its borders were DFLers Roy Wier (elected in 1948, born in South Dakota) and Coya Knutson – the state's first female U.S. Representative (1954, North Dakota).
Since the special election of Republican Arlan Stangeland to fill Democrat Bob Bergland's vacated seat in 1977, a fourth wave ushered into Minnesota politics – one in which the majority of newly-elected Representatives once again came from out of state.
Since 1977, 10 of the 19 newly-elected U.S. Representatives were born outside of the Gopher State, including the last five.
Imports to Minnesota include Michele Bachmann (Waterloo, Iowa), John Kline (Allentown, Pennsylvania), Keith Ellison (Detroit, Michigan), Tim Walz (West Point, Nebraska), Erik Paulsen (Bakersfield, California), and Collin Peterson (Fargo, North Dakota).
Only Jim Oberstar and Betty McCollum (Minneapolis) are Minnesota-born residents from the current eight-member delegation.
The plurality of imported political talent during these 30 years has come from the neighboring state of North Dakota – the birth state of Collin Peterson, Jim Ramstad (Jamestown), Martin Sabo (Crosby), and Arlen Stangeland (Fargo).
Of course, some Representatives who were not born in Minnesota nonetheless spent a good deal of their childhoods in the Gopher State.
For example, Congresswoman Bachmann was a graduate of Anoka High School while Representative Paulsen (the only California-born Representative in Minnesota history) graduated from Chaska High.
Representatives Walz, Kline, and Ellison, on the other hand, did not become Minnesota residents until adulthood.
Outside of Minnesota, Iowa (6), Maine (6), Ohio (6), North Dakota (5), and Pennsylvania (5) are the states that have given birth to the most Gopher State U.S. Representatives.
Neighboring Wisconsin (4) and South Dakota (2) have yielded another six.
However, there is evidence the modern day Wisconsin-Minnesota rivalry has bled into the political arena: it has been 74 years since the last time a Wisconsin-born Minnesotan was elected to the U.S. House (Farmer-Laborite Paul Kvale, for his fifth term in 1936).
As for the crop of budding U.S. House candidates, some were born out of state (e.g. DFLer Tarryl Clark, Virginia) while others were born in Minnesota (e.g. GOPer Randy Demmer, Hayfield; DFLer Jim Meffert, Marshall).
Birth States of Minnesota's U.S. Representatives
| | | |
| --- | --- | --- |
| State | # | Percent |
| Minnesota | 53 | 39.8 |
| Foreign nations | 18 | 13.5 |
| Iowa | 6 | 4.5 |
| Maine | 6 | 4.5 |
| Ohio | 6 | 4.5 |
| North Dakota | 5 | 3.8 |
| Pennsylvania | 5 | 3.8 |
| Michigan | 4 | 3.0 |
| New York | 4 | 3.0 |
| Vermont | 4 | 3.0 |
| Wisconsin | 4 | 3.0 |
| Illinois | 3 | 2.3 |
| Massachusetts | 3 | 2.3 |
| Indiana | 2 | 1.5 |
| Nebraska | 2 | 1.5 |
| South Dakota | 2 | 1.5 |
| Virginia | 2 | 1.5 |
| California | 1 | 0.8 |
| Connecticut | 1 | 0.8 |
| Rhode Island | 1 | 0.8 |
| Washington | 1 | 0.8 |
| Total | 133 | 100.0 |
Table compiled by Smart Politics from information provided by the Biographical Directory of the United States Congress.
Follow Smart Politics on Twitter.