Is Tim Pawlenty Running for a 3rd Term?
DFL gubernatorial candidate TV ads target outgoing governor eight times more than attacks on GOP endorsee Tom Emmer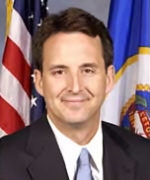 This is the second in a series of Smart Politics reports on campaign advertising in the 2010 Minnesota gubernatorial election. The first report examined DFL candidate face time in TV ads.
Although it has been more than 13 months since Republican Tim Pawlenty announced he would not seek a third term as Governor of Minnesota, one would not know it from watching the television ad campaigns from the three leading DFL candidates heading into August's primary.
A Smart Politics content analysis of more than a dozen DFL candidate television ads run by Margaret Anderson Kelliher, Mark Dayton, and Matt Entenza finds that the trio has collectively spent 16.2 percent of their airtime attacking Governor Pawlenty, just 1.9 percent criticizing GOP endorsee Tom Emmer, and not a single frame attacking one another.
Overall, the DFLers have spent 19.5 percent of their airtime attacking Republicans at the state or national level, compared to 29.8 percent of the ads focusing on their goals if elected governor of the Gopher State.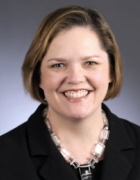 Each of the three candidates has targeted Governor Pawlenty in their ads, but none more so than Anderson Kelliher.
The House Speaker has spent 34 seconds in her two half-minute spots attacking Pawlenty and his policies, or 56.7 percent of the ads.
In her debut ad, "Minnesota Story," Anderson Kelliher takes six seconds to mention her past battles with the Governor: "And that's why as Speaker I fought Governor Pawlenty and corporate special interests to protect families like yours and mine."
Her attack on Pawlenty is more specific and pronounced in her follow-up ad ("Serve") in which she narrates: "For the past eight years, the Governor has been serving corporate special interests and his own political ambition. I took on Governor Pawlenty and won – leading the fight to fix our bridges and stop cuts to health care and schools."
In that ad, in which actors ride up to the drive-thru at "Pawlenty's" restaurant and are unable to order good schools and jobs, the House Speaker also takes a subtle jab at Republicans in Congress. On the menu at Pawlenty's, in addition to items such as a "Budget Busting Burrito" and a "Tax Break Sandwich for the wealthy" are "Freedom Fries."
Despite criticizing the Governor for 34 seconds in her two ads, Anderson Kelliher spends just three seconds mentioning any of her gubernatorial priorities moving forward (5.0 percent). The ads include just one vague mention about jobs: "You can go to my website to learn how we put Minnesota back to work."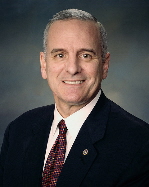 Former U.S. Senator Mark Dayton is also not shy in his criticism of the Governor – mentioning Pawlenty by name in four of his five ads to date.
In total, Dayton criticizes Pawlenty for 29 seconds in his three minutes of TV ads (16.1 percent).
However, unlike Anderson Kelliher, Dayton does not get his own hands dirty in these attacks, utilizing a voice-over artist in each instance.
In his debut ad ("9,000 Miles"), the Dayton campaign makes a general attack against the Governor: "It's the courage we need to repair the damage Tim Pawlenty has done."
In his third ad ("Fair Share"), a voice-over artist is more targeted in the Pawlenty strikes: "Tim Pawlenty has protected tax loopholes for the richest Minnesotans, while cutting education funding for our children. Mark Dayton says it's wrong."
Similarly, the Governor is criticized in Dayton's fourth ad ("Forged"): "Tim Pawlenty has cut education funding in Minnesota. Classrooms are overcrowded. Districts have gone to four-day school weeks. Mark Dayton says it's wrong."
In his most recent spot on senior citizens ("So Much"), the Dayton campaign claims: "Tim Pawlenty's cuts have hurt our seniors. Rising property taxes are driving them out of their homes…Our seniors have done so much for us. Isn't it time for a governor who did more for them?"
But although Dayton shares Anderson Kelliher's enthusiasm for attacking Tim Pawlenty, his ads do outline his actual goals if elected governor, for a total of 62 seconds or 34.4 percent of his ads.
Dayton outlines specific goals in four of his five ads, including his plan to raise taxes on the wealthiest of Minnesotans, increase funding for K-12 and higher education, champion clean energy, and create jobs through transportation projects.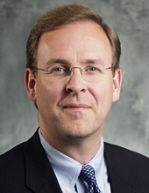 While Matt Entenza only briefly attacks Governor Pawlenty in one of his six television ads ("New Direction"), he is also the only DFLer to mention Tom Emmer by name.
In an effort likely designed to energize and expand his base heading into next month's primary, Entenza manages to tie together four polarizing Republican figures during the first 15 seconds of the attack ad – Sarah Palin, George W. Bush, Tim Pawlenty, and Tom Emmer:
"Meet Sarah Palin's candidate for Governor, Tom Emmer. Endorsed by Palin, a Bush Republican who will double down on failed Pawlenty policies. Devastating 30 percent budget cuts. Education under threat. Emmer's more of the same."
While Dayton and Anderson Kelliher have exclusively targeted Pawlenty as the object that they specifically attack by name, Entenza has roamed more freely.
In his energy ad "Clean Up," the Entenza campaign states over images of the oil spill in the gulf: "We've watched in horror. Raged at BP. Felt the pain of all that's been lost."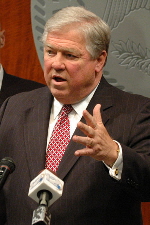 In his ad "Disappearing," Entenza takes a very harsh shot at the State of Mississippi – which is governed by a Republican, Haley Barbour: "If budget cuts were always the answer, then Mississippi would be a leader in this country."
Barbour is also the Chairman of the Republican Governor's Association.
Overall, Entenza criticizes Republicans for 24 seconds of his three minutes of ads (13.3 percent). The former Representative also spends 61 seconds of his three minutes of ads discussing substantive policy goals of his campaign (33.9 percent) – with a particular focus on education (ending No Child Left Behind and increasing funding), as well as clean energy, the economy, and halting budget cuts.
Notably absent from any of the thirteen ads under analysis are attacks against any fellow DFLer running in next month's primary. Perhaps there is a tacit agreement among the three camps to keep the gloves on in order to more easily unify around a candidate after August 10th.
In the meantime, the DFL candidates seem to be content in utilizing the same communication strategy to rally supporters – attacking Governor Pawlenty and largely ignoring Republican Tom Emmer, who hopes to extend the Gopher State's third longest Democratic gubernatorial drought in the nation.
But while the anti-Pawlenty tactics may be in vogue as a DFL primary strategy, it is unlikely to win DFLers an election in November, as the Governor has largely maintained 50+ percent approval ratings throughout the last year.
Follow Smart Politics on Twitter.