A Profile of the Tea Party Caucus
Caucus members skew southern, average 10 years of service in the House, won their '08 races by 29 points, and represent districts with an average GOP tilt of +14 points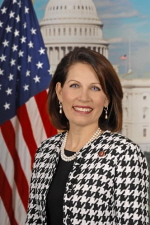 Representative Michele Bachmann's (MN-06) announcement this week of the new Tea Party Caucus in the U.S. House reintroduces the country to some of the more colorful members of Congress.
The most buzzworthy members of the caucus are, of course, Bachmann herself, along with Joe Wilson (SC-02), whose interruption of Barack Obama's address before a Joint Session of Congress last fall led to an extremely lucrative fundraising campaign, and Joe Barton (TX-06), whose apologetic defense of BP during a congressional hearing earlier this summer made him a front page story for a few days.
Smart Politics assembled a collective profile of the 40 Representatives identified as members of the Caucus by Congresswoman Bachmann in a news release updated late Thursday afternoon:
Geography. Twenty-one members hail from the southern region of the country, including 10 members from Texas and four from Georgia. Another ten members represent districts in the Midwest with nine in western states.
Average years of service. The average length of service in the U.S. House for Tea Party Caucus members is 9.9 years (near five full terms).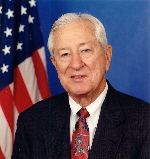 The most senior members of the caucus are 15-term Congressman Ralph Hall (pictured, TX-04, 29.5 years) and 14-term Representative Dan Burton (IN-05, 27.5 years).
The junior members of the caucus are Freshmen Tom Graves (GA-09), who won a special election last month to fill the vacancy after Nathan Deal decided to run for governor, and Tom McClintock (CA-04), Mike Coffman (CO-06), Lynn Jenkins (KS-02), John Fleming (LA-04), and Cynthia Lummis (WY-AL).
2008 Margin of Victory. As a whole, the caucus represents districts that voted Republican by very comfortable margins in the 2008 election cycle, with an average victory margin of 29.2 points.
Two members did not even face Democratic challengers: Rodney Alexander of Louisiana's 5th CD ran unopposed in 2008, while Louie Gohmert (TX-01), won by 75.2 points over an independent.
Six members of the caucus, however, did face competitive races in 2008 – the aforementioned freshmen Fleming (LA-04, 0.4 points), McClintock (CA-04, 0.6 points), Jenkins (KS-02, 4.8 points), and Lummis (WY-AL, 9.8 points) as well as Bachmann (3.0 points) and Wilson (7.5 points).
District Partisan Voting Index. Another way to illustrate just how far the districts of Tea Party Caucus members tilt Republican is through their Partisan Voting Index (PVI) scores. These 40 districts have an average PVI of +14 GOP, which means they voted 14 points more Republican than the nation as a whole during the 2004 and 2008 presidential elections.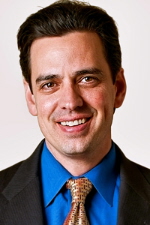 The caucus boasts members from three of the Top 10 most Republican leaning districts in the country: Tom Graves' GA-09 (pictured, +28 GOP, #4), Randy Neugebauer's TX-19 (+26 GOP, #5), and Adrian Smith's NE-03 (+24 GOP, #9).
Twenty-nine of the 40 members represent districts with a PVI of at least +10 Republican. The caucus member representing the district with the smallest Republican tilt is Gus Bilirakis from Florida's 9th CD (+6 GOP, #158).
It is worth noting that Bachmann – who spearheaded this very conservative caucus – represents a district that is just the 142nd most Republican in the country (+7 GOP), and has been the 11th most competitive district since new lines were drawn in 2002. Bachmann's 6th CD in Minnesota has had an average victory margin of just 10.3 points over the last four election cycles including 8.1 points in 2004, 8.0 points in 2006, and 3.0 points in 2008.
Bachmann's '08 victory was the narrowest of all Republican incumbents who won reelection that year.
Exiting Members. At least four members of the caucus will not return to the U.S. House next year. John Shadegg (AZ-03) is retiring, while Jerry Moran (KS-01), Todd Tiahrt (KS-04), and Pete Hoekstra (MI-02) opted to make bids for higher office (U.S. Senate, U.S. Senate, and governor respectively).
Follow Smart Politics on Twitter.