GOP U.S. House Incumbents Six Times More Likely to Run Get-Tough on Illegal Immigration Campaigns than Democrats
Half of Republican incumbents are highlighting get-tough anti-illegal immigration policy solutions on campaign websites compared to just 8 percent of Democrats

While several components of Arizona's new immigration law are (temporarily) blocked from going into effect by a federal judge ruling on Wednesday, dozens of U.S. Representatives are running on a get-tough on illegal immigration platform as a key component of their reelection campaigns – the vast majority of whom are Republicans.
A Smart Politics content analysis of campaign websites for U.S. House members running for reelection in 2010 finds that 50 percent of Republican incumbents feature get-tough policy solutions to the nation's immigration problems on their websites, compared to just 8 percent of Democrats.
Smart Politics content analyzed the policy issues highlighted on the campaign websites of 373 members of the U.S. House (all 435 seats minus vacancies, minus the more than three dozen Representatives not running for reelection, minus those incumbents defeated in the primary, minus 18 Representatives who do not maintain campaign websites).
In total, 217 Democratic and 156 Republican incumbent websites were studied, with 31.6 percent of these 373 sites addressing the immigration issue in some form (118).
Republican incumbents were 2.7 times more likely to address immigration on their campaign websites overall, with 50 percent spotlighting the issue (78 of 156 representatives).
Meanwhile, only 40 Democrats focused on immigration issues on their websites (18.4 percent), with 177 ignoring the policy area altogether (81.6 percent).
U.S. Representative Campaign Websites Addressing Immigration by Party
Party

Yes

No

Total

% Yes

% No

Democrat

40

177

217

18.4

81.6

GOP

78

78

156

50.0

50.5

Total

118

255

373

31.6

68.4
Data compiled by Smart Politics.
While only a handful of GOPers mention the Arizona immigration law specifically on their sites, there is little doubt SB 1070 has influenced the national debate and thus the agenda of dozens of Republicans (Americans support stricter border enforcement measures as well as the Arizona law by wide margins in most polls).
Some Republicans did address the Arizona law head-on:
John Mica (FL-07): "Just as the State of Arizona recently did with its immigration enforcement act, any state should be able to enforce federal law and protect its borders and citizens."
Phil Roe (TN-01): "Phil believes that states like Arizona would not have to enforce their own border security if the federal government was willing to do its part and secure our borders and stop illegal immigration."
Of course, the Arizona law – and immigration policy generally – has sparked impassioned debate on both sides of the aisle. Several Democratic members of Congress have condemned the law on their campaign websites:
Linda Sanchez (CA-39): "This is the most oppressive piece of legislation since the Jim Crow laws."
Jane Harman (CA-36): "The immigration law signed last week in Arizona is deeply troubling and should be condemned. I believe the new statute will not pass constitutional muster… the approach adopted in Arizona risks racial profiling and creating an atmosphere of intolerance."
Joe Baca (CA-43): "Joe Baca's campaign against Arizona's new anti-immigration law appears to be picking up steam. As part of his general boycott of Arizona — which includes his refusal to fly through Phoenix on his weekly trips to and from Washington — Baca, D-Rialto, is distributing wristbands inspired by the Lance Armstrong LiveSTRONG craze."
And this raises the second main difference between Democratic and Republican U.S. House incumbents as to how immigration is playing a role in their reelection campaigns.
Not only are Republicans nearly three times more likely to feature the issue on their campaign websites, but they are also six times more likely to advance get-tough policy solutions to fix the problem.
Of the 78 Republicans who are campaigning on the issue, all but one propose unequivocally get-tough solutions to illegal immigration, such as beefing up enforcement through more border patrol agents, completing the fence, opposing amnesty, deportation, and ending birthright citizenship.
The only Republican of the 78 highlighting immigration to stake out more neutral ground in his approach to immigration policy is Arizona's Jeff Flake from the state's 6th CD: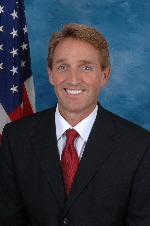 "I think we all wish that we could wave a magic wand, or build a sturdy fence, to solve our immigration problems. But of course, a problem this complex requires a comprehensive solution – one that involves better border security, a realistic mechanism to deal with some 12 million illegal aliens who are currently in the United States, and a meaningful temporary worker program (with serious employment verification and enforcement) to ensure that we don't end up in the same situation years from now. Amnesty is not the answer, but neither is pretending that we can solve the problem simply by enforcing current law. We have to find common ground that respects both reality and the rule of law."
The remaining 77 Republicans, however, had more direct approaches in mind to solving the nation's border and immigration problems, focusing on border enforcement first, with many tying the issue to national security:
Ander Crenshaw (FL-04): "Illegal immigration continues to put us all at risk. Gaining control over our borders means protecting the American dream for all our citizens and legal immigrants. There is a very real threat – not just posed by illegal aliens and drug smugglers, but by terrorists who target our very freedom. Safe communities begin with secure borders."
Don Young (AK-AL): "The practice of illegal immigration threatens the security of our Nation and the safety of our citizens. Most of us would never allow a complete stranger into our home and risk the safety of our loved ones. But, by failing to secure our borders, we are allowing individuals without any documentation as to their identity or history, to freely live among us, drive on our streets, and patronize our stores."
Pete Olson (TX-22): "If we don't know who is coming into our country, how will we know they don't want to harm us?… We shouldn't have gun battles in our neighborhoods between these gangs and police officers being shot by criminal illegal immigrants."
Tom Graves (GA-09): "Since September 11, 2001, the United States has enacted many reforms, at home and abroad, to secure our homeland, but unfortunately we've failed to meet the challenge in dealing with the illegal immigration crisis. There are estimated more than ten million illegal immigrants currently in the United States, many with criminal convictions that have received final deportation orders and we are unable to find them."
Roscoe Bartlett (MD-06): "Strengthening our border, port security and law enforcement capabilities including reducing illegal immigration will make it harder for terrorists to attack the United States."
Scott Garrett (NJ-05): "We must ensure that those who seek to cross our borders do so legally. The validity of our laws as well as the strength of our national security depends on this. Scott Garrett supported the Secure Fence Act. He firmly believes that providing stronger border security will help us better protect our nation."
Lynn Jenkins (KS-02): "At the same time we must secure our borders and refuse to grant amnesty to those who violate our laws. We also cannot ignore the gaping holes that exist along our border. It is a matter of national security and it will continue to be my priority to make sure Kansans and all Americans remain safe and secure."
John Sullivan (OK-01): "I am working to strengthen the security of our nation's borders because I truly believe that border security is national security. By fully constructing a double layer border fence, hiring and training additional border patrol agents and utilizing technology along the border, our nation can achieve operational control of our southern border."
Paul Ryan (WI-01): "Porous borders leave us susceptible to the illegal crossing of terrorists, drug lords, and gang members, placing our homeland security in serious jeopardy."
Bill Posey (FL-15): "We must secure our borders as a matter of national security, and once we accomplish that we must get to the business of deporting any illegal immigrants who have been convicted of felonies in our courts, so we can make a real impact in the fight to make our nation safer and more secure."
John Culberson (TX-07): "We will never win the war on terror until we secure our borders. Lawlessness breeds lawlessness, and this lack of enforcement is allowing illegal aliens and potential terrorists to enter our country."
Others Republican incumbents focused on the various economic problems brought about by unchecked illegal immigration, both on the macro and micro level:
Tim Murphy (PA-18): "Illegal immigration cost U.S. taxpayers over $100 billion each year. Securing our nation's borders is essential not just to our national security, but also to our economic security."
Tom Latham (IA-04): "Small businesses lose money and lay people off. Local governments struggle to maintain basic services. Our rural towns can't afford large economic hits. People who knowingly present falsified information, and employers who look the other way, are doing an incredible disservice to their communities, to the State of Iowa, and to our great nation."
John Fleming (LA-04): "What we are confronted with today is an invasion by illegal aliens. Besides the illegality and the criminality of the situation, there is a new motive for coming to America. The motive is not freedom in the classic sense of the word, nor is it a desire to be fully American. The underlying motive of illegal aliens is economic. It is about money, making it and also sending it out the country."
Steve King (IA-05): "The overwhelming consensus of experts is that the wages of less-educated, low-skill workers have been most negatively impacted by illegal immigration. The wage rates of these workers have declined while their unemployment rates have increased."
Peter Roskam (IL-06): "According to a recent study by the Federation for American Immigration Reform, the State of Illinois' provision of education, healthcare and employment benefits to illegal immigrants comes at a cost to taxpayers of $3 to 3.5 billion every year."
Dan Burton (IN-05): "Illegal immigration imposes great burdens on our local, state and federal governments, which are already stretched to the limits of their budgets. Illegal aliens drive up their education, health care, and welfare costs."
Thad McCotter (MI-11): "Big government, big business, the Left, and this trio's elitist accomplices have all combined to cheat us of our sovereignty and tax money by enticing and exploiting illegal immigrants into America. We now witness the perverse spectacle of people illegally in America receiving legal benefits."
Tom Price (GA-06): "Citizens across the United States are fed up with widespread illegal immigration, and it is no longer an isolated problem for border states. Overcrowded schools, over-extended social services, and strained hospitals are bearing the brunt, and lawful taxpayers are left picking up the tab."
Gary Miller (CA-42): "Illegal immigrants cost the average California family $1,185 a year in additional taxes to pay for their education, healthcare and other social services."
Cynthia Lummis (WY-AL): "To protect America's integrity we must secure our borders and prevent illegal immigrants from eroding America's economic strength…Cynthia will work to insure that illegal aliens do not receive social security benefits, medicaid benefits, food stamps, drivers licenses, or other benefits."
Still other Republican incumbents are campaigning that illegal immigration is a threat to the American way of life – its sovereignty and national unity:
John Boehner (OH-08): "Above all else, John believes the success of our country depends on newcomers obeying the law, assimilating into American society by learning English, and embracing our common identity as Americans."
Sam Johnson (TX-03): "We must protect our sovereignty once and for all by gaining control of our porous borders."
Ron Paul (TX-14): "The talk must stop. We must secure our borders now. A nation without secure borders is no nation at all."
Meanwhile, on the Democratic side of the aisle, the 40 incumbents focusing on immigration on their campaign websites were split in their policy views.
A total of 18 Democrats espoused get-tough solutions (8.3 percent of incumbents with campaign websites), while 11 proposed more middle-of-the-road 'comprehensive' plans (5.1 percent), and 11 encouraged soft approaches, such as open-borders or giving governmental benefits to illegal immigrants (5.1 percent).
The vast majority of Democratic incumbents, however, do not address immigration on their campaign websites at all (177, 81.6 percent).
Policy Approach to Illegal Immigration on U.S. Representative Campaign Websites by Party
Party

Tough

Mixed

Soft

% Tough

% Mixed

% Soft

Democrat

18

11

11

8.3

5.1

5.1

GOP

77

1

0

49.4

0.6

0.0

Total

95

12

11

25.5

3.2

2.9
Percentages based on the percentage of all U.S. House incumbents running for reelection with campaign websites by party. Data compiled by Smart Politics.
Of the 18 Democrats carving out similar get-tough immigration policy positions to their GOP colleagues, several represent very competitive districts and are in the midst of fierce challenges from Republican hopefuls:
Joe Donnelly (IN-02): "It is imperative that we begin our efforts to stop illegal immigration by securing our nation's borders. As it currently stands more than 8 years from the horrendous attacks of 9/11 we are still short on resources to stop the flow of intruders into our country."
Chet Edwards (TX-17): "Far more must be done to protect our borders from potential terrorists and to end the flood of illegal immigration, which puts a financial strain on our local schools, hospitals and communities."
Bobby Bright (AL-02): "Bobby recognizes that illegal immigrants are never entitled to federal benefits and will always support measures to ensure this never happens."
Debbie Halvorson (IL-11): "While people enter our borders illegally every day, Debbie is fighting to provide additional resources to secure our borders and keep our country safe."
Baron Hill (IN-09): "I do not support amnesty and do not believe it has a place in the overall discussion."
John Spratt (SC-05): "Whatever we do about immigration, we first have to secure our borders and control who enters our country. John Spratt has voted to double the Border Patrol, to deploy troops on the border, to build an electronic fence and walls, and to increase the number of immigration officials."
Frank Kratovil (MD-01): "Frank believes that immigration reform should focus on enforcement, not amnesty…Frank Kratovil strongly believes that our government's first immigration priority must be enforcing the laws currently on the books and taking steps to ensure that illegal behavior is not rewarded."
John Adler (NJ-03): "It is critical to our country's safety and security that we seal the borders and ensure all immigration is done so legally. John does not support amnesty nor does he support giving benefits that hardworking American citizens receive to illegal immigrants."
Paul Kanjorski (PA-11): "Paul believes that we need secure borders and strong enforcement of laws already on the books to prevent illegal immigration. He opposes amnesty for illegal immigrants."
Some Democrats, such as the aforementioned Kratovil and Mike McIntyre (NC-07) are also campaigning to make English the official language of the United States (e.g. the English Language Unity Act) along with several Republican colleagues, such as John Shimkus (IL-17), Thad McCotter (MI-11), Clifford Stearns (FL-06), Vern Buchanan (FL-13), Geoff Davis (KY-04), Pete Olson (TX-22), Randy Forbes (VA-04), and Cynthia Lummis (WY-AL).
But there are other Democrats in the House, most in extremely safe districts, who are campaigning on a much softer platform regarding illegal immigration:
Yvette Clark (NY-11): "Rep. Clarke's 2009 Immigration Goals: Reform immigration policy in the spirit of the American dream, uphold the American tradition of an open border, stop deporting the parents of citizens, leaving them orphaned."
Mike Quigley (IL-05): "Mike Quigley is proud to stand up for the men and women who have come to Chicago from across the globe, and who work everyday to build and improve their adopted country…Mike has been a strong and tireless advocate for the rights of immigrants in Cook County – and will take that same fight to Congress. He'll stand-up to the extremists in Congress who try to use immigrants as scapegoats and whose harsh policies would divide spouses, parents and children. Mike will fight for the rights of families to stay united here in America."
Carolyn Maloney (NY-14): "Carolyn recognizes that this country was built on the backs of immigrants, and has always believed that legal avenues to citizenship should be made available to hardworking members of our society."
Linda Sanchez (CA-39): "Linda is committed to improving the lives of immigrant families. America is a country built and sustained by immigrants. She is working hard in Congress to make sure that hard-working immigrants are able to reunite with their loved ones, have access to safe and secure jobs, have the opportunity to become full citizens of the United States."
Keith Ellison (MN-05): "Keith also supports the Dream Act, which would increase access to higher education for the children of foreign-born workers."
It will be interesting to see what effect the federal court injunction against the Arizona law has on public opinion, and what effect changing public opinion will have on the remaining 250+ incumbents in the U.S. House who are not yet highlighting the immigration issue in their reelection campaigns.
Note: Part two of Smart Politics' immigration report – examining the geographic breakdown of incumbents campaigning on immigration – will be released later this week.
Follow Smart Politics on Twitter.