Can the DFL Win Minnesota's Governorship in the Face of a GOP Sweep of its Upper Midwestern Neighbors?
Democrats have won gubernatorial elections in Minnesota only four times since statehood without also holding one of its neighboring four states; last time was 1954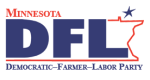 Buoyed by a recent poll that shows any of its trio of gubernatorial candidates ahead of GOP endorsee Tom Emmer, the DFL continues to be optimistic about its odds of winning Minnesota's gubernatorial election this November.
However, if Democrats are to be successful in taking back the governor's mansion in the Gopher State, they may have to accomplish that task by doing something they haven't done in more than half a century.
A Smart Politics analysis of historical election results finds that the DFL (or Democratic) Party has only won four gubernatorial elections in Minnesota history – and none since 1954 – unless also holding one of its neighboring four states at the same time.
In short, when Republicans are poised to sweep the highest office across the Upper Midwest, the Gopher State usually follows suit.
The last time Minnesota Democrats bucked the partisan trend of neighboring Iowa, Wisconsin, North Dakota, and South Dakota in gubernatorial elections was 1954, when DFLer Orville Freeman knocked out 1-term Republican incumbent C. Elmer Anderson by 5.9 points.
That November, Wisconsinites and North Dakotans elected Republicans Walter Kohler and C. Norman Brunsdale back into office for third terms respectively while Iowans and South Dakotans elected GOPers Leo Hoegh and Joe Foss for the first time.
Prior to 1954, it had been 40 years since the last time Minnesotans were able to eke out a Democratic victory while the rest of the region voted Republican for their chief executive.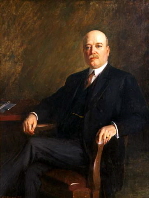 In 1914, former Democratic Congressman Winfield Hammond (pictured) narrowly won his first and only term by 3.4 points in the Gopher State (he would die in office in 1915).
Republicans swept through the rest of the Upper Midwest that November with George Clarke in Iowa, Emanuel Philipp in Wisconsin, Frank Byrne in South Dakota, and Louis Hanna in North Dakota.
The third such instance happened 10 years prior, in 1904, when Democrat John Johnson was elected to his first of three terms in Minnesota, winning by 2.6 points. Republicans swept the region that year with Robert La Follette in Wisconsin, Samuel Elrod in South Dakota, Elmore Sarles in North Dakota, and Albert Cummins in Iowa (elected in 1903).
These three election cycles are the only times during the last 152 years in which there has been this sort of 'Minnesota exceptionalism' with Democrats winning gubernatorial elections in the Gopher State in the face of Republican dominance across the neighboring four states.
The only other instance of a Democrat winning Minnesota whilst surrounded by Republican neighbors took place in 1857, more than 30 years before the Dakotas achieved statehood.
In Minnesota's first gubernatorial election, Democrat Henry Sibley narrowly defeated Alexander Ramsey by 0.6 points, while Republicans were elected into office in Iowa (Ralph Lowe) and Wisconsin (Alexander Randall).
A look at the current Upper Midwestern political landscape suggests it might take one of these 'Minnesota miracles' in 2010 for a Democrat to win a governorship across these five states:
· Republicans currently hold the governor's seat in North Dakota, which will not have a gubernatorial election until 2012. If Governor John Hoeven wins his U.S. Senate race as expected, then (Minneapolis-born) Lieutenant Governor Jack Dalrymple will serve as governor of the Peace Garden State for the next two years.
· In South Dakota's open race, Republican Lieutenant Governor Dennis Daugaard has held a 15 to 20 point advantage over Democrat Scott Heidepriem in each of the last five public opinion polls, including a 17-point lead in the most recent Rasmussen poll conducted in early July.
· In Iowa, former four-term GOP Governor Terry Branstad has polled ahead of 1-term Democratic incumbent Chet Culver in each of the more than half-dozen surveys conducted this year, including a 26-point lead in a mid-June Rasmussen survey.
· In Wisconsin's open-seat race, front-running GOP hopeful Scott Walker has held a lead over Milwaukee's Democratic Mayor Tom Barrett in each of the ten non-partisan public opinion polls conducted this year, though most by single-digit margins. The latest poll (Rasmussen, July 27) has Walker up by seven points.
Meanwhile, the last seven times Minnesotans elected a Democrat into the governor's office, one or more of these neighboring states did likewise:
· When DFLer Rudy Perpich won his first term in 1982, Wisconsin elected Democrat Anthony Earl. North Dakota's last Democratic Governor, George Sinner, was two years into serving his first term in office when Perpich won his second term in 1986.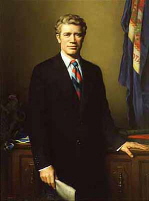 · When DFLer Wendell Anderson (pictured) won his first term in 1970, Democrats also won gubernatorial elections in South Dakota (Richard Kneip) and Wisconsin (Patrick Lucey) while North Dakota Democrat William Guy was two years into his fourth and final term. Kneip and Lucey were also elected alongside Anderson in 1974, and North Dakota Democrat Arthur Link was two years into his first term.
· When DFLer Karl Rolvaag won his infamous 91-vote victory over Elmer Anderson in 1962, Democrats were also elected in Iowa (Harold Hughes), Wisconsin (John Reynolds), and North Dakota (William Guy).
· When DFLer Orville Freeman won his second term in 1956, Democrats took home the governorship in Iowa (Herschel Loveless). When Freeman won his third term in 1958, Loveless was also reelected as were Democratic governors in Wisconsin (Gaylord Nelson) and South Dakota (Ralph Herseth).
With Republicans poised to win their most gubernatorial seats in an election cycle in 90 years, a DFL pick-up in Minnesota would not only defy the historical odds of the Upper Midwest region, but the national political environment as well.
Election of Democratic Gubernatorial Candidates in Minnesota Vis-à-Vis the Upper Midwest, 1857-Present
Year

Minnesota

Region

1986

Rudy Perpich

North Dakota (George Sinner, 1984)

1982

Rudy Perpich

Wisconsin (Anthony Earl)

1974

Wendell Anderson

South Dakota (Richard Kneip), Wisconsin (Patrick Lucey), North Dakota (Arthur Link, 1972)

1970

Wendell Anderson

South Dakota (Richard Kneip), Wisconsin (Patrick Lucey), North Dakota (William Guy, 1968)

1962

Karl Rolvaag

Iowa (Harold Hughes), Wisconsin (John Reynolds), North Dakota (William Guy)

1958

Orville Freeman

Iowa (Herschel Loveless), Wisconsin (Gaylord Nelson), South Dakota (Ralph Herseth)

1956

Orville Freeman

Iowa (Herschel Loveless)

1954

Orville Freeman

None

1914

Winfield Hammond

None

1908

John Johnson

North Dakota (John Burke)

1906

John Johnson

North Dakota (John Burke)

1904

John Johnson

None

1898

John Lind

South Dakota (Andrew Lee, Fusion)

1857

Henry Sibley

None
Data compiled by Smart Politics.
Follow Smart Politics on Twitter.