You Say You Want a Revolution? Third Party Gubernatorial Candidates Thriving in 2010
Third party gubernatorial candidates rivaling 1994 for their best showing since the Great Depression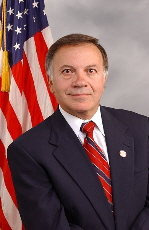 This is the seventh in a series of historical reports leading up to the gubernatorial elections of 2010. Past reports have examined the historic Class of 2002 and its large number of first-term governors, the success rate of ex-governors trying to reclaim their office, plurality winning gubernatorial campaigns, states with the most living ex-governors, what states give birth to the most governors, and the number of potential GOP victories this election cycle.
The entry of former Congressman and Presidential candidate Tom Tancredo into the Colorado gubernatorial race this past week on the Constitution Party ticket has been a political landmine for the Republican party in the Centennial State.
Tancredo now joins a growing list of third party candidates that look to have a dynamic effect on several contests this fall, and his candidacy is further evidence of the growing public discontent with both political parties in the U.S. as the nation continues to face serious economic and foreign policy challenges.
And just how much of an impact will third parties have in 2010?
A Smart Politics analysis of nearly 1,800 gubernatorial elections since 1900 finds that third party candidates in 2010 will rival those of 1994 for the strongest showing over the past 75 years since the Great Depression.
Tancredo is simply one of many third party candidates currently polling in double digits in gubernatorial races across the country:
· The former Colorado Congressman hit the ground running at 24 percent in new SurveyUSA and Rasmussen polls in three-way matchups against Democrat John Hickenlooper and GOP hopefuls Scott McInnis and Dan Maes.
· In Rhode Island, former Republican U.S. Senator and current independent candidate Lincoln Chaffee has enjoyed narrow leads against his GOP and Democratic rivals throughout most of the summer. The July 21st Rasmussen survey measures Chaffee's support at 37 percent.
· In Minnesota, Independence Party endorsee (and former Republican) Tom Horner polled between 13 and 15 percent in the latest Star Tribune poll against GOP endorsee Tom Emmer and the three DFL hopefuls. The Gopher State has elected five third party candidates to the office of governor since 1900 – the most in the nation.
· Two former Democrats-turned-independents are looking to have an impact in the northeast. Maine's Eliot Cutler polled at 15 percent in a mid-July Rasmussen survey while Massachusetts Treasurer Tim Cahill came in at 17 percent in a July 22nd Rasmussen survey.
· Meanwhile, in Florida, a late July Quinnipiac survey finds independent Bud Chiles, son of former Democratic governor Lawton Chiles, receiving 14 percent of the vote in matchups against Democrat Alex Sink and the two leading GOPers (Rick Scott and Bill McCollum).
If these third party candidates sustain their support through the November 2010 election, it will mark only the second time since the Great Depression that six gubernatorial candidates will have won at least 10 percent of the vote in an election cycle (the other being 1994).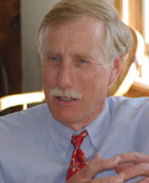 While the 1994 election is best known for the "Republican Revolution" and the GOP takeover of the U.S. House, it was also fertile ground for third parties, with eight candidates across seven states receiving at least 10 percent of the vote in gubernatorial contests, including independent Angus King (pictured) of Maine who won the Pine Tree State with a 35.4 percent plurality.
That election cycle also saw notable campaigns from Frank Fasi running on the "Best Party" ticket in Hawaii (30.7 percent, 2nd place), independent Wes Watkins of Oklahoma (23.5 percent), Alaskan Independence party candidate Jack Coghill (19.8 percent), Eunice Groark on the "A Connecticut Party" ticket (18.8 percent), Independence party candidate Tom Scott (11.4 percent, also in Connecticut), Constitution Party candidate Peg Luksik in Pennsylvania (12.8 percent), and Green Party candidate Roberto Mondragon in New Mexico (10.3 percent).
After 1994, the next largest number of states with candidates notching at least 10 percent of the vote in an election cycle since the Great Depression was four – with most of these during the last 25 years: 2006 (Alaska, Illinois, Maine, Texas (x2)), 2002 (Minnesota, New York, Oklahoma, Wisconsin), 1998 (Alaska, Maine, Minnesota, Pennsylvania), 1990 (Alaska, Connecticut, New York, Oregon), 1986 (Arizona, Illinois, Maine (x2), Vermont), and 1938 (Connecticut, Minnesota, Nebraska, Wisconsin).
The 1990s in particular brought a resurgence to third parties in gubernatorial campaigns that had not been seen since before World War II. From 1990 to 1999, five third party candidates won gubernatorial contests – the second largest number per decade since the beginning of the 20th century.
In addition to independent Angus King's 1994 and 1998 victories in Maine, victorious third party candidates include Lowell Weicker on the A Connecticut Party ticket (1990), Alaskan Independence Party candidate Wally Hickel (1990), and Reform Party candidate Jesse Ventura in Minnesota (1998).
In total, 17 states across 144 elections in the 1990s had third party candidates reach double digits in gubernatorial races, or 11.8 percent – the third highest percentage by decade since the 1900s.
Number of States with Third Party Gubernatorial Candidates Winning 10+ Percent by Decade Since 1900
Decade

States

Candidates

Elections

% States

Won

1900-1909*

8

8

181

4.4

0

1910-1919

45

48

188

23.9

2

1920-1929

22

22

184

12.0

0

1930-1939

20

20

182

11.0

8

1940-1949

4

4

176

2.3

1**

1950-1959

4

4

175

2.3

0

1960-1969

3

3

155

1.9

0

1970-1979

8

9

152

5.3

1

1980-1989

7

8

122

5.7

0

1990-1999

17

18

144

11.8

5

2000-2009

9

10

117

7.7

0

Total

147

154

1,776

8.3

17
* Excludes Fusion (Democratic-Populist) candidacies in South Dakota, North Dakota, and Colorado in 1900. ** Orland Loomis died before taking office in Wisconsin. Data compiled by Smart Politics.
In the 1930s, third party candidates won eight gubernatorial contests, including four by Farmer-Laborites in Minnesota (Floyd Olson in 1930, 1932, and 1934, Elmer Benson in 1936), two by Progressives in Wisconsin (Philip Fox La Fallotte in 1934 and 1936), as well as independents in Oregon (Julius Meier in 1930) and North Dakota (William Langer in 1936).
From the 1940s through the 1980s, third party candidates won the governor's mansion only two times: Progressive Orland Loomis in Wisconsin in 1942 (who died before taking office) and independent James Longley in Maine in 1974.
But the heyday for third parties since the end of the 19th Century was decidedly the 1910s.
From 1910 to 1919, nearly one quarter of gubernatorial elections had at least one third party candidate garner 10 percent or more of the vote.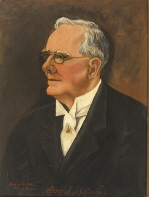 Two of these were victorious: former Republican-turned-Progressive Hiram Johnson of California (1914) and Sidney Catts of Florida (1916, pictured), who attained the highest elected office in history for any candidate from the Prohibition Party.
In total, 45 of 188 gubernatorial elections had third party candidates reach the 10 percent mark or beyond during this 10-year span (23.9 percent), with 48 candidates overall.
The vast majority of these candidacies were Progressives, with the 1912 presidential run by Teddy Roosevelt buoying the total number of third party candidates earning 10+ percent in that year alone to 23 across 20 states: Colorado, Connecticut, Idaho (x2), Illinois, Indiana, Iowa, Massachusetts, Michigan, Minnesota, Missouri, Montana (x2), New Hampshire, New York, North Carolina, North Dakota, Ohio, Rhode Island, Utah, Vermont, and Washington (x2).
Another 11 third party candidates reached the 10 percent mark two years later in 1914.
Largest Number of States with Third Party Gubernatorial Candidates Winning 10+ Percent Per Election Cycle, 1900-2009
Year

States

Candidates

Elections

% States

1912

20

23

33

60.6

1914

11

11

31

35.5

1920

8

8

35

22.9

1994

7

8

36

19.4

1934

6

6

34

17.6

1918

5

5

32

15.6

1922

5

5

33

15.2

1924

5

5

36

13.9
Data compiled by Smart Politics.
While the conventional wisdom is that third party candidacies begin to falter as Election Day draws nearer due to the electorate's fear of the 'wasted vote,' sometimes a political environment is so tumultuous that the allure of a candidate outside the box, combined with a desire to stick it to the two major parties, will override that fear.
With Democrats on the hot-seat now and the distaste the electorate felt for the GOP just two years old, all signs point toward a big day for third parties in 2010.
Follow Smart Politics on Twitter.