Increased Partisan Opposition in Kagan Confirmation Vote Continues Historical Trend
Six of the last seven presidents have faced increased opposition to get their second SCOTUS justice seated; Kagan receives third most 'nay' votes among successful nominees in history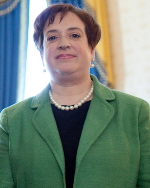 Elena Kagan's confirmation to the U.S. Supreme Court by the U.S. Senate Thursday by a 63-37 vote may not have come as a surprise to anyone in Washington, D.C., but the (historically) high level of opposition against her confirmation was predicted here at Smart Politics after her nomination in mid-May.
Three months ago, Smart Politics observed that since Woodrow Wilson, U.S. presidents have faced increased opposition from the Senate to get their second Supreme Court Justice seated – with only one such nominee receiving greater support from the chamber during this nearly 100-year span (FDR's Hugo Black).
In light of the fact that nominees of five of the last six presidents since Lyndon Johnson prior to Obama had received more 'nay' votes than their successful predecessor, Smart Politics predicted that Kagan would receive greater opposition from the Senate than Obama's first seated Justice, Sonia Sotomayor – a prediction made even though Sotomayor had received the third most 'nay' votes for a successful seated nominee in U.S. history at that time (with 31).
With 37 votes cast against her confirmation, Kagan now holds the mark for the third largest number of 'nay' votes received by a successful nominee, behind only Clarence Thomas in October 1991 (48) and Samuel Alito in January 2006 (42).
When taking into account the changing number of seats in the U.S. Senate across history as well as variations in the number of Senators voting on confirmation, the 37.0 percent opposition to Kagan marks the sixth largest opposition against a successful nominee in U.S. history, behind James Garfield's Stanley Matthews (48.9 percent), Thomas (48.0 percent), James Buchanan's Nathan Clifford (46.9 percent), Grover Cleveland's Lucias Lamar (46.7 percent), and Alito (42.0 percent).
Largest Opposition to Confirmed U.S. Supreme Court Nominees (Percent)*
Justice

President

Year

Vote

% Oppose

Stanley Matthews

Garfield

1881

24-23

48.9

Clarence Thomas

Bush 41

1991

52-48

48.0

Nathan Clifford

Buchanan

1858

26-23

46.9

Lucius Lamar

Cleveland

1888

32-28

46.7

Samuel Alito

Bush 43

2006

58-42

42.0

Elena Kagan

Obama

2010

63-37

37.0

John Catron

Van Buren

1837

28-15

34.9

Mahlon Pitney

Taft

1912

50-26

34.2

Roger Taney

Jackson

1836

29-15

34.1

Charles Hughes

Hoover

1930

52-26

33.3

Melville Fuller

Cleveland

1888

41-20

32.8

Louis Brandeis

Wilson

1916

47-22

31.9

Sonia Sotomayor

Obama

2009

68-31

31.3

William Rehnquist

Nixon

1971

68-26

27.7

Philip Barbour

Jackson

1836

30-11

26.7
* Excludes confirmed justices who never served on the bench (e.g. William Smith in 1837, 38.3 percent). Data compiled by Smart Politics.
The increase of opposition of six votes and 5.1 percentage points from Sotomayor to Kagan means that opposition to presidential attempts to seat their second nominee has now increased for six of the last seven such presidents:
· Lyndon Johnson's first seated Justice on the Court, his friend Abe Fortas, was confirmed easily by a voice vote. His next pick, Thurgood Marshall, would become the first black Justice on the Court, but not before many of the Southern Senators from the President's own party (along with newly converted Republican Strom Thurmond) opposed Marshall's confirmation. Marshall was confirmed with 86 percent of the vote (69-11), although 20 Senators in the chamber did not cast a vote.
· Richard Nixon's first nominee, the conservative-leaning Warren Burger, received the confirmation of 96 percent of voting Senators (74-3) – the largest support received by a nominee via a roll call vote since Ulysses S. Grant nominee Morrison Waite in 1874 (63-0). Nixon was not so lucky on his next choice, Clement Haynsworth. Haynsworth was rejected by the Senate, receiving the support of 45 percent of the body (45-55), due largely to his anti-labor leanings, possible conflict of interest in votes cast while on the 4th Circuit of the U.S. Court of Appeals, and for his lack of support on civil rights issues.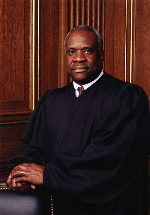 · George H.W. Bush saw his first nominee, David Souter, pass through the Senate with 91 percent of the vote (90-9). Bush's next pick, Clarence Thomas, escaped with just 52 percent of the vote (52-48) – the narrowest successful confirmation since John Garfield's nominee, Stanley Matthews, was confirmed with 51 percent of the vote in 1881 (24-23). It took 107 days from Thomas' nomination on July 1, 1991 until his confirmation vote on October 15th that autumn. Thomas' confirmation was nearly blocked by critics for his very brief experience as a judge, his suspected conservative leanings on abortion and affirmative action, and, of course, attorney Anita Hill's allegations of sexual harassment.
· Bill Clinton's first nominee, Ruth Bader Ginsburg, was confirmed with 97 percent of the vote (96-3). Only Republicans Jesse Helms (NC), Don Nickles (OK), and Bob Smith (NH) opposed her. Clinton's next nominee, Stephen Breyer, had three times as many votes cast against him, but was still confirmed with 91 percent of the vote (87-9). A group of nine Republicans, including Helms, Nickles, and Smith, cast the 'nay' votes. The period from Ginsburg's nomination to confirmation took just 58 days compared to 83 days for Breyer.
· George W. Bush's first seated Justice, John Roberts, was confirmed by 78 percent of the Senate (78-22). Bush's next nominee, Harriet Miers, turned out to be an unqualified disaster for the President – receiving strong criticisms from both Democrats and Republicans alike for her perceived lack of knowledge on constitutional law, her lack of experience as a judge, and her personal ties to the president. Opposition was so strong that her nominations was withdrawn before the confirmation hearings began.
Only Ronald Reagan bucked this trend with his first (Sandra Day O'Connor, 99-0) and second (Antonin Scalia, 98-0) seated justices both emerging without a single 'nay' vote cast against them.
Fate of Recent Presidential Attempts to Get Second Justice Seated on the Supreme Court
President

1st Confirmed

Result

Next nominee

Result

Obama

Sotomayor

68-31

Kagan

63-37

Bush 43

Roberts

78-22

Miers

Withdrew

Clinton

Ginsburg

96-3

Breyer

87-9

Bush 41

Souter

90-9

Thomas

52-48

Reagan

O'Connor

99-0

Scalia

98-0

Nixon

Burger

74-3

Haynsworth

45-55

LBJ

Fortas

Voice vote

Marshall

69-11
Table compiled by Smart Politics.
With important midterm elections just around the corner and Obama's own approval rating down 11 points from a year ago in Gallup's daily tracking poll (45 approve to 48 disapprove today versus 56 approve to 37 disapprove a year ago), it was also perhaps a bit easier for Republicans (and one Democrat) to vote against Obama's second Supreme Court justice today.
Follow Smart Politics on Twitter.