Minnesota Political Elites Backing Clark, Not Bachmann
Clark has received 400+ times more money from current and former Minnesota politicians than Congresswoman Bachmann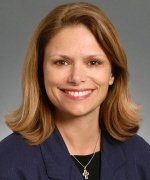 Although Michele Bachmann is having no trouble raising funds for her reelection campaign, and is slightly outperforming her DFL rival Tarryl Clark with contributions from Minnesotans overall, Clark is besting the Republican incumbent by a huge margin in one regard: financial support from the state's political leaders.
A Smart Politics analysis of FEC data compiled through July 21st finds that Clark has received nearly $17,000 in itemized individual contributions from more than 20 current and former Minnesota officeholders and candidates, while Bachmann has received just $35 from only two.
State Senator Clark's financial backers include some very prominent names in Gopher State politics.
Former U.S. Senator and current DFL gubernatorial nominee Mark Dayton has contributed $2,400 to Clark thus far in her campaign.
Former DFL U.S. Senate candidates David Lillehaug (in 2000), Rebecca Yanisch (2000), and Priscilla Lord Faris (2008) also have given $3,300 collectively to the State Senator.
But Dayton is just one of several current and former gubernatorial candidates to give money to Clark in her bid to upset Bachmann this November.
Matt Entenza, whose 2010 bid ended on primary night last Tuesday, donated $2,400 to Clark at the end of June. Former Attorney General and 2006 DFL gubernatorial nominee Mike Hatch gave $250 to the Clark campaign, as did former Senate Majority Leader and 2002 gubernatorial nominee Roger Moe ($700).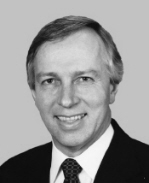 Two former DFL Congressmen have also provided financial support to Clark – including one of Bachmann's 6th CD seat predecessors.
Bill Luther (pictured), who represented the 6th District from 1995-2003, contributed $500 to Clark, as did former longtime 5th CD Representative Martin Sabo.
Patty Wetterling, who vied for the 6th CD seat against Mark Kennedy in 2004 and Bachmann in 2006, has put up $1,500 of her own money in 2010 to help Clark defeat the two-term GOP Congresswoman.
Maureen Hackett, who campaigned for the 3rd CD DFL endorsement to take on Republican Erik Paulsen in 2010, donated $1,200 to Clark in late 2009.
In addition to Entenza and Moe mentioned above, several other current and former state legislators have donated to the Clark campaign, to the tune of more than $4,400 collectively.
From the Senate, Clark has received money from Linda Higgins (SD 58-Minneapolis), Terri Bonoff (SD 43-Minnetonka), and Tony Lourey (SD 08-Kerrick). Former State Senator and Representative Steve Kelley has also contributed to Clark.
From the House, contributions have come in from Phyllis Kahn (HD 59B-Minneapolis), Frank Hornstein (HD 60B-Minneapolis), and Paul Thissen (HD 63A-Minneapolis).
Former longtime Republican lawmaker (and 2008 Moderate Independent candidate) Ron Erhardt also made two contributions to Clark during the last few months.
And at the local level, Clark has received money from officeholders such as Edina Mayor James Hovland and Wright County Commissioner Rosemary Thelen.
But while the total amount of money raised by Clark from these notable political figures is but a small fraction of the more than $775,000 she has received in itemized contributions thus far in the election cycle, it still towers over the amount of money political elites have given to Congresswoman Bachmann.
Although Representative Bachmann has amassed nearly $1,000,000 in itemized funds from Minnesotans through mid-July, only $25 has come from a prominent current political officeholder.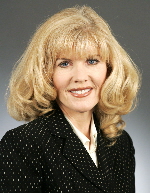 That distinction is held by first term GOP Representative Peggy Scott (HD 49A-Andover, pictured), who donated $25 to Bachmann in the 4th Quarter of 2009.
Bachmann also received a small contribution from former six-term GOP Representative Sondra Erickson from District 16A, who was defeated at the ballot box in 2008. According to the FEC report, Erickson gave $10 to Bachmann's campaign in December of 2009.
Of course, this striking imbalance in contributions from Gopher State political elites may be a badge of honor for Bachmann, who has prided herself in not being an 'establishment candidate' through her nearly four years in Congress.
In fact, though she is an incumbent and well-funded, there is telling evidence of Bachmann's "outsider" status: the only area of the country in which Clark holds a decisive fundraising advantage over Bachmann is none other than the Congresswoman's workplace, Washington D.C.
This imbalance in financial support from political elites raises a key political question.
Are political elites from the GOP not donating money to Bachmann because they know the well-funded incumbent does not need their donation, because they do not support her candidacy, or because they believe there is too great of a political risk in supporting such a controversial candidate?
Follow Smart Politics on Twitter.