Loss by Herseth Sandlin in 2010 South Dakota US House Race Would Be Historic
Defeat of four-term Democratic Congresswoman would mark biggest fall since statehood for a South Dakota U.S. House incumbent in back-to-back contested elections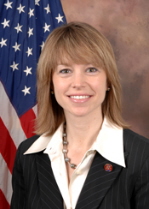 Although U.S. Representative Stephanie Herseth Sandlin is not the only Democrat on the hot seat in 2010, the four-term at-large incumbent from South Dakota is in serious jeopardy of ending up on the wrong side of history this election cycle.
For the last three months of Rasmussen polling, Herseth Sandlin has seen the double-digit advantage she held in March over her GOP challenger, Kristi Noem, erode into a near double-digit deficit.
Noem, who is in her second term in the South Dakota House of Representatives and currently serves as the Assistant Majority Leader, leads the Congresswoman by a 51 to 42 percent margin, according to the Rasmussen poll of 500 likely voters conducted on August 3rd.
If Noem prevails on Election Day, Herseth Sandlin's plunge from a 35.1-point defeat of her GOP rival in 2008 to a loss in 2010 would mark the biggest fall by a U.S. House incumbent in Mount Rushmore State history.
Herseth Sandlin's struggles come as Democrats are already flailing in South Dakota, with the party's failure earlier this year to field a candidate against one-term GOP U.S. Senator John Thune.
That debacle marked the first time in 34 contests since popular vote U.S. Senate elections were introduced in 1914 that a Democratic candidate had failed to appear on the ballot in South Dakota.
A Smart Politics analysis also found that the Democratic Party's plunge from earning 49.4 percent of the U.S. Senate vote in 2004 (with nominee Tom Daschle) to being left completely off the ballot six years later was the largest fall across the more than 1,050 general election U.S. Senate races conducted since WWII.
And now one of the few Democratic stars in South Dakota – and a conservative Blue Dog Democrat at that – appears to be caught in the same net as her less conservative brethren during a national tidal wave favoring the GOP, despite casting key votes against her party and President this session, such as her 'nay' vote against the controversial health care bill earlier this year.
What a difference two years make.
Herseth Sandlin defeated her previous Republican opponent, Chris Lien, by over 35 points in 2008, winning more than two-thirds of the statewide vote.
If Representative Herseth Sandlin falls in November, she would be just the 11th South Dakota U.S. Representative to lose a general election race in 121 years since statehood, and just the fourth since the mid-1930s.
The majority of Representatives in Mount Rushmore State history yielded their seat only because they did not seek reelection.
Of Herseth Sandlin's 37 predecessors since 1889, 20 did not seek reelection to their U.S. House seat, two died in office, two resigned, and three failed to receive their party's nomination.
That leaves just 10 South Dakota Representatives who were knocked out of office at the ballot box, with seven of these occurring between 1896 and 1936.
If Herseth Sandlin were to lose her quest for a fifth term in November, she would set two state records in doing so – notching the worst performance by a South Dakota U.S. Representative in back-to-back elections contested by major parties:
· A loss would drop Heresth Sandlin from her 67.6 percent showing in 2008 to at least 49.9 percent – or a fall of at least 17.7 points. The biggest previous such decline was suffered by Democrat Frank Denholm at 15.8 points, from 60.5 percent in 1972 to 44.7 percent in 1974.
· A loss would also mean that the Congresswoman would have endured a 35.2+ point net deficit from her 35.1-point margin of victory in 2008 to at least a 0.1-point margin of loss in 2010. Denholm's 31.6-point fall in 1974 was the previous such high.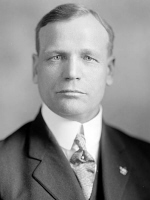 The only larger fall by either of these measures for an ousted U.S. Representative from South Dakota came in 1932, when Republican Charles Christopherson (pictured) was defeated by Democrat Fred Hildebrandt by 8.7 points – 53.1 to 44.4 percent.
However, Christopherson was coming off an 84.7 percent performance in 1930 in which he won by 69.4 points in a race without a Democratic candidate on the ballot (Christopherson defeated independent candidate Henry Bormann).
But what is particularly curious about the trendline for Herseth Sandlin – and what speaks volumes about the dire straits Democrats are facing nationwide in November – is that she is facing this historic collapse despite enjoying well above average favorability ratings from the South Dakota electorate.
The same August Rasmussen poll that found her trailing Noem by nine points also found 57 percent of South Dakotans with a very favorable or somewhat favorable view of her, with just 40 percent somewhat or very unfavorable, or a +17 net favorability rating.
The Congresswoman's favorability numbers are as strong or are stronger now than they were in March (52 percent favorable, +9 net favorability), April (55 percent, +12 net), June (57 percent, +16 net), and July (56 percent, +15 net).
The same August poll also found South Dakotans to view Herseth Sandlin as more 'mainstream' than her opponent (59 to 54 percent) as well as less of an ideologue: just as many likely voters viewed the Congresswoman as 'very liberal' as 'very conservative' (10 percent each), while Noem was viewed as 'very conservative' by 35 percent and 'very liberal' by just 1 percent.
This suggests the "D" after Herseth Sandlin's name might be more important than both her views and her votes.
For unlike the last two election cycles, in 2010, the scarlet letter is a shade of blue.
Follow Smart Politics on Twitter.