Labor Day Special: Is Jim Thome the Most Productive Player on the Minnesota Twins?
Thome leads the Twins in several offensive categories, at a bargain basement $1.5 million base salary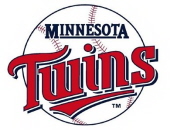 With the third best record in Major League Baseball heading into Labor Day, the Minnesota Twins have put in a very strong second half of the season to be in a situation to live up to the high expectations that came with the opening of a publicly-funded new ballpark in Target Field. (Expectations that begin with the winning of the AL Central and extend to making a run deep into the playoffs).
If the Twins are able to fend off the Chicago White Sox in the coming four weeks, their achievements in 2010 will be due in no small part to the thrifty free agent pick-up of a slugger who was thought to be on the last legs of his career – former White Sox, Philadelphia Philly, and Cleveland Indian, Jim Thome.
A Smart Politics analysis of Thome's season stats demonstrates that Thome has not only been arguably the Twins' most productive offensive player of the year, but undeniably the most underpaid on the team roster.
The Twins are paying Thome $1.5 million in base salary in 2010, which is lower than every other regular or semi-regular player in the starting lineup with the exception of Denard Span ($750,000) and standout rookie call-up Danny Valencia ($400,000).
By comparison, utility player Nick Punto is receiving more than 2.5 times a greater base salary than Thome (at $4 million) with weak-hitting shortstop J.J. Hardy at a 3.4 times greater base (at $5.1 million).
Of course, Thome is a one-dimensional player – the slugger has not played a game in the field since 2007 and played only four such games at first base since returning to the American League after a three-year stint with the Philadelphia Phillies from 2003-2005.
However, designated hitters frequently get paid healthy salaries in the American League – certainly much more than Thome is making in 2010 – such as David Ortiz of Boston ($12 million, 4 games played in the field in 2010), Johnny Damon of Detroit ($8 million, 36 games), Hideki Matsui of the Los Angeles Angels ($6 million, 17 games) and Vladamir Guerrero of Texas ($5.5 million, 17 games).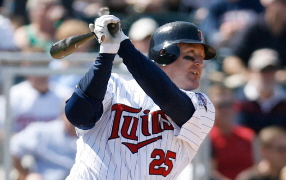 But what a dimension Thome's bat has provided for the Twins in 2010.
Thome leads the club with 20 home runs – two more than Jason Kubel and the currently injured Justin Morneau.
But Thome has blasted these 20 home runs – reaching that mark for 16 out of the past 17 seasons – despite logging in only 237 at-bats thus far in the season.
Thome's limited play has been due in part to injuries, but mostly due to situational use by Twins manager Ron Gardenhire and a mindset by the Twins' front office that the future Hall of Fame player was only going to be of limited value to the organization.
The team may have been slow to catch on, but they are at last discovering why Thome has lasted in the league for more than 20 years and now has passed Mark McGuire for 9th place on the all-time home run list, with 584 (and nary a whiff of scandal surrounding his career to date).
And Thome is not simply having a solid year through the lens of the Twins. He has actually been one of the most productive home run sluggers in all of baseball this year.
Of the 52 players in the major leagues with at least 20 home runs through September 5th, Thome has by far the lowest number of at-bats.
Thome is the only player in the big leagues with 20 or more home runs and less than 300 at-bats.
In fact, there are only four other players with at least 20 home runs in baseball with less than 400 at-bats: Luke Scott of Baltimore (26 home runs, 386 at-bats), Russell Branyan of Seattle (23, 341), Mike Napoli of the Los Angeles Angels (22, 383), and Brian McCann of Atlanta (20, 398).
Thome's adjusted stats per at-bat also find him leading the Twins in a number of key offensive categories among the 11 players on the club with at least 200 at-bats thus far in 2010 (Denard Span, Michael Cuddyer, Delmon Young, Joe Mauer, Jason Kubel, Orlando Hudson, Justin Morneau, J.J. Hardy, Nick Punto, Danny Valencia, and Thome).
Thome has:
· 1 home run per 11.9 at-bats (second is Morneau at 16.4).
· 1 RBI per 4.8 at-bats (second is Young at 5.2)
· 1 extra base hit per 6.4 at-bats (second is Morneau at 6.7)
Thome is also second on the ball club in slugging percentage (.603), behind only Morneau (.618) and more than 120 points ahead of the third highest player (Young, .480).
The Twins' designated hitter is also third on the team in on-base percentage (.394) behind Morneau (.437) and Mauer (.401).
Thome's .603 slugging percentage during the 2010 campaign ranks as his best since his final year with Cleveland in 2002 (.677) and the fourth best overall of his illustrious career.
Thome also received his seventh League Player of the Week honors of his career earlier this summer (7/6/2010).
But as productive as Thome's year has been for the Twins, his effect may be even greater outside of the box score.
As the elder statesman on the Twins roster (by five years), the savvy, experienced Thome has no doubt been a clubhouse leader as the team endured significant injuries to top shelf players throughout the year (e.g. Joe Nathan, Justin Morneau) while fan expectations hit a fever pitch for the team during their first season at Target Field. (Thome has played on eight playoff teams during his previous 20 seasons in the big leagues).
Thome is also viewed throughout baseball as one of the most amiable and well-regarded players of the past generation – both in and out of the clubhouse (e.g. Thome won the Roberto Clemente Award in 2002 for his "commitment to community and understanding the value of helping others").
Minnesota Twins fans hope Thome will add to his 17 post season home run total in 2010, will continue to stay relatively healthy, will receive increased playing time, and will therefore receive a more lucrative offer to entice him to return to the ball club in 2011, as he closes in on the 600 home run milestone.
Follow Smart Politics on Twitter.