Headlines Tell the Story: National Media Reacts to O'Donnell's GOP Primary Victory in Delaware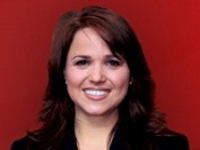 Even though public polling released earlier this week indicated Christine O'Donnell had eclipsed the support of long-time Delaware political fixture Mike Castle in that state's GOP primary for November's U.S. Senate special election, the national media still seemed stunned when O'Donnell cruised to a six-point victory Tuesday evening.
But as the news broke last night, news organizations were quite varied in the headlines they used to tease the story to their readers.
Many headlines made mention of the fact that a Tea Party candidate was victorious (CBS, Time, ABC, AP, FOX, MSNBC, Washington Times, CNN) while several did not even mention the political candidate by name (Politico, Slate, CBS, NY Times, Time, ABC, FOX, MSNBC, Washington Times, CNN).
Some headlines underscored how O'Donnell's victory was a big blow to the Republican Party, with its endorsed candidate Castle on the losing end:
"GOP Nightmare: O'Donnell Topples Castle" (POLITICO)
"Nightmare in Delaware" (Slate)
"Tea Party Candidate Wins, and the GOP Loses" (CBS)
Other news organizations emphasized the outsider nature of the Tea Party victory in Delaware:
"Tea Party Revolt Topples The Delaware GOP" (Time)
"Tea Party Choice Jolts GOP in Delaware Senate Primary" (ABC)
"'Tea party' favorite storms Castle in Delaware primary" (Washington Times)
Still others ran headlines that emphasized O'Donnell's underdog candidacy, eschewing reference to her Tea Party backing:
"O'Donnell Scores Huge Upset in Delaware" (CQ)
"O'Donnell Pulls Off Stunning Upset Over Castle" (Hotline)
Insurgent Republican Wins in Delaware (NY Times)
But some organizations did play their headlines fairly straight, without injecting any political forecasting into the evening's final results:
"Tea Party favorite wins Delaware GOP Senate primary" (CNN)
"Tea Party Favorite Pulls Off Upset in Delaware Senate Primary" (FOX)
"Tea party candidate prevails in Delaware" (MSNBC)
"Big night for tea party: O'Donnell wins Delaware" (AP)
Follow Smart Politics on Twitter.