Tom Emmer: Running for Governor, Not Sheriff
Emmer strikes moderate, cooperative tone in education speech at University of Minnesota's Humphrey Institute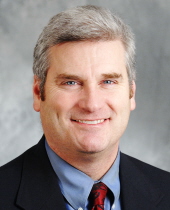 In contrast to the firebrand image with which he is often portrayed by the Minnesota media, Republican nominee Tom Emmer offered few partisan attacks in his speech Wednesday afternoon during the second installment of the Humphrey Institute's gubernatorial candidate series.
Unlike DFL nominee Mark Dayton, who levied more than a dozen criticisms at Emmer and Independence Party nominee Tom Horner during his speech in the series on Monday, Emmer presented himself as a broker of peace between the major parties, frequently stating that the tenets of his education plan were supported by several members of both parties in St. Paul.
"Republicans and Democrats have voted for these things I'm talking about. This is not an 'us' and 'you,' this is a 'we' proposal. And rather than get into that 'Let's pick a fight out on the school playground' – let's not do that. Let's say that, look, for whatever reason, that was then, this is now. Let's start talking about how we can create an opportunity for everybody to have a win-win and success."
In fact, Emmer cited and had more complimentary comments to say about Democratic and liberal icons – such as President Barack Obama and former Supreme Court justice Louis Brandeis – than he did critical comments against his political opponents.
Regarding Obama, Emmer stated there was overlap in their principles on education policy, particularly on testing:
"Some of the things the Obama administration has put forward we absolutely agree with…I have no problem in saying, 'Kudos to you, President Obama' for promoting these (reforms)."
Unlike Dayton, Representative Emmer never once mentioned his gubernatorial opponents by name during the hour-long event, and only alluded to them once, when discussing the $400 million in cuts Emmer targeted for higher education in his budget plan:
"Out of the candidates running for this office, I'm going to be honest with you where I think the targets should be…I'll just leave it at this – a little shot, but I hope people will look at with the other two candidates running for this office – I have put all the numbers out there. Based on the plans that they've put out, the numbers don't add up, and they are going to have to put deeper cuts into higher education or other things that they're not talking about in order to make those plans work. At least we're putting them out there, so you see where we're at today."
Representative Emmer even offered softer, almost euphemistic language at times when detailing some of the more controversial elements of his education plan, such as dealing with "ineffective teachers."
Under his plan, Emmer did not say such teachers would be fired, rather, "It's time to counsel that teacher into a career change."
The one target of Emmer's criticisms during his speech and comments – again, not mentioned by name – was "union leadership" (presumably Tom Dooher, President of Education Minnesota), who Emmer observes as being "adamantly opposed" to meaningful education reforms.
"One leadership group cannot control education reform and our kids future in the State of Minnesota."
But when event moderator Professor Larry Jacobs attempted to summarize Emmer's views as, "Message from Tom Emmer to unions: There's a new sheriff in town," the Republican gubernatorial candidate resisted such a characterization.
"Here's the thing – if we do that, then everybody digs their heels in and they take immediately an adversarial approach. Rather than saying, 'There's a new sheriff in town' – I think that's the wrong way to go at it."
So, if not a sheriff, what kind of leadership style would Emmer adopt if elected governor this November?
Emmer lamented the "If you don't agree with me, you must be bad" mentality that has defined partisan politics in recent years, and believes the truth is somewhere between the two parties, who need to be able to shake hands at the end of the day after an honest, vigorous debate:
"In its basic form, Republicans believe people should be the answer to all problems. In the Democrat's view, government should play a much bigger role in solving all problems. And guess what? Neither is actually right. Somewhere in there is the answer."
Conversations with Minnesota's gubernatorial candidates will continue at the Humphrey Institute next week when Independence Party nominee Tom Horner speaks on Monday, September 20th from 12 pm to 1:15 pm.
Follow Smart Politics on Twitter.