History Predicts Republicans Will Gain 19 Seats in Minnesota House in 2010
Study of midterm elections since 1954 finds party out of power in the White House makes double digit gains in Minnesota House more than 60 percent of the time; GOP has averaged 19-seat gain with Democrats at the helm in D.C.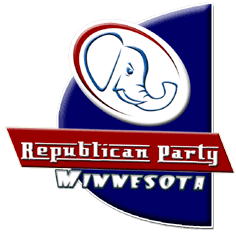 As previously reported at Smart Politics, Democrats have had an extremely difficult time in getting their nominee elected governor of the Gopher State while a Democrat sits in the White House.
Minnesotans have elected a a DFL (or Democratic) candidate to the governor's mansion in just 12 percent of gubernatorial contests with a Democrat in the White House, or 3 of 25 races since statehood.
And the news does not look much better for DFLers running for the Minnesota House of Representatives.
A Smart Politics analysis of Minnesota Legislative Reference Library data finds that the Minnesota Republican Party has averaged a net gain of 19 seats during midterm elections when Democratic presidents have sat in the Oval Office over the past six decades.
Overall, the party out of power in the White House has gained seats in 11 of the last 13 midterm election cycles, and netted double digit seats in eight of these, with the exceptions of 1990 and 2002, when Republicans gained seats in the Minnesota House while George H.W. Bush and George W. Bush were in office respectively.
(Note: from 1913 through 1973 legislators in the Gopher State campaigned and caucused as "Liberals" or "Conservatives," roughly equivalent in most years to Democrats / DFLers and Republicans, respectively).
During this 52-year span through 2006, Democrats have never gained seats in the Minnesota House during midterms while one of their own was in the White House.
Republicans, meanwhile, have feasted at the ballot box, netting double-digit seats in all but one of these cycles:
· In 1962, the Conservative caucus gained 19 seats while John F. Kennedy was in office.
· In 1966, the Conservatives netted 14 more seats with Lyndon Johnson in the White House.
· In 1978, Republicans gained 37 seats with Jimmy Carter in D.C.
· In 1994, Republicans netted 16 seats during Bill Clinton's first term.
· In 1998, the GOP gained another 7 seats during Clinton's second term.
And while five data points may not be the safest measure on which to predict future outcomes, with the popularity of Barack Obama waning and enthusiasm among self-identified Republicans waxing, there is little reason to believe the GOP does not have a strong shot to approach these numbers again in 2010.
Democrats have similarly made substantial gains in midterm elections when the presidency was under Republican control.
Putting aside the aforementioned exceptions of 1990 and 2002, Democrats have averaged gains of 15 seats across the other seven election cycles with a GOPer in the White House:
· In 1954, the Liberal caucus gained 20 seats during Dwight Eisenhower's first term.
· In 1958, the Liberals notched a 2-seat gain during Eisenhower's second term.
· In 1970, the Liberal caucus netted 15 seats during Richard Nixon's first term.
· In 1974, the DFL gained 27 seats after Gerald Ford ascended to the presidency.
· In 1982, the DFL netted 7 seats during Ronald Reagan's first term.
· In 1986, the DFL gained 18 seats during Reagan's second term.
· In 2006, the DFL netted 19 seats during George W. Bush's second term.
Should 2010 play out the way history suggests, a 19-seat gain by the GOP would mean Republicans would be just shy of tying the DFL for the number of seats in the lower chamber (the DFL currently holds an advantage of 87 to 47 seats).
Net Gains in Minnesota House Midterm Elections, 1954-2006
Year

Presidency

MN House Gains

2006

Republican

+19 DFL

2002

Republican

+13 GOP

1998

Democrat

+7 GOP

1994

Democrat

+16 GOP

1990

Republican

+1 GOP

1986

Republican

+18 DFL

1982

Republican

+7 DFL

1978

Democrat

+37 GOP

1974

Republican

+27 DFL

1970

Republican

+15 Liberal

1966

Democrat

+14 Conservative

1962

Democrat

+19 Conservative

1958

Republican

+2 Liberal

1954

Republican

+20 Liberal
Minnesota Legislative Reference Library data compiled by Smart Politics.
Follow Smart Politics on Twitter.