Pollster Interest in Minnesota Gubernatorial Race Only Up Slightly from 2006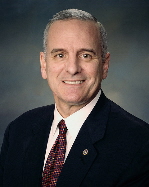 Even though three surveys have been released during the last week (by Rasmussen, the Star Tribune, and today's survey by Minnesota Public Radio / Humphrey Institute), pollster interest in the Gopher State's gubernatorial contest is about on par with what it was in 2006 at this stage of the election cycle.
There have been 14 non-partisan public polls released thus far in 2010 of the three-way race for the governor's office between DFLer Mark Dayton (pictured), Republican Tom Emmer, and Independence Party nominee Tom Horner: five by Rasmussen, four by SurveyUSA (KSTP-TV sponsored), three by MPR / Humphrey Institute, and two by the Star Tribune.
Back in 2006, there had been 12 such polls released through September of that year between Tim Pawlenty and DFLer Mike Hatch: six by Rasmussen, two by the Star Tribune, two by SurveyUSA, and one each by the Humphrey Institute and MPR / Pioneer Press. (Eight of these polls included IP candidate Peter Hutchinson).
The modest uptick in polling at this point in the campaign is a bit curious considering 2010 is an open-seat race with three viable candidates.
Of course, polls cost money, but even though many private news organizations are enduring tighter budgets as compared to four years ago, Star Tribune and KSTP-sponsored polls are actually up this cycle (six) compared to 2006 (four).
Other states, however, have seen a much more noticeable boost in public polling of their gubernatorial races.
For example, Georgia's open-seat governor's race has been polled 12 times in 2010 compared to just four times through September 2006 when Sonny Perdue ran for reelection.
Of course, there are still two more days left in September – more numbers on Minnesota's race could be coming down the chute soon.
Follow Smart Politics on Twitter.