Event Highlights Redistricting from National, State, and Local Political Perspectives
Should Minnesota reduce its number of state legislative districts?

"The Big Secret: How Redistricting Can Remake Minnesota Politics," was an event held Monday morning at the University of Minnesota's Humphrey Institute of Public Affairs, providing national, state, and local perspectives on redistricting from lawmakers, citizens' groups, and scholars.
American Enterprise Institute resident scholar, and former Minnesota native, Norm Ornstein provided the national overview, assessing the current state of affairs in Washington as more "dysfunctional" as he has ever seen in his 40+ years in D.C.
Ornstein stated that the redistricting process since the 1970s has gradually helped to create a political culture that encourages more extreme candidates to run, and to run on more extreme messages. Political moderates who campaign as moderates now know it is "like signing a death sentence" if they want to extend their political career.
Ornstein believes that competitiveness should be a goal when legislators map their district lines. By doing so, political parties will not be able to purge moderates from within like they are doing today, and members of Congress will need to appeal to members of both sides of the political spectrum.
Ornstein admits that the U.S. should not have a system in which all 435 districts will change hands each cycle, but that there should be enough competitive districts such that 100 to 150 seats have a genuine opportunity to be lost by incumbents, so there is some level of responsiveness to the middle.
In Minnesota, State Demographer Tom Gillaspy stated his analysis confirms what was reported late last month by Election Data Services – that the Gopher State has a "better than 50/50 chance" to keep its 8th seat in the U.S. House.
Minnesotans – and the state legislature – will know by December 31st of this year if they will have to deal with the additional burden of reapportionment in addition to drawing new 134 State House, 67 State Senate, and (7 or 8) congressional district lines.
Even if Minnesota does not lose a seat, it is already quite clear which districts will be carved into.
It is estimated that Michele Bachmann's 6th CD will need to shed 94,274 seats and John Kline's 2nd CD will lose 74,034 seats in order to have equal populations of 662,618 residents across the eight districts.
Those districts that will absorb more residents are Collin Peterson's largely rural 7th CD (+46,854), Keith Ellison's 5th CD (+44,326), Betty McCollum's 4th CD (+38,739), Tim Walz's 1st CD (+27,167), and Jim Oberstar's 8th CD (+13,157).
Erik Paulsen's 3rd CD was the closest to the 'equal population' base, needing to shed just 1,933 residents.
State Senator Ann Rest and Representative Laura Brod discussed the challenges of getting people to care about redistricting and understanding why it matters to them. Brod stated redistricting is a "public relations challenge" because even if the public can be convinced to care about it, getting them to understand that it needs to be fixed is another hurdle.
Rest discussed the passage of a bill in the Senate last year backed by Majority Leader Larry Pogemiller that would reform redistricting in the Gopher State.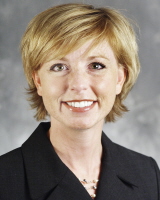 The bill, however, was not taken up in the House, although Brod (pictured) stated it had GOP support, but the DFL shot down a Republican amendment that included the language of Pogemiller's bill.
Representative Brod lamented that the time to have the discussion about how redistricting will be done was during the last session, as the legislature will be burdened with budget issues in 2011. Moreover, since the time line will be even closer to 2012, the process is apt to be even more political.
Senator Rest raised the possibility that Minnesota could follow other states that nest legislative districts inside of Congressional districts.
One solution to more easily create such a map, in light of the Gopher State potentially losing a congressional district in 2012 or 2022, would be to reduce the number of Senate seats to 56 and House seats to 112 – both numbers divisible by 7 and 8.
Neither Rest nor Brod thought a special session would be used for redistricting next year, though Gillaspy did not think the legislature and governor would complete their work on the issue by the end of the 2011 session.
In Minneapolis, members of the Minneapolis Charter Commission (Commissioner Barry Clegg), Common Cause Minnesota (Executive Director Michael Dean), and the Minneapolis City Council (Elizabeth Glidden) discussed the prospects of potential administrative changes coming down the chute as to how wards are drawn up in the City.
Minneapolis voters will decide this November whether the responsibility for crafting redistricting plans will be shifted from a specially appointed commission to the City's Charter Commission.
Dean stated that the redistricting process up to this point in Minneapolis has largely been driven by the political process, and much more transparency needs to be incorporated into the decisions behind how district lines are drawn (e.g. making all data publicly available).
Event moderator Larry Jacobs concluded that redistricting was both one of the "most important" and yet the "most invisible" political processes our state and local governments face.
Follow Smart Politics on Twitter.