Election Profile: Iowa's 3rd Congressional District
Smart Politics is running a series of election profiles of Upper Midwestern congressional races leading up to the November 2nd elections. The series will culminate with Smart Politics' official projections. The third profile in the series is Iowa's 3rd Congressional District race.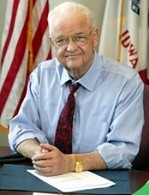 Candidates:
Democrat: Leonard L. Boswell (7-term incumbent)
Republican: Brad Zaun
Socialist Workers: Rebecca Williamson
District Geography:
Iowa's 3rd Congressional District comprises twelve counties in central Iowa: Benton, Grundy, Iowa, Jasper, Keokuk, Lucas, Mahaska, Marion, Monroe, Polk, Poweshiek, and Tama.
History:
Along with Collin Peterson (MN-07) and Stephanie Herseth (SD-AL), seven-term Democratic incumbent Leonard Boswell is one of three fiscally conservative Blue Dog Democrats from the Upper Midwest in the U.S. House.
Boswell earned a seat in the House of Representatives in 1996 when he won a close open-seat race against Republican Mike Mahaffey by 1.8 points. This broke the Republican monopoly of the Iowan congressional delegation – all of the state's five congressional seats were held by Republicans in 1994. Boswell was the only Democrat to have won a House race in Iowa from 1996 through 2004: he won convincingly in 1998 (15.8 points) and 2000 (29.1 points), but had a closer call against Republican nominee Stan Thompson in 2002 – winning by just 8.4 points. Boswell won a rematch against Thompson by 10.5 points in 2004 and defeated Jeff Lamberti by 5.3 points in 2006.
In 2008, Representative Boswell won his seventh term by 14.3 points over Kim Schmett – the closest congressional race in the Hawkeye State that year.
Boswell – a Vietnam War veteran and farmer – is a member of the House Committee on Agriculture, the House Committee on Transportation and Infrastructure, and the House Committee on Armed Services.
This year Boswell's opponent is GOP State Senator Brad Zaun, who won his District 32 Senate seat by 15.4 points in 2004 and ran unopposed in 2008.
Also on the ballot is Socialist Workers Party candidate Rebecca Williamson. The Socialist Workers candidate in the 3rd CD in 2008 won 1.5 percent of the vote and notched 1.6 percent in 2006.
Outlook:
Zaun's advantage over his fellow GOP congressional challengers in Iowa this year is that he is running in the second least partisan district in the state. The 3rd CD was won by Barack Obama by nine points in 2008 while George W. Bush carried it by a tenth of a percent in 2004. Overall, the 3rd CD is rated as the 250th most Republican district in the country, with a Partisan Voting Index of just +1 Democrat.
However, Boswell has been a thorn in the side of the Iowa Republican Party for years – often seeming vulnerable, but always managing to eke out a victory, even during the height of the Republican Party's popularity in the Hawkeye State in the mid- and late 1990s.