Election Profile: Iowa's 4th Congressional District
Smart Politics is running a series of election profiles of Upper Midwestern congressional races leading up to the November 2nd elections. The series will culminate with Smart Politics' official projections. The fourth profile in the series is Iowa's 4th Congressional District race.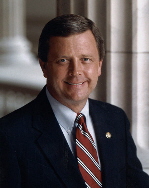 Candidates:
Republican: Tom Latham (8-term incumbent)
Democrat: Bill Maske
Nominated by Petition: Dan Lensing
District Geography:
Iowa's 4th Congressional District comprises twenty-eight counties in the central and northern part of the state: Alamakee, Boone, Calhoun, Cerro Gordo, Chickasaw, Dallas, Emmet, Floyd, Franklin, Greene, Hamilton, Hancock, Hardin, Howard, Humboldt, Kossuth, Madison, Marshall, Mitchell, Palo Alto, Pocahontas, Story, Warren, Webster, Winnebago, Winneshiek, Worth, and Wright.
History:
Latham was part of the Republican Revolution that swept into Congress with a large number of first-time GOP victors in 1994. Latham beat Democrat nominee Sheila McGuire by 21.8 points in what was then the 5th Congressional District seat left open by 4-term Republican Fred Grandy (former actor on The Love Boat).
For the next three elections Latham faced little competition: winning by 31.9 points in 1996, running unopposed in 1998, and winning by 39.6 points in 2000. In 2002, Latham faced his stiffest competitor to date, defeating Democratic nominee John Norris by 11.7 points after redistricting. In 2004, Latham cruised to a 21.9-point victory over Democratic nominee Paul W. Johnson. In 2006, Lathan faced the second closest race of his Congressional career – winning by 14.4 points over Selden Spencer.
Latham had no trouble trouncing his Democratic foe in 2008, Becky Greenwald, despite the 4th CD voting for Barack Obama by seven points.
Lathan serves on the House Appropriations Committee – the only member from Iowa's delegation on that powerful committee.
In 2010, Latham will face Democratic nominee Bill Maske – an educator and former city councilman and Democratic County Chair for Butler County.
Also appearing on the ballot (nominated by petition) is Dan Lensing. The largest vote total ever received by a candidate nominated by petition for the US House in Iowa history is 4.5 percent (Roy Nielson in IA-05 in 2006).
Outlook:
This region of the Hawkeye State has voted Republican for U.S. House contests in each race for the last two decades. The current 4th CD is actually the most partisan neutral district in Iowa, with an "even" Partisan Voting Index score. The popular Representative easily navigated the Democratic waves of 2006 and 2008 and will coast to shore once again in 2010.
Follow Smart Politics on Twitter.