Election Profile: Iowa's 5th Congressional District
Smart Politics is running a series of election profiles of Upper Midwestern congressional races leading up to the November 2nd elections. The series will culminate with Smart Politics' official projections. The fifth profile in the series is Iowa's 5th Congressional District race.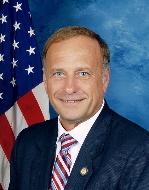 Candidates:
Republican: Steve King (4-term incumbent)
Democrat: Matthew Campbell
Nominated by Petition: Martin James Monroe
District Geography:
Iowa's 5th Congressional District comprises thirty-two counties across the western wing of the state: Adair, Adams, Audubon, Buena Vista, Carroll, Cass, Cherokee, Clarke, Clay, Crawford, Decatur, Dickinson, Fremont, Guthrie, Harrison, Ida, Lyon, Mills, Monona, Montgomery, O'Brien, Osceola, Page, Plymouth, Pottawattamie, Ringgold, Sac, Shelby, Sioux, Taylor, Union, and Woodbury.
History:
King handily won the inaugural race of the newly drawn 5th Congressional District in 2002, beating Democratic nominee Paul Shomshor by 24.3 points. King then defeated Democrat Joyce Schulte in back-to-back elections: by 26.7 and 22.9 points in 2004 and 2006 respectively.
King, a former state senator, serves on the House Committee on Agriculture, the House Committee on Small Business, and the House Committee on the Judiciary. The four-term Congressman has been one of the most outspoken opponents of illegal immigration in the GOP caucus over the last few election cycles.
In this year's election, King will face Democrat Matthew Campbell, who has the unenviable task of running for a seat in which Democrats have averaged just 36.9 percent of the vote against King this decade.
Martin James Monroe will also appear on the ballot (nominated by petition). No third party or independent candidate has receive five percent of the vote in an Iowa U.S. House race since 1934, when Farmer-Laborite John Wirds received 6.4 percent in IA-03.
Outlook:
Western Iowa hasn't elected a Democrat to the U.S. House since Berkley Bedell won 7-straight terms from 1974 through 1986. King represents the most conservative and reliably Republican district in the Hawkeye State: John McCain carried the 5th by 11 points in 2008 and George W. Bush won it by 21 points in 2004. Overall, the district has a +9 GOP Partisan Voting Index tilt, and ranks as the 118th most Republican district in the nation.
The reelection of King and fellow GOPer Tom Latham from the state's 4th CD means Iowa will continue its streak of sending at least one Republican to the U.S. House in every election cycle since 1856.
Follow Smart Politics on Twitter.