Election Profile: Wisconsin's 1st Congressional District
Smart Politics is running a series of election profiles of Upper Midwestern congressional races leading up to the November 2nd elections. The series will culminate with Smart Politics' official projections. The seventh profile in the series is Wisconsin's 1st Congressional District.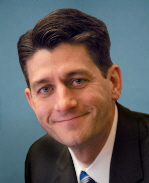 Candidates:
Republican: Paul D. Ryan (6-term incumbent)
Democrat: John Heckenlively
Libertarian: Jospeh Kexel
District Geography:
Wisconsin's 1st Congressional District comprises the southeast corner of the state, including Kenosha, Racine, and Walworth counties, along with parts of Milwaukee, Rock, and Waukesha counties.
History:
Prior to 1994, the 1st District had been in Democratic hands since 1970, when Les Aspin ousted 2-term Republican incumbent Henry C. Schadeberg. Aspin held the seat through the 1992 election, with the Democratic Party also winning a special election in 1993 (Peter W. Barca) when Aspin resigned to become President Clinton's Secretary of Defense.
Paul Ryan was first elected to the House of Representatives in 1998, winning the open seat previously filled by two-term Republican congressman Mark Neumann. Ryan won that race by 14.4 points over Democratic nominee Lydia Carol Spottswood. Ryan followed that election with four consecutive blowout victories over Democrat Jeffrey Chapman Thomas: by 33.3 points in 2000, 36.6 points in 2002, 32.2 points in 2004, and 25.4 points in 2006.
In 2008, Ryan was untouched by the second consecutive Democratic wave and carried the 1st CD by 29.3 points over Democrat Marge Krupp.
Ryan is a member of the House Committee on the Budget, where he is the Ranking Member, and the Committee on Ways and Means.
Ryan's 2010 Democratic opponent is John Heckenlively from Racine. A successful evening for Heckenlively woud be to reach the 40 percent mark – something no Democratic challenger has done against Ryan since 1998, and is unlikely to do in 2010.
The race will also feature Libertarian candidate Joseph Kexel, who also ran for the seat in 2008, garnering 1.3 percent of the vote. Libertarian candidates have also appeared on the ballot in the 1st District in 2004 (0.8 percent), 2002 (2.1 percent), 1994 (1.8 percent), 1993 (0.3 percent), 1982 (0.9 percent), and 1980 (1.0 percent).
Outlook:
Ryan is a popular political figure among both conservatives and moderates in Wisconsin's 1st Congressional District, and has become one of the most recognizable faces of the GOP on Capitol Hill. While his district is fairly moderate, ranked just the 218th most Republican district in the country with a +2 GOP Partisan Voting Index tilt, Ryan's vote total on Election Day will reflect an advantage of at least 10 times that amount.
Follow Smart Politics on Twitter.