Election Profile: Wisconsin's 4th Congressional District
Smart Politics is running a series of election profiles of Upper Midwestern congressional races leading up to the November 2nd elections. The series will culminate with Smart Politics' official projections. The tenth profile in the series is Wisconsin's 4th Congressional District.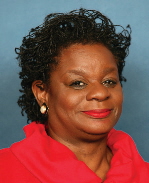 Candidates:
Democrat: Gwen Moore (3-term incumbent)
Republican: Dan Sebring
Coalition On Government Reform: Eddie Ahmad Ayyash
District Geography:
Wisconsin's 4th Congressional District comprises the bulk of Milwaukee County including the cities of Cudahay, Milwaukee, St. Francis, South Milwaukee, West Allis, and West Milwaukee.
History:
In 2004, Moore won her inaugural U.S. House race by 41.4 points to fill the seat vacated by 11-term Democratic congressman Gerald Kleczka. Moore won by 42.9 points in 2006 and by 76.7 points in 2008 – against only an independent challenger – in this urban, Democratic stronghold.
Wisconsin's 4th CD has voted for the Democratic Party in every U.S. House election since 1948, with an average margin of victory of approximately 50 points since 1960. Republicans have carried the district just two times since 1932 (in 1938 and 1946).
Republicans have failed to even field a candidate in one-third of the 4th CD contests since 1976 (6 of 18).
Republicans do have a candidate in 2010, however, in Dan Sebring, who ran a late write-in campaign in 2008. If Sebring, a Navy veteran and small business owner, eclipses the 30 percent mark, he will have accomplished what no other non-Democrat has achieved in the 4th CD since redistricting in 2002.
A third candidate, Eddie Ahmad Ayyash, will appear on the ballot running under the Coalition On Government Reform banner.
Congresswoman Moore sits on the House Budget and Financial Services Committees.
Outlook:
A Republican candidate has come within single-digits of beating a Democrat in the 4th District just one time since 1948 (Tom Reynolds, losing by 8.9 points during the Republican Revolution of 1994).
Since redistricting in 2002, the 4th CD has been the 75th least competitive district in the nation, owing in part to the sporadic appearance of GOPers on the ballot. With a Partisan Voting Index of +22 Democratic, the 4th CD is the 44th most Democratic congressional district in the nation. Barack Obama carried it by a whopping 52 points in 2008, while John Kerry won it by 40 points in 2004.
Follow Smart Politics on Twitter.