Election Profile: Wisconsin's 5th Congressional District
Smart Politics is running a series of election profiles of Upper Midwestern congressional races leading up to the November 2nd elections. The series will culminate with Smart Politics' official projections. The eleventh profile in the series is Wisconsin's 5th Congressional District.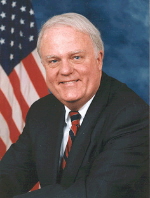 Candidates:
Republican: Jim Sensenbrenner (16-term incumbent)
Democrat: Todd Kolosso
Independent: Robert Raymond
District Geography:
Wisconsin's 5th Congressional District comprises the eastern counties of Ozaukee and Washington, along with parts of Jefferson, Waukesha, and Milwaukee counties.
History:
Sensenbrenner was first elected to Congress in 1978 from what was then Wisconsin's 9th District, winning the open seat of 2-term GOP congressman Robert Kasten. Sensenbrenner beat Democrat Matthew J. Flynn by 22.3 points in the first of his 16 consecutive victories.
Twelve of those victories came in the 9th District, with an average margin of victory of 62.8 points (Democrats failed to field a candidate in four of those races).
Democrats also failed to challenge Sensenbrenner in 2002 in the newly drawn 5th CD, when he won by 72.8 points over Independent candidate Robert Raymond. Sensenbrenner defeated Democrat Bryan Kennedy in 2004 by 34.8 points and in 2006 by 26.1 points – his smallest margin of victory in his 30 years running for Congress.
Democrats failed to field a candidate during the 2008 campaign, with Sensenbrenner's only opponent being his 2002 and 2006 independent challenger, Robert Raymond.
Sensenbrenner is a member of the Committee on the Judiciary, the Committee on Science and Technology, and the Select Committee on Energy Independence and Global Warming (Ranking Member).
Democrats have failed to field a candidate against Sensenbrenner six times during his 16 victorious congressional campaigns. However, they do have a candidate in 2010, in Todd Kolosso.
Independent candidate Robert R. Raymond will be on the ballot for the fourth time in the 5th District: he came in second place (out of two candidates) with 13.3 percent in 2002, fourth place (out of four candidates) with 1.1 percent in 2006, and second place (out of two candidates) with 20.2 percent in 2008.
Outlook:
The Badger State's 5th CD is by far the most Republican in the state. Its +12 GOP Partisan Voting Index score makes it the 89th most Republican district in the nation. John McCain won the district by 16 points in 2008 while George Bush carried it by 27 points in 2004. With the retirement of David Obey, Sensenbrenner will return to D.C. as the senior member of the Wisconsin congressional delegation.
Follow Smart Politics on Twitter.