Election Profile: Wisconsin's 6th Congressional District
Smart Politics is running a series of election profiles of Upper Midwestern congressional races leading up to the November 2nd elections. The series will culminate with Smart Politics' official projections. The twelfth profile in the series is Wisconsin's 6th Congressional District.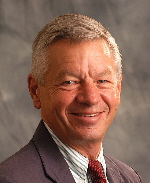 Candidates:
Republican: Tom Petri (16-term incumbent)
Democrat: Joseph Kallas
District Geography:
Wisconsin's 6th Congressional District comprises the east-central counties of the state: Calumet, Dodge, Fond du Lac, Green Lake, Manitowoc, Marquette, Sheboygan, Waushara, Winnebago, and parts of Adams and Jefferson counties.
History:
Petri won a special election by just 0.8 points over Democrat Gary R. Goyke in 1979 to fill the vacancy due to the death of seven-term Republican Representative William A. Steiger.
Petri won the rematch with Goyke in 1980 by 18.7 points and then won the next 14 elections by an average of 61.1 points – including six elections without major party opposition (all midterm election years: 1986, 1990, 1994, 1998, 2002, and 2006).
Petri has only faced one competitive re-election contest in his career – a 5.8-point win over Democratic nominee Peggy A. Lautenschlager in 1992 (the closest U.S. House race in the Badger State that year).
The 70 year-old Congressman serves on the House Transportation and Infrastructure Committee and the House Education and Labor Committee.
He is also one of two Upper Midwestern House members (along with Minnesota Representative Erik Paulsen (MN-03) to belong to the center-right Republican Main Street Partnership. (The Partnership, with 43 Representatives, four Senators, and two governors, bills itself as a coalition building force to promote policies that are supportive of conservation and preservation of our natural resources, accountability in the education system, maintaining a strong national defense, increasing economic growth, encouraging renewable energy resources, reforming Social Security, creating more affordable health care, creating transparency and accountability in Congress, and creating American competitiveness through free and fair trade).
Democrats, with nominee Joseph Kallas, are fielding a candidate against Petri in back-to-back election cycles for the first time since the 1982 and 1984 cycles.
Outlook:
Petri's moderate Republican credentials have served him well in this right-leaning district and will continue to do so in 2010. Wisconsin's 6th CD only has a +4 GOP Partisan Voting Index tilt, making it just the 190th most Republican district in the nation. Barack Obama carried the district by one point in 2008 while George W. Bush won it by 14 points in 2004.
Follow Smart Politics on Twitter.